Romance and Adventure in Sydney
Romantic Adventure in Sydney - Romance your partner or just have an adventure and some fun with a friend
If you are a romantic at heart, and don't shy away from a little adventure, then you have come to the right place. Below you will find a short list of Sydney tours and experiences full of romance and adventure. Escape the day to day and enjoy a little romance and adventure in Sydney.
The Romance and Adventure of Sydney
Romance your partner or maybe just share a little adventure with a friend(s). Get your loved ones, friends or 'close family members' out on a romantic or adventure tour in Sydney and enjoy seeing the big fat smile on their face, just make sure you are there to share in the romance and adventure of Sydney.
What to do?
But what to do? We have all been there. What to buy that difficult friend or relative who seems to need for nothing. Or maybe you want, or need, to get your friends, family or colleagues together and plan an experience they will never forget. Be it a fortieth birthday, anniversary, passing their exams , whatever the occasion get their pulses racing with a romantic adventure tour like flight to a unknown location.

Mystery Flight!
This is a great idea. Just imagine the fun you can have with this:
"Come on, pack your bags, we are off to the airport"
"What! Where we going??"
"I dunno..."
Virgin Blue, Jetstar or Qantas
You choose your travel date (weekday or weekend), and your flight times are chosen with one of the major airlines (Virgin Blue, Jetstar or Qantas). You will receive your itinerary 2-3 days prior to departure. Your transfers are pre-arranged at your destination and you have been booked into a 4 star hotel! All you have to do is to enjoy your little adventure when you get there!
Cairns, Whitsundays, Byron Bay..
Possible destinations include Adelaide, Cairns, Coffs Harbour, Hobart, Melbourne, Townsville, Ballina/Byron Bay, Capricorn Coast, Fraser Coast, Launceston, the romantic Sunshine Coast and Whitsunday Coast, Brisbane, Canberra, Gold Coast and Mackay.

Mystery Flight For Two
Jenolan Caves Overnight Getaway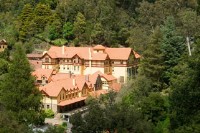 Don't worry, you won't camping inside a cave. You'll be in a "Grand Classic room". Once you have had a chance to relax and refresh you will journey into the bowels of the Earth ... well, not quite, but you will get to see crystal filled chambers and glistening blue waters, now how romantic is that!

Jenolan Caves Overnight Getaway

Sydney Luxury Getaway
Indulge yourself, and a loved one to a romantic Sydney night together. We are talking valet parking, chocolate fondue, sparkling wine, full breakfast, late check-out, a 17 metre indoor heated pool, jacuzzi and fitness centre.
The Sydney Opera House and the Royal Botanical Gardens
You'll stay in a boutique hotel set in the heart of a luxury marina, entertainment and apartment complex. You'll find a number of top Sydney restaurants located along the wharf. The Sydney Opera House and the Royal Botanical Gardens are also both within easy walking distance from your hotel.

Sydney Luxury Getaway
Romantic Escape For Two
Your thousand acre luxury retreat is romantically nestled in a State Forest. This is the ultimate in romantic escapes. You'will stay in a beautiful sandstone cottage with log fire, sunken spa bath, and private deck. Relax with a massage while the chef prepares your delicious gourmet meal.
Champaign, Port and Chocolate
Your romantic escape package includes 2 nights accommodation in a private sandstone cottage, bottle of champagne, hot and cold breakfast basket, port and chocolates, fruit and cheese platter, 2 course gourmet meal prepared especially for you, massage for two, use of designer bathrobes, silverware, candles and the cottage decorated with flowers. Everything you need for a perfect mid-week break.

Romantic Escape For Two

Hunter Valley Heli and Picnic Experience for 2
Experience the absolute romance of being whisked to your Picnic Escape in your own private helicopter to a picturesque setting in the Hunter Valley vineyards. Once there, you'll be able to indulge in a gourmet picnic in a beautiful setting of your choice.
Scenic flight over the Hunter Valley Wine Country
Come and enjoy the Hunter Valley with a Scenic flight over the Hunter Valley Wine Country, followed by a wine tasting and picnic hamper at the Award Winning Audrey Wilkinson Estate. Audrey Wilkinson is steeped in History with the first plantings of vines back in 1866. Once you arrive, you may sample some of their fine wines, find the bottle that tickles your taste buds to compliment your picnic hamper. Explore the manicured grounds, find a spot you like, lay your rug down and let the day go by as you relax and enjoy the surroundings.

Hunter Valley Heli and Picnic
Jet Boat Sydney Harbour
Discover the magic and adventure of Sydney Harbour as you race past all the harbour icons, with light-hearted commentary and photo opportunities, including a full 'Jet Blast' experience and heart-stopping manoeuvres including 270 degree spins, wild fish tails & awesome power break stops. The jet boat have been specifically designed and built to perform the amazing manoeuvres of a jet boat in absolute safety. The boat has a 20 degree dead-rise which gives the vessel a smoother ride through the occasional rough conditions of Sydney Harbour.

Jet Boat Sydney Harbour
Bookmark before you book
You should always check on the details before you book as these are subject to change. Please bookmark before you start clicking in case you lose us.
More Sydney Romance and Adventure
The list of top 100 things to do in Sydney is also full of Sydney romance and adventure. Finally please let us know how it all turns out and have a great time.