Sightseeing in the Hunter Valley
Hunter Valley's top sights and attractions
What sights to see in the Hunter Valley
Wine Tasting in the Hunter Valley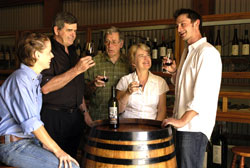 Sydney is blessed with many sights, attractions and things to do but Sydney also has a wealth of attractions and sights on its door step. Perhaps the most alluring is the Hunter Valley with its rolling hills, fine scenery and exquisite wine.
Hunter Valley Semillon - "Australia's unique gift to the world"
The Hunter Valley is Australia's oldest and one of its most well-known wine regions. Here you will find world-class Hunter Valley Semillon that has been called "Australia's unique gift to the world', great Australian Shiraz that lasts for generations, and generations of family winemakers that are here to tell the tale.
Valley Delights
Add to this a wide range of traditional and contemporary delights expected of a world famous wine region, as well as a myriad of surprises, a rich diversity of pursuits and people and you will find in Hunter Valley one of the most vibrant and relaxing places to visit.
Eating, drinking and sleeping in the Hunter Valley
You will be spoilt for choice with over 60 restaurants, 120 wineries, 160 accommodation venues and a huge array of things to do.
Less than two hours from Sydney
Less than two hours drive from Sydney and only 45 minutes from Newcastle Airport, the Hunter Valley is easily accessible from all around Australia.
More than great wine
The Hunter Valley boasts the best regional produce, such as cheeses, olive oil and olives. Acclaimed Australian chefs bring their own unique, but distinctly Australian style. Walk, ride or drive your way through the sweeping vine-lined hills. If you are looking to explore, there are many aspects of the Hunter that are unknown to most visitors.
Something for everyone
Whether it is a cellar door or an antique shop hidden down a quiet laneway, historic towns and convict built roads, or ancient indigenous sites, the Hunter Valley has something for everyone.
Relax, unwind, enjoy
When it comes to eating, the Hunter Valley offers a wide variety of choice. Choose from one of the 60 restaurants scattered amongst the vines. On a sunny day, collect a feast of local produce from the cheese shops, olive mills and wineries and stop at one of the picnic spots along the road to take in the marvellous sights and smells surrounding you.
Golf
If you feel the need to exercise, how about a little golf at one of the Valley's world class golf courses. Stroll along the green and feel yourself relax as the scents of Wine Country float through the air.
Music to the ears, joy to the palate
Famous for food and wine, the Hunter Valley has also made a name for producing some of the most spectacular events. There are festivals celebrating the lush local produce, such as Lovedale Long Lunch and Semillon and Seafood and concerts featuring the world's top musicians. A smooth medley of both local produce and relaxing music is created at Jazz in the Vines and Opera in the Vineyards.
Hunter Valley Gardens
The 60 acre Hunter Valley Gardens contains ten stunning feature gardens. Each garden takes you on an exciting journey through the thousands of flowers, trees, and shrubs with an air of discovery at every turn.
Walking the Walks
Along the Hunter Valley Garden's eight kilometres of walking paths there are more than six thousand trees, one million ground covers and six hundred thousand shrubs. A floral display featuring a variety of plants and statuary, all of a standard that you won't find anywhere else in Australia.
Tours of the Hunter Valley
Taking a tour of the Hunter is a good idea unless you do have a nominated/tea total driver.
Wine, Cheese, Chocolate, Champagne Tour
Let someone else do the driving as you tour through the Hunter! Not just a wine tour, this full-day experience will introduce you to a selection of the best wineries, chocolate, cheese, champagne and liqueur houses!
Scenic Wine Tasting Tour
Drink in the scenery
There is more to the Hunter Valley than wine. This tour aims to give you a taste of everything.
Hunter Valley from Sydney
Enjoy a full, most complete tour to the Hunter Valley. More experiences than anyone else. Departing from Sydney, you are taken on a unique circle route with different scenery both ways, promising great scenic views, extensive commentary, convict history and wildlife.