Sightseeing in Sydney's Northern Beaches
Sydney's Northern Beaches best sights and top attractions
Manly and Sydney's Northern Beaches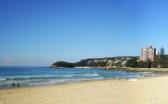 You will love the beautiful beaches, lagoons, lakes, outstanding National Parks, the gorgeous coastal walks and even the local penguins, not to mention the best views of Sydney Harbour. No wonder the locals call the Northern Beaches in Sydney, God's Country.
Manly Ferry
The Manly Ferry is the No.1 thing to do in Sydney as it gives you a great view of all the major Sydney attractions including the Sydney Harbour Bridge and the Sydney Opera House. The ferry runs every half an hour on most days from early in the morning to late in the day. The sights to look out for include:
1. Fort Dennison, or 'Pinchgut', a place where convicted convicts were confined in the early 1800's.
2. Kirribilli House, the Prime Minister's Sydney residence.
3. Admiralty House, Sydney residence of the Governor-General.
4. Cremorne Point and Cremorne Reserve.
5. Middle Head.
6. Clark Island.
7. The entrance to Middle Harbour.
8. Picturesque harbour-side beaches and coves.
9. Exclusive suburbs such as Mosman, Double Bay, Watsons Bay and the luxury water front homes of the rich and famous.
10. Taronga Zoo, Bradleys Head and the mast of HMAS Sydney.
11. Shark Island and the Rose Bay Seaplanes.
12. A passing Tall Ship with sails aloft (if you're lucky).
13. Whales, Dolphins, Turtles - well probably just seagulls but sightings do occur from the ferry.
14. Crème de la crème of Sydney Harbour, Sydney Heads. Framed by towering North Head to your left, and South Head lighthouse to your right, this is the entrance to Sydney and the gateway to this great southern land.
15. Nestled on a thin peninsula, just five minutes from North Head, is Manly itself, a picturesque district boarded by calm harbour-side beaches and an awesome surf coast and yes you're right, the time does fly by while you look, admire and photograph.
Manly's attraction is it doesn't feel like you are in Sydney
Having arrived in Manly, do you just jump on the ferry out again? No, Manly is one of Sydney's top attractions, ironically because it makes you feel like you aren't in Sydney.
Manly Festivals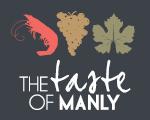 Manly hosts a number of festivals and events each year. A few of them, like the Manly Jazz Festival, attract large crowds and international artists. If you would like to know what's coming up, have a look at Sydney100's Festivals and What's on in Sydney pages. For weekly updates subscribe to Sydney100's free Newsletter.
Holiday in Manly
A visit to Manly is like a 'holiday' within a holiday. For starters, grab an ice cream from the wharf. It's a bit of tradition for some, and simply irresistible for others. The Corso is the name of the pedestrian mall which leads to the beach from Manly Wharf. Browse your way through the various shops enjoying the fountains as you go.
Fairy Bower Beach and Shelly Beach Cove
At the end of the Corso you'll find Steyne Road that runs North and South along the coast. From here, turn right along the footpath for an awesome little stroll from South Steyne. From there you go around the headland to Fairy Bower Beach and Shelly Beach Cove. This is a good spot for a coffee stop or snack, but mostly for the great scenery.
Manly Art Gallery and Manly Museum
On West Esplanade on the Sydney Harbourside of Manly you will find the Manly Art Gallery and Manly Museum. The art gallery in particular has a very strong local focus. It is open from 10.00am to 5.00pm.
Manly Sea Life Sanctuary
The Manly Sea Life Sanctuary has seal shows, sharks, sting rays and a lot of fish. The larger internees are fed in the tank by divers at 11.30am on Monday, Wednesday and Friday. The Manly Sea Life Sanctuary opens at 10.00am and closes at 5.30pm.
North Head - Manly
North Head provides some sensational panoramic views of Sydney Harbour. Once a School of Artillery where Army gunners lived and trained, the headland is now a pristine heathland. You can explore patches of rare banksia scrub, visit the hanging swamp and enjoy hidden vantage points offering stunning ocean views on a free self-guided walking tour.
Long Reef - Northern Beaches
The four kilometre (one hour) scenic coastal walk around Long Reef headland, and Griffith Park, wins a sightseers goldstar for scenic splendour. It's just one of the places you will want to come back to, and many do. She-oak woodland, dune habitat, heathland and coastal grasslands await you. Throughout the walk you will have superb views of the rolling surf breaking over the rock platform below.
Long Reef - Wildlife
Long Reef is home to Fairy Wrens, Eagles and Kestrels. In summer, migratory water birds like to visit the Long Reef Point rock platform. You are also likely to see a few lizards, particularly on a warm day.
Palm Beach- Northern Beaches
Bondi is renown as the Australian iconic 'People's Beach' but Palm Beach, well supported by the rest of the Northern Beaches, are the real jewels in the sandy crown.
'Summer Bay' or God's Country?
The grassy dunes and yellow sands of Palm Beach may look a little familiar. Palm Beach is the fictional neighbourhood of 'Summer Bay', from the Australian soap 'Home and Away'. Filming often takes place at the Surf Life Saving Club, and on the sands of Palm Beach.
Barrenjoey Lighthouse
If you are feeling up to it, you can climb the trail to Barrenjoey Lighthouse for spectacular views of Ku-ring-gai Chase National Park and the coast north of Sydney.
The Bible Garden - Northern Beaches
The Bible Garden is a secret little place most Sydneysiders don't know about. The view is simply breathtaking.The Palm Beach Bible Garden was designed and laid out in biblical chronological order, commencing with the plants mentioned in the book of Genesis and ending with a plant to represent immortality. Of the 148 plants mentioned in the Old and New Testaments, it is believed 143 have been planted in the Bible Garden.
Top things to do in Sydney, the Best Events and Festivals
There is always something going on in Sydney, even over public holidays such as Christmas and Good Friday, there is life in Sydney. Allow Sydney100.com to keep you informed through the Newsletter, Facebook or if you prefer, just bookmark and refer back to:
Top 100 (plus) things to do in Sydney (events and festivals links are in the top right hand corner under "news"