Sydney Harbour top things to do
Top things to do close to Sydney Harbour
Sydney Harbour - the most beautiful Sydney Harbour in Sydney
We do our best to highlight some of the major attractions but it is mostly about using your senses to soak up and breath in the very heart and essence of Sydney. You may find this page particularly useful if you won't have much time and/or you are staying close to Sydney Harbour.
Top 100 plus things to do in Sydney
We hope you enjoy our little tour of the attractions close to Sydney Harbour. If you would like to see even more of Sydney's top attractions (including those away from Sydney Harbour) please try the full list of the Top 100 plus things to do in Sydney.
Sydney Harbour - the heart and soul of Sydney
The harbour is alive with its many magnificent colours, sounds and sights. Catch the hustle and bustle of sydney's water buses ferrying their passengers to all parts of the harbour. See the graceful luxury liners glide into Circular Quay. Visit some of the beautiful petite harbour islands and beaches. Finally, there is the small matter of the towering Sydney Harbour Bridge and the world heritage listed Sydney Opera House. Enjoy!
1 Catch the Manly Ferry from Circular Quay, Sydney Cove to Manly
An excellent view of the Sydney Harbour Bridge and Sydney Opera House is yours for the photo taking.
Catch the Manly Ferry (More)
2 Sydney Harbour Cruise
If you prefer your experience of Sydney Harbour to be shared exclusively with your fellow tourists and travellers then there are plenty of Sydney Harbour Cruises to choose from. Some with food and music, others may only last a couple of hours. You'll find all the major tour operators, operate from Jetty no.6 at the western end of Circular Quay (furthest away from the Sydney Opera House).
Sydney Ferry or Sydney Cruise?
Everybody goes on a Sydney Harbour Cruise. Just bear in the mind Sydney Harbour looks equally fabulous the same from the deck of a Sydney Ferry or a Sydney cruise boat. The advantages of going on a Sydney Harbour Cruise are that it lasts longer than a ride on a Sydney Ferry and provides commentary. The advantage of a ferry is just opposite. It all depends on your preference. You can always do both.
5 North Head
North Head (not far from Manly) will provide you with a stupendous view of Sydney Harbour. Enjoy the bush as you meander down to the lookout(s) but the view is the main attraction.
6 (5) Sydney Harbour Bridge and Sydney Harbour Bridge Climb
You have a number of choices when it comes to the world famous Sydney Harbour Bridge. You can walk, cycle or drive across it, sail underneath it or just stand and admire it, but if you really want to get on top of one of the most famous bridges in the world, you are just going to have to climb it.
The Sydney Harbour Bridge Climb
The Sydney Harbour Bridge Climb is not as tough as it might first appear. The slope leading to the top of Sydney Harbour Bridge isn't overly challenging - particularly on the way down.

The negatives are the cost, the long period of preparation and 'training' before you go up, no cameras (Bridge Climb will sell you photos) and it can also get a little sweaty in their 'fashion' grey suits.
Worth it? - Absolutely - it is an experience and a half - a must do, particularly if you like being chained to something.

7 (6) Open Air Cinema
The Open Air Cinema is a must must if you are in Sydney when it's on and you can get tickets. The Open Air Cinema is located on Mrs Macquaries Point in the Royal Botanic Gardens. It is the most expensive, hardest to get into of a number of outdoor cinemas in Sydney. Just imagine it, drink, food, Sydney Harbour, Sydney Opera House and the Sydney Harbour Bridge, sun setting, big screen rising up from the water. It is not something you forget. You might forget movie, but won't forget the experience.
9 Sydney Royal Botanic Gardens
The Royal Botanic Gardens in Sydney is a beautiful park on the foreshore of the most beautiful Sydney Harbour in Sydney.
10 Mrs Macquaries' Chair (classic Sydney Harbour Bridge / Sydney Opera House view/photo)
The only problem with Mrs Macquaries Chair is that it Is a great spot for photography and is consequently visited by every tourist bus in town. Your best bet is to arrive early morning or late afternoon.
13 Sailing on Sydney Harbour
Perhaps the ultimate Sydney Harbour thing to do
14 Taronga Zoo (Sydney Zoo)
Everybody loves the zoo - maybe some of the lions might look a little fed up with it but we humans seem to enjoy it. Taronga Zoo also boasts classic views across Sydney Harbour to Sydney Opera House and the Sydney Harbour Bridge. Perhaps the most critical thing you could say about Taronga Zoo, apart from a distinct lack of imagination when it comes to tickets, is its name. Taronga Zoo? What's wrong with Sydney Zoo?
23 (15) Doyles at Watsons Bay
Something about Doyles at Watson's Bay. It's been accused of just being over priced fish and chips but the staff are fun and friendly and the view says - 'stop worrying, relax and have another drink'(?) or maybe that was the waiter, either way it is a great spot to have lunch.
Doyles - not what it once was?
As with any restaurant, Doyles has had it's ups and downs. Currently it's down to No. 23 on list. In its old spot (at No. 18) is South Head and Watsons Bay.
South Head and Watsons Bay (No. 18)
29 Fireworks at Sydney Harbour
Set your holiday off with a bang! Get down to Sydney Harbour at 'New Years' for an amazing display - usually two – a short one for the kids at around 9pm and a longer one for the 'party animals' at midnight. If you miss that don't worry Sydney does it again on Australia Day on the 26th January. In fact, we Sydney-siders are a little firework crazy so there may be other occasions I'll let you know (just subscribe to 'Sydney' - Sydney100's free newsletter).
30 Sydney Harbour Seaplanes at Rose Bay (fly off to lunch)
You could say flying off for lunch onboard a Sydney Harbour Seaplane is a great way to spend the day - but that would be an understatement. It will cost a bit but the experience is priceless.
Aerial Photography
Flying in a small aircraft like a seaplane is as different as it looks from the jet you arrived in. Be sure it's for you. It's a tight fit once you're in but you'll forget that pretty quickly as you try not to spend the whole trip taking photos. The seaplanes depart from Rose Bay on the South Side of Sydney Harbour. If close by you'll know about it as they do make a little bit of noise!

Sydney Harbour Seaplanes
32 Jet boat around the Sydney Harbour
Jet boating around Sydney Harbour is just good fun! Makes you the attraction so you must wave even if no-one waves back – just don't fall out in the process.
36 (35) Pylon - Sydney Harbour Bridge
For slightly more than a burger and chips at Circular Quay you can climb the 200 steps to the top of the southern pylon of the Sydney Harbour Bridge. Whether as a taster for the Sydney Bridge Climb, or for those not sure it's for them, this is excellent value. The climbable pylon is the one nearest to Sydney City on the southern end of the Sydney Harbour Bridge.
38 (37) Government House
This is the place where Royals go for a cuppa when they come to visit. Government House is the Official State residence although any serious business probably takes place on the other side of the Sydney Harbour at Kirribilli House. Worth your time for the views and garden let alone the history and grandeur.
38 Sydney Helicopters Flights
Pricey, short lived, noisy and why don't these things screw themselves into the ground(?). When it's over you'll probably say something like 'that was fantastic' to which will come the reply 'buzzzzzzzzzzzzzzzzzzzzzz' unless you kept your earmuffs on.
40 (39) Bradley Head
To visit Bradley Head, get off the ferry at Taronga wharf, climb up the hill taking the right fork into the Sydney Harbour National Park. Choose from three walks. A thirty minute stroll will be well rewarded by spectacular views extending from Sydney City to the Heads at the entrance of Sydney Harbour.
43 Sydney Harbour Islands
It's almost embarrassing to say that as well as the beaches, the internationally renown icons and of course, the beautiful Sydney Harbour, Sydney is also blessed with lovely islands in its beautiful harbour. It's just too much and perhaps you are best advised to ignore them.
47 Balmoral Beach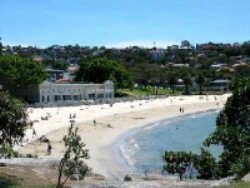 I admit it - I took this picture! Ok, ok, I'm a lousy photographer, but hey, look at the view. Balmoral is a great spot, best beach on the harbour some might say.
Balmoral Beach, Sydney Harbour
50 Nielsen Park and Shark Beach
Shark Beach can get a little crowded as the wealthy and not so get down to their local beach to soak up the sun and admire the panoramic views of Sydney Harbour.
54 Milsons and McMahons Points
Well worth a trip over the Sydney Harbour Bridge to Milsons and / or McMahons Points just for journey and photography, however, there is more to the North Shore than that.
55 Luna Park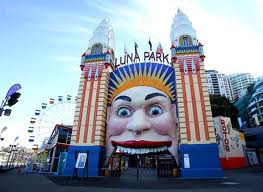 The famous attention grabbing face of Luna Park is hard to miss anywhere near the middle of Sydney Harbour. Luna Park has a history, a troubled relationship with its neighbours but it's a fun place to be.
57 Cremorne Point Walk
Cremorne Point offers more splendid views on the north side of Sydney Harbour. Mostly paved, a little bit of bush, nice houses, gardens, plenty of places for a picnic (best near Cremorne Point its self).
58 Parasailing / Water Ski Manly
Manly Wharf has been hosting parasailing since James Cook first floated over Manly's golden sands. Well obviously not, but it's been going on, and going up, for ages. The view is breathtaking and it's a real thrill as you first feel yourself lifting up off of the water.
Parasailing and Water Skiing at Manly
65 Harbour View Hotel - Sydney
The Harbour View Hotel is a pub with a Sydney Harbour view (unsurprisingly) but not from the ground floor – take the stairs

.
66 Walk the Sydney Harbour Bridge
It takes about half an hour to cross the Sydney Harbour Bridge on foot. A wire suicide fence impedes the view a little. If you start walking from the city you can catch a train back into the city when you finish your walk.
Walk the Sydney Harbour Bridge
139 (68) Sydney Harbour Water Taxi
Once you have spent a little time near Sydney Harbour you may find you have a strong urge to take a ride on one of the Water Taxis you'll see zooming around. It is particularly worth considering if you are heading somewhere close to the water and you can share the fare.
69 Sydney Opera House
The Sydney Opera House, you know the one, it's the funny looking building sticking out into Sydney Harbour close to the Sydney Harbour Bridge.
70 Circular Quay
You will find yourself in a place with the Sydney Opera House to one side, the Sydney Harbour Bridge to the other, ferries and water in front of you, train station, cafes and restaurants behind. You may notice street performers and, unless it is early or late in the day, you'll hear a fair amount of noise. You may also find it necessary stand aside for hordes of people rushing by. This place is called Circular Quay.
80 Blues Point Reserve
Visit Blues Point Reserve for nice spot for a photo of the Sydney Harbour Bridge with the City as a backdrop.
81 Balls Head Reserve
Balls Head is a pleasant little reserve just north west of the Sydney Harbour Bridge. Nice spot for a picnic and offers nice views of Sydney Harbour and an opportunity to stretch the legs a little.

Balls Head Reserve
97 Sawmillers Reserve
Sawmillers Reserve is a little hideaway in the heart of the city. Snap up a few more shots of Sydney Harbour with few locals to share it with let alone tourists.
116 Chinamans Beach
Chinamans Beach is good place to visit if you going to Balmoral (see top of page) as it is the neighbouring beach. As well as the beach you'll discover a large grassy area popular with families.
118 North Sydney Oval
North Sydney Oval has some pleasant but restricted views across Sydney Harbour from south eastern corner of the park, close to the footbridge.
Top 100 plus things to do in Sydney
We have reached the end of our tour around Sydney Harbour. If you would like to go around again just click the link below. Alternatively, if you'd like to see more of Sydney's top attractions away from Sydney Harbour please try the Top 100 plus things to do in Sydney.