Sydney's Major Attractions
What to see in Sydney?
Sydney Harbour Bridge and Sydney Opera House
Sydney's two major attractions are the Sydney Harbour Bridge and Sydney Opera House. Both are conveniently located on opposite sides of Circular Quay.
Sydney Harbour - Sydney's No.1 attraction
The star of the show, the number one attraction in Sydney, is Sydney Harbour. Unless you have a note from your doctor you must get yourself on a Sydney Ferry and/or a Sydney Harbour Cruise. My advice is take the ferry to Manly and/or take a harbour cruise. Sydney Harbour looks equally fabulous from decks of a Sydney Ferry or a Cruise Boat.
Manly - Manly's attraction is it doesn't feel like you are in Sydney..
Ironically, Manly is one of Sydney top attractions because it makes you feel like you aren't in Sydney. Catch the Manly ferry from Circular Quay. Grab an ice cream from the wharf. Browse your way through the Corso directly opposite enjoying the fountains as you go. When you get the beach turn right. After a few minutes you'll find yourself approaching Shelly Beach. Good spot for coffee stop or snack ..More.
North Head, Manly
Catch the bus from Manly Wharf or drive. North Head provides unsurpassed views of the most beautiful harbour in the world More
Sydney's Taronga Zoo
Sydney's premier Zoo gives you animals on the side of a hill sloping down to Sydney Harbour. This gives wonderful Sydney Harbour Views to photograph as well as the animals. The Sky Safari is highly recommended unless you enjoy climbing hills. More
Sydney's Open Air Cinema
The Open Air Cinema, close to Mrs Macquaries Chair in the Royal Botanic Gardens, is the most expensive, hardest to get into and the most 'must do' of a number of outdoor cinemas in Sydney. With a drink in hand, big screen with the Sydney City Skyline, Sydney Opera House and Sydney Harbour Bridge as a backdrop it is hard to beat. If the movie is getting dull just watch the fruit bats fly off to feed or admire Sydney at its best - at night. Sadly, the Open Air Cinema is only open during the summer. More
Life is a Beach
We have already touch upon Manly Beach, Bondi is the Australian iconic 'People's Beach' but Palm Beach and her brothers and sisters in the Northern Beaches of Sydney are real jewel's in the sandy crown. More
See Sydney's Major Attractions and save Money!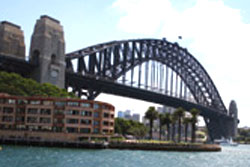 Sydney Attractions Pass
See Sydney's world renowned city sights as well as many outside of Sydney including the Blue Mountains.The key attraction of the Sydney Attraction Pass is, of course, the amount of money it leaves in your pocket. Once you have paid your fee for the right card, it all becomes free. This attraction pass grants you free entry to over 40 of Sydney's top attractions in Sydney and it's surrounds. You also get a free colour guide complete with maps and attraction information.
More of Sydney's top attractions and events
To see even more of Sydney's top attractions visit the Sydney100 listing of the top things to do in Sydney. For the best events in Sydney check out the What's on in Sydney pages or visit Sydney festivals page.
Stay ahead of the major events and festivals in Sydney
There are a constant stream of festivals and events in Sydney. Some of these festivals and events have major advertising budgets, most do not. The size of the advertising budget doesn't reflect the quality of what's on. The Sydney100 Newsletter gives you our view on the best of the up and coming events in Sydney regardless of how much money they have.
Sydney Discounts and Daily Deals
Groupon's deals cover a range of different services including some of Sydney's major attractions and top things to do in Sydney. You may be asked to sign-up before you see the deals and discounts. You don't have to, just click 'Already Registered'.
Sydney Deals and Discounts