Where to stay in Sydney?
Sydney Accommodation - Where are the best places to stay in Sydney?
Sydney offers a full range of accommodation from budget hostels and discount hotels to 5 star luxury with no expense spared. The Top 100 Things To Do gives you the best places to stay and the best accommodation, for all budgets.
Accommodation in the City
Circular Quay
If you don't have much time then the city is the best place to stay in Sydney as it is the easiest to get to and from. If you stay in accommodation in the City you will be close to all the wonderful things there are to see and do.
Harbour Views and City Attractions
If the best accommodation means a central location, offering access to the harbour views and city attractions, then there are a number of options you should consider.
The Nicest places to stay
Many of the hotels near Circular Quay offer top-notch service for someone who really appreciates quality. There are many rooms that provide a simultaneous view of the Opera House and the Harbour Bridge.
Accommodation that offers great Value
Some of the best places to stay are slightly further away from the Harbour, such as the Menzies, you can expect less pain to your credit or charge card. Either way, anywhere vaguely close to Circular Quay would serve as an ideal base for a visit to the city, with excellent amenities and easy access to public transport and taxis.
Top things to do in the City.
Manly
Manly Ferry
Manly would be my personal choice of where to stay in Sydney as it gives you the perfect excuse to spend lots of time on the Manly Ferry. I've been on the ferry countless times and have yet to get bored with the views. The Manly Ferry is listed as the top thing to do in Sydney.
Hotels in Manly
Most of the best hotels in Manly are within walking distance of the beaches, and the area is teeming with guesthouses, backpacking hostels and many other types of accommodation.
The Harbour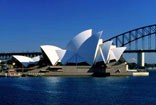 In a similar fashion to Manly, look for accommodation by the harbour with a ferry wharf nearby. Examples such as Potts Point, Balmain, Mosman and Rose Bay are all good places to be based. Just make sure you memorise your ferry timetable or have a copy with you.
Potts Point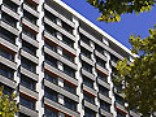 Mercure Potts Point is a modern four star hotel with harbour views. The only problem is if you choose a room with a harbour view you may end up spending too much enjoying the view instead of being part of it. The Mercure Potts Point is close to everything but far enough from the city to ensure a relax holiday atmosphere.
City Fringe
Accommodation located in the fringe of town is often a good way to save a few dollars, just remember to factor in the additional cost of transport, particularly if it's likely to be taxis.
Surry Hills, Woolloomooloo, Darlinghurst, Pyrmont, Ultimo, Broadway, and Redfern
The City Fringe includes areas like Surry Hills, Woolloomooloo, Darlinghurst, Pyrmont, Ultimo, Broadway, and Redfern. Lots of student shares and low cost options are available in these districts, though traditional hotels appear too. A walk into the city could take you anything from 25 to 45 minutes.
Eastern Suburbs
Bondi Beach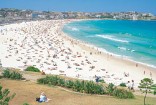 Bondi Beach is there to be seen but traffic in and out from the beach front can be a nightmare. Bondi Junction is a better option and it has a train link. It is the gateway to the eastern suburbs. Shopping and dining are major activities throughout the area and affordable accommodation is abundant.
Sydney Airport - Kingsford Smith
Situated in southern half of Sydney near Botany Bay, Sydney Airport is not the most convenient of locations, but it does have abundant transportation links. If you have a late or early flight, a hotel located near the airport can still be a viable option. Just check with the hotel's staff on your travel options into the city.
The Northern Beaches
The Northern Beaches are referred to as God's Country by the locals. Distance from the city might be an issue with if you choose to base your stay in Sydney in this particular slice of paradise. No trains could be another. The Northern Beaches is perhaps a second trip location. This area is, however, a great choice for a day trip or weekend with quite a few bed and breakfasts, hostels, guest houses and serviced apartments available throughout the region.
Pittwater Youth Hostel
Just getting to Pittwater Youth Hostel is fun. Although if you have a heavy backpack less so. Travel up to Church Point in the Northern Beaches on the banks of 'Pittwater'. Get the ferry across the water. Then it's a 15 minute hike up a hill through Ku-ring-gai Chase National Park.
"Lovely hostel in an idyllic location, very friendly and helpful hosts" Catherine.
Visit yha.com.au for more details or phone (02) 9999 5748
Western
The Western Suburbs offer budget accommodation options but you are more likely to need a car. You will miss out a little bit on the Harbour but you can catch a ferry from Parramatta.
North Shore
The Lower North Shore (North Sydney to Mosman) is a great location but expect more commuting. The Upper North Shore is very pleasant, green and leafy but is some distance for the main attractions in the centre of town. The North Shore train line can be problematic and the Pacific Highway, which takes you into the city, is colourful in a red, amber and green kind of a way.