Things to do in Sydney on Australia Day
What to do on Australia Day in Sydney?
You could be forgiven for thinking that Sydney parties it's hardest on New Year's Eve, but you would be mistaken. Australia Day is the biggest day on the Australian Calendar.  There are many great things to do in Sydney on Australia Day but the main one is just to be there to enjoy it.
Australia Day, Sunday, 26th January
Our official national day Australia Day is celebrated every year on the 26th January. Fear not, Monday is a public holiday (27th). 🙂
How best to enjoy Australia Day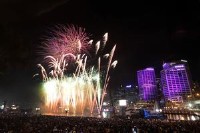 Find a good vantage point, as you may be there for a while, relax and enjoy watching Sydney's favourite public transport vessels go bow to bow in the Ferrython, followed by the costumed boats cruise past during the Best Dressed Vessels Competition and the Tall Ships Race.
Top 10 Things to do during the Summer in Sydney
If you aren't that keen on celebrating the day with thousands of others have a look at the:
for other ideas along within the 100 plus list of:
Great Sydney Swim – Farm Cove – 8am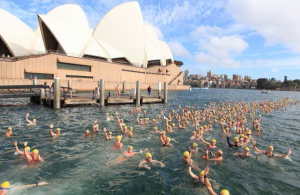 Anyone can take part in the Great Sydney Swim provided you can actually swim. The most experienced swimmers will get to admire the Sydney Opera House at sea level. Over a thousand will brave the harbour and have a splashy great time. There are even prizes up for grabs.
Ferrython – Sydney Harbour – 10:45am to 11:30am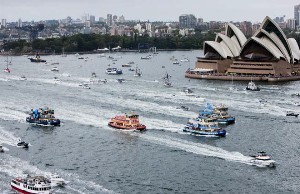 Dressed up in their party frocks Sydney's fleet of hard-working ferries adorn the harbour they know so well.  Sydney Festival's Ferrython is a free event to celebrate the end of the festival as well as modern Australia's birthday. A fun way to enjoy the race is pick out your ferry and cheer it on as they race for the finish line under the harbour bridge.
Tall Ships Race – Bradley's Head to the Sydney Harbour Bridge – 1:pm to 1:45pm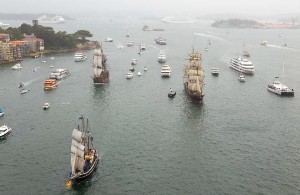 "And all I ask is a tall ship and a star to steer her by.." We have more than one on display and the stars are the crew making it all happen. Welcome to Sydney's Tall Ships Race, these historic vessels remind us of our humble beginnings and the tough life endured by most early Europeans that came to these shores. But mostly it's just an impressive sight to witness.
Where is the best place to see the action?
If you are looking for a good vantage point to see all the Australia Day action on the Harbour, try my personal favourite, which is currently listed at 43 on the Top 100 things to do, Shark Island.
The Rocks Australia Day
What do you get if you mix music with the Rocks? Just sweet music. Hours and hours of it in fact, and all for free. Enjoy the live music from numerous singers and songwriters from all around Australia.
Dawes Point Park and First Fleet Park
The main stage will be at Dawes Point Park, complete with Sydney Harbour offering up background visual support.
George Street and the Rocks Square
George Street in the Rocks will also be the stage for even more Aussie talent. If you like music, if you like to move and groove then the Rocks is the place for you.
GIO Oz Day 10K Wheelchair Race – 9:00am to 10:30am
2018 marks the 29th time the Oz Day 10K Wheelchair Race has been 'run'. Watch these amazing athletes reach amazing speeds. So much ability, so much to admire and cheer on. Best places to witness this memorable event are Alfred Street, Circular Quay and George Street in The Rocks of course. There is also a free breakfast feed on offer.
Darling Harbour
It is party time at Darling Harbour on Australia Day and everybody is invited to a fun and entertaining day. There will be rhythm, there will be song, there will be soul but it's not just about the music – there will be dance as well. This is Darling Harbour so there will be loads for the kids to do and to be entertained by.
Australia Day at the Park
All kinds of goings on will be going on in parks and reserves all around Sydney.
Australia Day Parramatta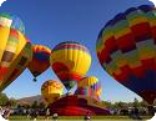 The vehicle free Parramatta Park is once again the centre of activity for Parramatta's Australia Day Celebrations. The party starts with an impressive fleet of hot-air balloons (or not quite so impressive mob of disappointed balloonists if the weather is not right).
Parramatta's Finale
As the sun begins to set upon proceedings, Parramatta's Australia Day finale party will commence and eventfully end with a bang with a fireworks display that will justify the decision not to travel into town. Happy Australia Day!
Australia Day on the Northern Beaches
You need a big breakfast on a big day like Australia Day. If you can get to the beaches by 7am or just after you'll be rewarded with displays of the highest calibre of Aussie athleticism with Thong Throwing. 🙂 To boot (or to thong?) there'll be shows and rides and more besides. Follow the link below for more on this and other events on the gorgeous Northern Beaches of Sydney on Australia Day.
More things to do on Australia Day
The Sydney Festival is on its last legs but still going and there should be plenty of things left for the kids to do. If you are strapped for cash there are many free things to do.
Don't give up on a good thing to do
There's load more good stuff including things to do close to Sydney and romantic things to do. Whatever you decide to do, Happy Australia Day!
Where to Stay in Sydney Top Things to do in Sydney