Australian Reptile Park
What to do at the Australian Reptile Park just North of Sydney?
The Australian Reptile Park hissing with Excitement
You can meet lots of colourful critters who are just hanging around, waiting to slide right up to you at the Australian Reptile Park. Along with the amazing and beautiful reptiles, including some of the biggest pythons you'll ever see, the Australian Reptile Park also has a lot of warm bloods to enjoy so don't be put off completely if you hate snakes.

Hugo
Some are just too big to even get your arms around, like our friend here Hugo the Giant Galapagos Tortoise, who demonstrates admirably what can happen to you if you live for too long. Just how did he get this big? Was it down to a lifetime of munching on a strict diet of grass and small children.

Meet Eric, the Salt Water Crocodile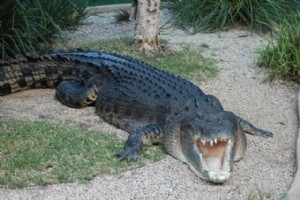 Then there's the Reptile Park's famous Eric the Crocodile, who the park used to claim was the most loved croc in Australia. Now they say he is the crankiest crocodile in Australia. Can you be the most loved and be cranky about it? Too much love perhaps. Maybe he has just become fed up and a little jealous of his American cousins. The American alligators get to swim in a lake while poor Eric here has to put up with an "enclosure". They should let Eric have a swim in the Alligator Lake on his next birthday, I'm sure they would all get along just splendidly.
What do the loveliest creatures the Australian Reptile Park have to offer?
Well, there were green alligators and long-necked cassowaries, some cuddly koalas but no chimpanzees – no cats, or rats or elephants but sure as you're born, loveliest of all was the unicorn. No seriously, almost by definition, the Park is a little short on beautiful unless you think reptiles are beautiful. This is probably why it has koalas but the loveliest has to be the birds, they just didn't rhyme, but they do sing.

Away with the birdies
Gentle, flowing streams, cascading waterfalls past beautiful wildflowers and native Australian bush set the scene. Within this oasis, away from the scary and alien looking reptiles, is the Park's collection of beautiful native birds.
Australian Mammals
Along with the cuddly koalas you can see the Australian platypus, the bush bulldozers we call wombats, the ever bad-tempered Tasmanian devils, spiky echidnas, handsome looking dingoes and the hand feed-able kangaroos (mostly eastern greys).
The Lost World of Reptiles
As you might expect, there is an area (as opposed to a park) reserved solely for reptiles, they obviously must have lost it at some stage as they named it the Lost World of Reptiles.

Spiders and the "Hard Croc Cafe"
The spiders are well worth going to see if only for the reaction of some the people looking at them. When you have looked all you want to there's a cafe to relax in with a silly name, a gift shop (of course), BBQ facilities and a children's adventure playground.
 Australian Reptile Park Review
Eric the Crocodile
This made for a big, and slightly scary introduction for my two-year old which was soon offset by a cartoon sign for Eric the Crocodile. The slightly scary but very family friendly theme seemed to continue for rest of the morning.
Family Friendly Reptile Show
On the one hand we listened to tales (Reptile show 11am) of kookaburra taking out eyes and rattle snakes eating cowboys. There is the largest collection of alligators I've ever seen, crocs, spiders, snakes, lizards etc. The family friendly is evidenced by a spacious picnic area with pet friendly emus, kangaroos and the excellent playground nearby.
Cassowary Enclosure
Of the exhibits I'd rate the Cassowary enclosure (even though I didn't actually see a Cassowary – nice spot if you do), the friendliest and fastest moving wombat I've ever seen and weirdest turtle I've ever seen re the Alligator turtle. Now I think that's three 'ever seen's' which is pretty good for one day. The environment in the park is relaxed and laid back which may well rub off on the residents. It is a good day out.
What's wrong with the Australian Reptile Park
Cassowaries are rare and endangered so if the keepers are looking after theirs properly and are not forcing them on show then I applaud them. If they were 'on holiday' can I have my money back please.
Australian Snakes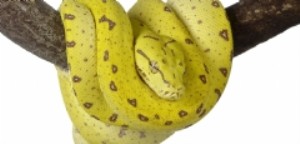 Don't we have enough snakes in Australia? Rattle snakes maybe more crowd pleasing but surely not necessary. The sign did say Australian Reptile Park. Secondly, the talk was too repetitive. We 'got it' that animals can be dangerous the first half a dozen times.
Alligator Lake
Finally, it is a jungle out there and zoos are competing with each other. The park could offer some water based tours such a trip on Alligator Lake. Come on guys, apply your imagination and the people will come. Taronga has its sky safari (which is funny actually as you see a lot of roofs but not too many animals – another story) the park could have a white-water reptilian safari. It's only money.