Things to do on Bondi Beach in Sydney
Bondi Beach and Sydney's Eastern Suburbs
There are many interesting and fun things to do on Bondi Beach. Below you find some of the best along with some of the other top places to visit on Sydney's Eastern Suburbs.
Famous, Beautiful and Interesting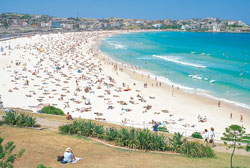 Ask someone to name the first beach they can think of and Bondi Beach would be a common response. Bondi Beach is an area of outstanding natural beauty. Bondi is also home to a diverse crowd. It gives Bondi its special appeal. If you have no inclination to get wet or sandy you can simply stroll on or alongside the beach and enjoy the activity around you.
Bondi Beach
What are the things to do on Bondi Beach? Within the law, pretty much whatever you want. Historically Bondi was known as the People Beach. Place to relax and be yourself. So if nothing else that's what you should do, beyond a bit of people watching.
People Watching
You can walk all the way around the beach without getting any sand in your toes. There are also grassy banks to sit back and watch the world of Bondi go by.
On the Sand
If you make it onto sand you'll be closer to the Beach Volley Ball and almost non-stop pack of surfers. The waves will entice. If you find yourself heading for the surf please stick between the flags.
In the water
If you want you can try your hand at surfing at Bondi Beach. Alternatively have a splash and try your body at body surfing. There really is nothing to stop you from just going for a paddle just up to your ankles. Remember, People's Beach, do what you feel like doing.
Bondi Rescue
The famous life savers on Bondi Beach will be on the lookout for those in need of assistance. It is a serious business so please don't give them any extra work to do.
Shark!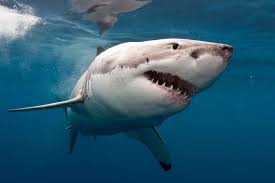 It is very unlikely you will come across a Shark at Bondi or any other beach in Sydney. For information on the chances of such an occurrence please follow the link below:
Bondi Pavilion
You'll find the Bondi Pavilion about half way across the beach. The Pavilion provides drinks and sustenance to beach goers just a few steps away from the sand. When it's open, the Bondi Pavilion Balcony is a neat place to watch the waves, wavers and other interesting people. There is a bar upstairs allowing you to take drinks out onto the balcony but opening times vary. The Pavilion is also home to exhibits and theatrical performances, particularly during the Sydney Festival. Some are fun and some aren't but they are often short and you can take your drinks in with you.
Sculptures by the Sea at Bondi Beach
Sculptures by the Sea is usually held around November on southern end of Bondi Beach along the walk to Coogee. You have to see this open-air exhibition of interesting and engaging art. It will add to your growing collection of 'holiday snaps'.
How do I get to Bondi Beach?
Bondi Beach is the closest ocean beach to the centre of town. Bondi is also one of the few beach-side suburbs to boast a train station (Bondi Junction). From there you still have a short journey down to the actual beach.
How to get to Bondi Beach and even more information on Bondi Beach
Coogee Beach
Coogee Beach [pronounced "Could-gee"] is the second most popular beach in the Eastern Suburbs. Popular with backpackers, Coogee has an atmosphere and a vibrancy all of its own.
Coogee Feed
If the opportunity presents its self, have an early morning stroll on the beach and then stop for breakfast. You'll feel a million dollars, fit and ready for your day. For the best food with Coogee views head for the southern end of Coogee Beach. Be prepared to wait for a table if you arrive after 10am at weekends.
Coogee Pavilion (aka Beach Palace Hotel)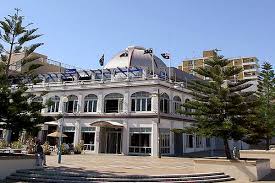 On the north side of Coogee Beach you'll find the Coogee Pavilion (used to be called the Beach Palace Hotel). If you can still do so without paying, climb to the top of the pavilion, get a cold drink and sit yourself down and enjoy the view out to sea and across Coogee Beach. The way life is meant to be! No worries. 🙂 Afterwards contemplate a long, but rather pleasant and interesting, walk along the coast to Bondi.
Walk from Coogee Beach to Bondi Beach
The walk between Bondi and Coogee Beaches is a bit of a classic. The walk is full off fantastic scenery, beautiful beaches, cliffs and even an old cemetery (Waverley) with unimpeded views out to sea. Must make property developers tremble at the thought of Waverley Cemetery ever being relocated – not likely. Allow three to four hours and take your time. Note the lack of fences between Bondi and Coogee Beaches so please keep a close reign on any off-spring.
Maroubra Beach
The relatively quieter Maroubra Beach offers great surfing and a more traditional Australian atmosphere.
Coogee Beach to Maroubra Beach
'No one' walks from Coogee Beach to Maroubra Beach so it's all the more enjoyable for it. Annoyingly there is a house right where it shouldn't be – forcing you to take to the streets for a while. You also have to negotiate a stony beach which is not for everyone. But I like it! Maroubra Beach is relatively under developed/unspoilt depending upon your view-point. Maroubra has a nice cafe right on the beach and to the north an excellent ocean pool. Unlike Coogee, with no Wedding Cake offshore (island) the surf tends to be bigger and better at Maroubra Beach, just watch out for the rips.
Walk from Coogee Beach to Maroubra Beach
Diving at Gordon's Bay
Gordon's bay (near Coogee) has a course to dive into and swim around. Gordon's Bay lies between Coogee and Clovelly and is a lovely place above or below the water.
La Perouse
You could say that 'La Perouse' is Sydney's French connection. As well some interesting sights to see there is a historical bush walk to enjoy. The walk includes La Perouse Museum and Monument, Henry Head and the fine views around Pussycat Bay and Cape Banks.