Christmas in July
Christmas in July in Sydney and Yulefest in the Blue Mountains
Sydney Harbour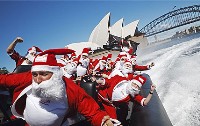 The idea for "Christmas in July" supposedly came from the Blue Mountains. European visitors who were missing winter back home. From this sentiment came a string of hotels and restaurants all rushing around to recreate a Christmas that Europeans would recognise and savour. Whether this works as a good substitute is hard to say but it has certainly become popular with hoteliers and traders in the Blue Mountains and has spread its way down to Sydney. So we say Ho, Ho, Ho, Merry Xmas everybody! And a happy new month?
Where in Sydney is Christmas in July being celebrated?
What an excellent question!

Details of who is doing what are still a little scarce so be careful if you look elsewhere as some of the details are out of date (e.g. last years) and in some cases it has been cancelled but the postings for it haven't.
Fight on the Beaches – Terrey Hills – Christmas in July Ball – Friday 5th July 2019
Help to kill cancer and have a ball. The first ball last year made hundred grand toward finding a cure and they want to make more. Named Community Event of the year last year 'Fight on the Beaches' will provide for us a Christmas night to remember. Delicious food and drinks will be freely available throughout the evening, great prizes under the Christmas tree and the chance to dance till Boxing Day in July on a mammoth dance floor. Tickets are $190 each. So not cheap but it is for a very worthy cause. For more follow the link below.
Christmas in July Cruise
Christmas in July's last bastion of strength appears to be Sydney Harbour. Maybe we should ice over the harbour (the technology appears to exist); so we can put the boats on skis and attach reindeer to the front. 🙂 Alternatively see this three hour cruise as a perfect combination of one the top things to do in Sydney combined with the joy of Christmas.
Irish Christmas in July in Sydney
I'm personally not overly familiar with how Christmas is celebrated in Ireland but the pub P J Obrien's are determined to bring it to us. This includes "a delicious traditional festive menu" [and food is not bad either :)] with Mulled Wine. You will need to book.
Christmas in July at Thredbo – Snowy Christmas in July – Thursday, 25th July 2019
Dreaming of a white Christmas? You can make it happen if you are prepared to travel. Santa's going! "Yuletide feasts", snowy mountains and live entertainment. Skiing is optional but encouraged.
Christmas at home in July
If you prefer to do your own thing just celebrate at home. This might seem like a good idea at first except think of the work involved. Maybe just dinner with a Christmas flavour to it will suffice. Hope you get lots of nice presents
Sydney Harbour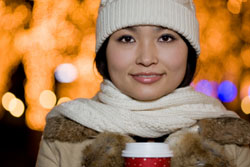 Captain Cook cruises attempts to conjure up a little bit of the old magic of a July Xmas with a 'High Tea' of treats, pink bubbles and Sydney Harbour views.
High Tea on land
If you aren't all that keen on High Tea afloat you could just 'High Tea' it on land.
Tobruk Sheep Station – TBC
It is Christmas in July at Tobruk Sheep Station north west of Sydney. An hour's drive will bring closer to nature and Christmas if not the true nature of Christmas. It might seem like a long way to go despite the delicious traditional Christmas food, bush poetry, billy tea and damper, sheep shearing (of course), mustering, whip cracking, ducks, boomerangs and a huge amount of fun and laughter. So actually no, it doesn't seem like too far to go at all. Follow the link to book for your place for Christmas at Tobruk in July. Dress 'daggy' I wonder? 🙂
Yulefest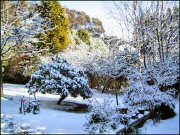 Christmas in July? In the Blue Mountains it's Christmas everyday! Well every day from June…more likely July to August. Up here it's known as 'Yulefest' and it's the second best reason to visit (after the mountains themselves of course).
If you've never experienced 'Yulefest' then you're in for a Christmas treat. Many of the region's guesthouses, hotels, motels, resorts and restaurants provide all the treats, and trappings, of a traditional northern hemisphere Christmas. We are talking turkey here folks along with ham and chicken and stuffing and the cranberry sauce and the Christmas pudding. This is an enlarging experience.
All this food is accompanied by live entertainment, from carols around the piano, to live shows, dancing and bush bands. Yulefest appears to be mostly aimed at adults. This may change over time of course, (we give it about five months 🙂 but if you were thinking of taking your kids up the mountains to meet Santa like we were, well, you might want to reconsider.
Blue Mountains Kangaroos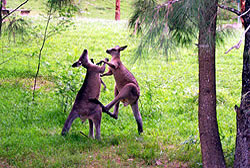 (Hey! it's my turn to pull the sleigh!)
Reindeer can be a little hard to find in Australia, even in the Blue Mountains, but kangaroos are a close approximation in a bouncy kind of way.
Blue Mountains Heritage listed National Park
The beauty of the wilderness of the Blue Mountains Heritage listed National Park scenery is the main attraction for most so to be able to experience it with tiny bit of Christmas thrown in is the icing on the cake. Open fires, traditional Christmas fare and winter warming drinks all help to make July in the Mountains a magical experience.
Where to go? What to see?
Jenolan Caves, Leura Gardens, Carrington Hotel are just some of the places that celebrate Yulefest but this is far from a comprehensive list and it changes each year. Follow the link below for more options and details.