Things to do at Christmas in Sydney
What to do at Christmas in Sydney
Things to do at Christmas in Sydney includes fireworks, Santa Fest, climbing the Sydney Harbour Bridge and much more. We periodically update this page as new top things to do come to light. Please bookmark and/or subscribe to the Top 100 Newsletter for updates – you can unsubscribe at any time.
Shopping
Christmas presents are wonderful to give and receive but personally I find the acquiring side of the equation a little painful. In fact, it pains me just to write about it.

 One solution is to buy a:
Top Thing to do as a Christmas Gift
Or buy a book!
A picture book is a great gift for a 3 to 6 year old. All profits go to charity. Your gift could help save a child's life. Just press the Shop Now button on the Milly Woof and Charlie page. Follow the link below to get the book and more information:
Now we have taken care of the shopping, what are we going to do for Christmas? 🙂
Climb the Harbour Bridge!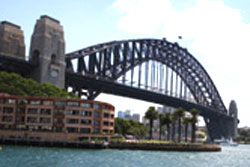 You can climb the Harbour Bridge on Christmas Day! Now how amazing is that. What a Christmas present that would be. The Harbour Bridge Climb is one of the top 10 things to do. Some would go further and say it is a must thing to do. For quick overview of what to expect you should visit the top 10 things to do. The Bridge Climb is currently ranked at number 6. From there just follow the link directly to the Bridge Climb website if you want more information.
Sydney's Big Christmas – City Centre – to 25th December
Sydney Christmas extends to Boxing Day. How?? Why? Well, we all love Christmas, we all love Sydney. So it makes perfect sense that Christmas just LOVES Sydney. Merry Long Sydney Christmas:
Sydney Santa Spectacular to 26th December
Sydney Santa Spectacular has exciting rides including a double decker carousel, an 'Enchanted Forest' and the popular ice rink. There's free cookie decorating, the popular little elves craft workshop and a toboggan snow slide. It's also great value. Follow the link below for more:
Go to the beach
Sydney's fabulous beaches are always open. Everyone is welcome to have fun in sun on Christmas Day. After all, going to the beach on Christmas Day is an Aussie tradition. Many visitors and locals head for Bondi (ranked 15 in the top 100) and Coogee (ranked 22) Beaches to celebrate. If you are a little worried about sharks – follow this link .
Christmas Lights
The Christmas lights are great to see even if you aren't into Christmas. It can be a bit like an entree to Vivid except it's warm! Head towards Town Hall, Martin Place, St Mary's Cathedral and King Street to see some amazing light projections.
Unofficial Christmas Lights
A drive through many of Sydney's suburbs will be rewarded by unofficial Christmas lights on roofs and front gardens. Follow a link below for your nearest display.
Top 10 Things to do during the summer in Sydney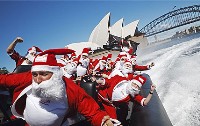 Sydney is lucky to be able to celebrate Christmas while it's nice and warm. Gives us so many great ways to have fun. Pick your favourites from the top 10 Things to do during the summer:
Woolworths Carols in the Domain – Saturday, 21st December 2019
Carols in the domain is said to be Australia's largest free Christmas concert. The fun commences at 12pm and warms up with an afternoon pre-event at 3pm. Performances will come from a barrage of talented musicians and artists all in support of the very worthy Salvation Army.
City of Sydney Celebrations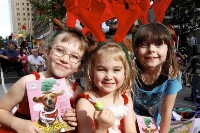 Our Lord Mayor is bringing us many nights of light projections, wandering carol singers, musical celebrations and village concerts. We are all invited to bring a picnic blanket and enjoy the festivities. You'll get to see some great Sydney bands and a few hearty renditions of Christmas carols.
Things to do for the kids
The kids will have some crafty things to do as well as games and other activities. The highlight for the kids will, of course, be that visit from the big man in red and white, Santa Claus.
Father Christmas
Santa Claus has promised to take a break from his very busy schedule in order to light up Sydney's enormous Christmas tree. The only thing that could possibly top that is a fireworks display launched from the top of a few of Sydney's tall buildings.
Fireworks
The fireworks will mark the end of what promises to be a great night. Christmas will be 'in the air'. 🙂
Village Concerts
Free, fabulous children's concerts will give everybody the chance to celebrate the festive season.
Town Hall Projections
The Town Hall adds to the cheer with its 'Christmas Projections'. These are expected to be bringing smiles to lots of people's faces every night till Christmas Day.
Follow these links for more about the Christmas Celebrations and other things to do whilst you are in the City of Sydney.
Christmas Windows – ends Christmas Eve
The Christmas window display at David Jones in the centre of town at Elizabeth Street is usually well worth seeing. Some people bring their kids into town just to see it.
The Australian Reptile Park
It is easy to forget, unless you drive past it regularly, that we have a large family friendly zoo on our doorstep. The Australian Reptile Park, just an hour's drive north, also has a lot of non-reptilian creatures to see. They really should think about a name change.
Go to the Zoo
It's great that Sydney has a world-class zoo perched on a headland by the Harbour. A trip to Taronga Zoo brings with it some wonderful opportunities for amazing photography and it is a great day out for the whole family. If you catch the ferry from Circular Quay with a zoo ferry ticket, you will not only save money but you will probably enjoy the day even more. If you don't mind heights you could also hitch a ride on the Zoo's Sky Safari chair lift.
Lunch in Chinatown
It's fun just to meander around Chinatown and grab a bite to eat. Chinatown is packed full of life and energy even on Christmas Day.
Movies
We all know that the cinema is a place of magic. On Christmas Day it can also be a form of time travel, all the way to Boxing Day. Many of the cinemas will preview Boxing Day film releases. Palace Cinemas, Hoyts Cinemas and Event Cinemas should all be open all though possibly not till mid-afternoon. IMAX should also be open if you're a fan of really big movies.
Sky Deck Christmas Day Lunch Cruise – Sydney Harbour – 25th December
As ever there are a few cruises to choose from but in our opinion the best is the Sky Deck. You'll spend your Christmas on the highest deck of their best boat, the MV Sydney 2000. They will feed you five yummy courses along with premium wine, beers and/or soft drinks to wash it all down.
What's Open in Sydney on Christmas Day?
Sydney Ferries run to a public holiday timetable and what's Open on Christmas Day in Sydney?
Things to do over the Summer Holidays
The summer holidays are a wonderful time to spend some time with the kids…until we run out of things to do:
Sydney to Hobart Yacht Race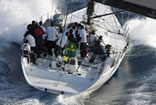 The yachts create a breath-taking spectacle as they depart from the Harbour on Boxing Day for this race with over half a century of tradition.
Where to Stay in Sydney
If you are new in town you may be wondering where to stay. Follow the link below for the top locations. If you are using a booking site we suggest you consider contacting the hotel directly – you might get a better price. In Australia the hoteliers aren't contractually allowed to undercut the booking sites but often do in practice or offer 'freebies' instead. Just don't tell… 🙂 Follow the link below for more:
Top things to do, the Best Events and Festivals
There are always things happening and goings on in Sydney, even over the Holidays. We will keep an eye out for the best and most interesting events and festivals. We also update the list of top 100 (plus) things to do, many of which are free and can be done over Xmas. Get the most out of Christmas by visiting the home page  or subscribing to Top 100's Newsletter.
Travel out of Sydney
If you are considering some day trips or something longer follow the link below.