Don't go to Sydney!
[or around Australia in 90 days]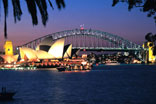 Don't go to Sydney, at least not straight away. Sydney has been unkindly described as a whore of a city due to the transient nature of its population. This is false of course. The real truth is it's more like the love of your life. Once you're met you'll never want to be apart.
Drink too much with Darwin
So the best advice I can offer, fickle as it maybe, is go on and have a fling with Perth, drink too much with Darwin, wine and dine Adelaide, go wild with Brisbane and enjoy a quiet night in with Melbourne. By all means chill out with Cook Town and Cape Trib and party all night with Alice (Springs) but stay away from Sydney. Sow any wild oats that need to be sowed before you introduce yourself. But don't go to Sydney.
East Coast of Australia
Cook Town
You've a few options. The East Coast has a well beaten track for tourists and travellers. If you make it up to Cook Town you will start with a sense of 'the real Australia' whatever that is. Further south Cape Tribulation is possibly one of the most beautiful places you'll ever see with the reef meeting the sea. Cairns has much party but little beach.
Whitsundays
Whitsundays for a lazy few days or weeks sailing and island hopping, Fraser Island much further south for clean salt lakes, dingoes, 4WDs and sand everywhere. Byron Bay gets you into NSW. Byron is where we'd all love to spend the summer if only we could find somewhere to park. Port Stephens is for dolphins and Hunter Valley for wine and oops you're staggered into Sydney.
Western Australia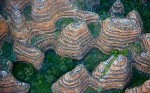 Go West! What about Perth(?), well there's Rottnest Island cutest rats (Quokkas) you'll ever see, Margaret River for good-looking wine, The Pinnacles – outstanding, admire the dolphins, Bungle Bungles more spiritual than Ayers Rock(?) and certainly less crowded, the Gibb River Road if we only we had the time and then Darwin and Kakadu and Catherine Gorge and it's all too much and too beautiful and I need that drink Darwin.
Sydney Calling
Yet all the while she beckons. You'll hear her name, in certain circles, and it almost makes you smile but resist!
South Australia
Reach out for rusty old Adelaide instead. Head south from Darwin catch Ayres Rock (sorry Uluru) Kings Canyon and go underground at Coober Pedy. 'The Adelaide Hills are nice' (everybody says that), stop at a Church, see the Adelaide Oval (same thing?) and Great Ocean Road is swell with it's Apostles and the fallen London Bridge (they all do eventually).
Melbourne
Overnight in Melbourne, catch a play – theatre darling?, have a 'decent feed' in a bustling side-walk, then back up north, hug the coast (let's get cozy) for Eden, Bega, cheese, Pebbly beach but please don't feed the kangaroos. Kangaroo Valley where you'll probably won't see any kangaroos and Fitzroy Falls for a very civilised National Park and finally to Sydney.
The Harbour City
So that's been a few months of your life gone and you've made it. If you really are a commitment phobe you could just fly straight out to the land the All Day Long Cloud. Dare you risk a quick peek because that is the beginning of the end:
TOP 100
There's at least a hundred ways in which to fall in love with Sydney and we have listed them for you.
If you aren't prepared to risk being thrown out (and they will track you down eventually) then you'll have to face the gut wrenching feeling of passing through the barrier at Kingsford Smith Airport. At least when the time comes you'll take some fun memories with you to ease your broken heart.

No escape
You'll be back, and maybe you really will, because part of you will never really leave. Didn't anyone tell you – this used to be a convict settlement. You might leave your heart in San Francisco, if you come to Sydney it will be incarcerated.
Your Comments
Comments Received:
???? surely you guys can't be serious, Xmas in Sydney, what a joke, no lights, no decorations, very shallow and a lacking spirit, especially for children, I think next year will be spent in my children's home state of Qld, very poor effort ………………..Xmas in Sydney, let me think, NO WAY.
Source protected
I completely agree with you. For kiddie fun Brisbane is awesome, but for adult fun, for the satisfaction of a lifelong grown up romance nothing beats Sydney. I grew up in Sydney raised my kids in Brisbane and Auckland and I yearn to come back like a Bogan moth flying with the swarm – nothing will stop me once the time is right. Sydney is the best home you can have, for whatever mood you find yourself in and nothing beats the honesty of this big fast city. A lack of trashy commercial Xmas lights does not compare with that gnawing pain that draws me back to the airport, longing to buy a one way ticket! Sydney ?? – hell yeah!
Sue
Sydney : Canberra : Blue Mountains : Romance and Adventure : Sydney to Brisbane