Free Things to do in Sydney
What are the Top Free things to do in Sydney?
There are many free things to do in Sydney included in the Top 100. Below you will find a selection of these and much more.
Government House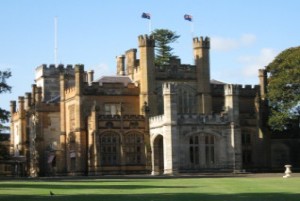 A visit to Government House is surprisingly free which incredibly good value when you see what's on show. Follow the link below for more information.
Royal Botanic Gardens
You might want to combine a visit with a pleasant stroll through the Royal Botanic Gardens listed at No. 9. Located right in the heart of Sydney, this beautiful 200-year-old garden contains an outstanding collection of native and foreign species of plants. If you are seriously interested in Botanic Gardens you can include yourself on a tour for free:
The Harbour Bridge

As you might expect, it costs a lot to climb the Harbour Bridge, much less for a trip up the Harbour Pylon but it costs nothing to walk across it.
Bondi Beach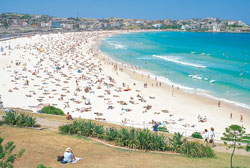 There is currently no charge to enter the "Peoples Beach" aka Bondi Beach. You don't even have to pay to watch Bondi Life Guards (think Bondi Rescue). Soak up the atmosphere, sights and sounds of the most entertaining and interesting beach in world. And, oh yes – its gorgeous to.
And, if you feel like stretching your legs, you can take an awesome coastal walk all the way from Bondi to Coogee.
Walks around Sydney – Spit Bridge to Manly
There are many excellent walks around the Harbour, through Sydney's National Parks and alongside glorious beaches and across its headlands. One of the best is the Spit Bridge to Manly walk ranked at No.35 on the top100.
Paddington Reservoir Garden
The mildly Romanesque Paddington Reservoir Garden is free to get into and, as a bonus, free to get out of as well.

The garden has been built below street level at the bottom of an old water reservoir. It contains an ornamental pond and hanging gardens.
Museums and Art Galleries
Sydney is perhaps Australia's most fortunate city as it is surrounded by natural splendour with the world's most gorgeous harbour at its heart. On top of all this, Sydney has added Australia's most famous landmarks, the Harbour Bridge and the Opera House. This would hardly seem to make Sydney an ideal home for Australia's top museums and art galleries given there are so many other things to do. Yet it is. Many of Sydney's museums and art galleries are free, or partially free, to get into. The Art Gallery of NSW (No.77) has established itself internationally with some major must-see exhibitions. The Museum of Contemporary Art (No.105) and Powerhouse Museum (No.60) are wonderful examples of how to make museums interesting, engaging and even fun (it does cost a few dollars to get into the Powerhouse, so we have cheated a bit with this entry, but it is well worth it).
Free Movies
There are periodically free movies shown at Olympic Park every last Sunday of each month.
The Rocks – The Rocks Discovery Museum
The Rocks is the oldest neighbourhood of the oldest city in Australia. It possesses some wonderful heritage buildings to admire, an intriguing history and cobblestone lanes to explore. The Rocks is a favoured location for events, markets, buskers and other 'goings on'. You can also enjoy free admission to the Rocks Discovery Museum which contains a wealth of information about the Rocks area and helpful staff just waiting for you to ask them a question.
The Rocks Visitor Centre
The tourist information office, the Visitor Centre, provides loads of free information about the Rocks and Sydney. The Visitor Centre is located in the Rocks Centre on the corner of Argyle and Playfair streets.
Sydney Observatory
Australia's oldest observatory adds to the list of free things to do in Sydney. You can inspect its old telescopes, pictures and other artefacts. There are also some great Harbour views from the site. You do however have to pay to see the 3D space theatre and main telescope.
Olympic Park
Olympic Park, site of the 2000 Olympic Games, also includes a 40 hectare park which is ideal for a walk or bike ride and a great space to enjoy a picnic.
Customs House
You can enjoy one of Sydney's finest heritage buildings for free. Customs House attractions, besides the building itself as highlighted by the Vivid Festival, include exhibitions, a meeting point with refreshments, a library and information centre including free wireless internet and a giant model of Sydney. Explore the exhibitions, enjoy the events or just read a newspaper and browse the net.
See the Sights – Mrs Macquaries Point, Milsons Point, South Head and North Head
It doesn't cost a cent to look and photograph Australia's best known icons. For fabulous Harbour views, visit Mrs Macquaries Point and South Head on the south side of the Harbour and North Head and Milsons Point on the North Shore.
Travel Guide
Whilst we can't give the Travel Guide away, we can guarantee that you will save at least as much as it costs to buy the book. So it's kind of is free… sort of.
Fireworks
One of the best things to do is also one of the free things to do in Sydney. New Year's Eve and Australia Day are key dates for a fireworks display but Sydney is often on the lookout for an excuse to fire a few rockets over the Harbour.
Events and Festivals
Many of Sydney's top events and festivals are free, or partially free, to get into. For example, Sculptures by the Sea at Bondi Beach is an absolute must and costs nothing.
Sydney Festival
There are festivals and then there is the Sydney Festival. Sydney is a great place to be at any time of year but in summer it shines. This is due in part to the Sydney Festival which includes many free events.
The biggest festival in Sydney is the Vivid Festival held every year in late May and early June. Follow the links below for more potential 'freebies'.
Top 100 Things to Do
We haven't included all of the free things to do in on the Top 100 list. There are also a number of almost free things to do in Sydney such as climbing the Harbour Pylon. So if you are looking for more free things to do follow one of the link belows: