Hoopla Festival Darling Harbour
Circus in Sydney
Go Circus-Crazy at Darling Harbour
The circus comes to Sydney in a big way. The Hoopla Festival at Darling Harbour in Sydney will send you circus-crazy with some of the world's best acrobats, jugglers, stunt performers, sideshows and street theatre. Hoopla circus magic will make this Easter one to remember and yes, bring your camera.
Circus in Sydney
Australia's premier annual circus and street theatre festival is a surprise package full of breathtaking acrobatics, unbelievable stunts, slapstick (that is actually funny) and amazing large-scale puppetry.
Webers Circus
Sadly the Hoopla Festival has been put on hold for a while. All is not lost however. Circus lives and breathes in Sydney. Follow the link below for one of the best in town, Webers circus:
There are also many other great events happening in Sydney:
Below is the what we are missing out on until Hoopla makes its come back – hopefully next year.
Four Days of Pure Entertainment
Enjoy the high life at Darling Harbour this Hoopla Easter Long Weekend – Do not try this at home
From start to finish over the Easter long weekend Hoopla will host everything from large scale performances to roving street performances all around Darling Harbour.
Wheel of Steel
The Wheel of Steel will amaze, the talent of Gravity & Other Myths will defy nature, Mada's Marvels will conjure up magical magnificents and Forklift will redefine grace as dance takes on the power of the machine.
Contrasts
The entertainment is varied, it is high energy and it can be challenging and becalming so roll up, roll up and pick your tent – Ukiyo, Little Palais and La Petite Grande.
The 3 Tents
There are three tents in this year's festival each with their own theme from the lavish Ukiyo to the conjurers at Little Palais and Tardis style La Petite Grande.
Circus Playground
The Circus Playground is back for all budding circus types whilst street performers rove the precinct to keep everybody entertained and on their toes!
Tickets
With ticketed acts with low prices and a hatful of free entertainment, you'd be crazy to miss the weekend where the circus meets the harbour. Don't miss it!
Darling Harbour Fireworks?
After denying us fireworks last year the organisers have come to their senses and are giving us some flashes and bangs.
Where is the action taking place?
There are eight places to go to around Darling Harbour which means you will never be far from the action!
1/ Ringside: To be Ringside you'll need to be in Palm Grove
2/ Palm Grove is also home to UKiyo tent
3/ Harbourside Amphitheatre is the place to go for Street Performers along with the concrete pathway outside the Harbourside Shopping Centre
4/ The newish Darling Quarter near Tumbalong Park is where La Petite Grand tent can be found.
5/ Not far from La Petite Grand is The Little Palais tent
6/ Imax / Duruitt landing scores the Man and Machine dance thing
7/ Harbourside Amphitheatre is home to the Wheel of Steel (near the Harbourside Shopping Centre)
8/ Finally, for some Circus Gardening you'll need to be near Sydney Aquarium
The Circus Playground is of no fixed abode: so you'll need to follow directions on the day to see them if they don't see you first!

Hoopla Festival Details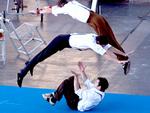 When is the Hoopla Festival on?
Claimed to last throughout April my guess is the best shows will be on over Easter.
Is it a free event?
No, not really, it used to be mostly a free festival but not anymore. Those government cut-backs again. Still, many events are still free but you will have to pay for the really good stuff. The good news is most you will probably pay is around $25 per person, so it is not that expensive.
Ticket Discounts
There don't appear to be any family tickets or any discounts for buying bundles of tickets.
Get with the Program
Enough with the Hoopla Already!
If the Hoopla Festival is not for you or you have done it already, we have good news for you, there is a lot more to do over Easter and there are many more top things to do, hundred's in fact: