Things to do on New Year's Eve in Sydney
What to do in Sydney on New Year's Eve?
Below you will find a variety of things to do on New Year's Eve in Sydney. We also offer some advice as to the best places to enjoy the party.
Times are approximate and depend upon the weather being friendly. 🙂
Aerial fly by over and Harbour – 8:00 pm
Australia's very own gifted top gun pilot will be turning somersaults and loop the loops during his aerial acrobatics over Sydney Harbour. At speeds of around 400 kilometres an hour, Matt's hair-raising display will have all eyes looking skywards as he pulls 10G on some of the turns. The performance may only last for 10 minutes or so but you are likely to remember it for much longer than that.
Family Fireworks – 9:00 pm
They call this the family fireworks but really it's the entrée to the main course. Four barges and numerous roof tops will be used to stunning effect.
Harbour of Light Parade™ – From 9:05pm
The Harbour of Light Parade™ takes centre stage (or Harbour Central). An illuminated armada of boats and ships will float on by with various designs and messages for all to see. Outside of the fireworks themselves, the 'fleet' of 52 vessels that make up the Harbour of Light Parade™, is the highlight of this year's program. The boats will be all a glow with the "magic of rope lights". The Harbour of Light Parade™ will 'sail' from west to east starting off at Cockatoo Island and finishing up at Clark Island. The Light Parade makes a wonderful contribution to the build-up to the main event.
Sydney New Year's Fireworks
This much-anticipated fireworks display will be watched by a million people or more around Sydney Harbour. A much greater number will see the fireworks display at home on the television and online and think, 'I wish I'd been there'.
Where to see the Fireworks?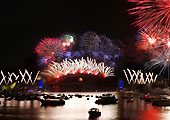 Shark Beach and Rose Bay aren't recommended as official places to watch the fireworks but well worth considering if you aren't crazy about being around massive crowds of people.
The Opera Bar
The Opera Bar at the Opera House is another good option as it gives you an amazing view of the fireworks. Not cheap, but you will be watching the greatest show on earth and the Opera Bar will also provide a great atmosphere to match it.
Midnight at the Oasis
The Garden Oasis in the Royal Botanical Gardens is a more down to earth place to see the New Year in but still with amazing views of the fireworks. The champagne plus three course meal helps to make the whole event even more memorable, if you can remember it afterwards that is. Dance your dinner away until midnight and the big bang light show.
Glenmore Hotel
Similarly to the Opera Bar, the Glenmore Hotel in Cumberland Street in the Rocks has a great (rooftop) bar with awesome views. You will need to book early for both this and the Opera Bar as they are both very popular, as you can imagine.
Sydney Harbour National Park
Sydney Harbour National Park covers many of the top locations in and around Sydney Harbour. Hence it is the favourite destination for many as New Year's Eve warms up towards its finale. Picnicking by the water and enjoying the company of friends, family and fellow Sydneysiders can bring the party to life and add a real zing to a memorable and exciting night.
New Year's Eve Clark Island – Sydney Harbour
Along with an astonishing view of proceedings this little adventure includes a sumptuous three-course meal, cocktail on arrival (of course) and real music on a harbour island oasis. Follow the link below for the details.
New Year's Eve at the Museum
Great for families. Good value. Lots of things for the kids to do so there shouldn't be any fireworks beyond the ones you have come to see. 🙂
Darling Harbour?
Darling Harbour is awesome spot for many great celebrations in Sydney such as Australia Day. Unfortunately, however, it is too far away from the Sydney Harbour Bridge to get the most out of the fireworks. Barangaroo, nearby, is a good spot but currently has limited capacity. The very best views are from the east of the Sydney Harbour Bridge for the Bridge Effect and the full pyrotechnic 'blow you away' display.
Facts about New Year's Eve
1.7 Tonnes of fireworks
11,000 shells
25,000 shooting comets (that's rockets in old terminology)
100,000 individual pyrotechnic creations.
There are few more facts like that which are all quite interesting, but I think the stat that really matters, the stat that out stats all the other stats, is that over 1 Billion, that's 1,000,000,000 people, will watch the fireworks on television or online.
1 Billion People…
That's 1 person in every seven that are currently alive on this planet will watch Sydney's big party. My guess is if you are going to watch the fireworks, most of those billion people would love to be there in your place.
New Year's Eve Manly and Northern Beaches
If you live on the Northern Beaches, or are staying there, you don't have to travel into town to celebrate New Year's. If this is your first New Year in Sydney get on the L90 Bus and go.
Family?
Take the family to Manly Cove for a free bash of circus, roving entertainment, jugglers, face painters, magicians and jumping castles (love those) with a finale of fireworks at 9pm.
New Year's Eve Fireworks – Dee Why Beach, Northern Beaches
BYO Picnic or try squeezing into one of the local cafes and restaurants for the Dee Why New Year's 9pm fireworks display. You don't even have to go to Dee Why as most of the headlands will have a pretty good view. This is a good option if you can't face the hassles of getting into and out of town for the big one.
When do you celebrate the New Year? 9pm or 12pm?
Many locals celebrate NYE three hours earlier and then call it a year. New Year comes early in Sydney from Dee Why and Manly, on Sydney's Northern Beaches, to the west in Parramatta and the Blue Mountains and in the east in Coogee and many more suburbs besides.
Things to do in Sydney without the Fireworks
If you are looking for something other than the fireworks follow these links to the
What about New Year's Day?
Field Day – The Domain
Field Day is an outdoor multi-staged dance party for those in need of more partying after New Year's Eve.
Day Trips out of Sydney
The New Year gives us an opportunity to get out of town. Tuesday, 2nd January is a public holiday. Consider spending a day or two somewhere a little different.
North of Sydney
Follow the link below for stops north of Sydney on the road north out-of-town. Many double as a day trip destination or short break.
West of Sydney
A trip to the Blue Mountains is a great way to see the New Year surrounded by nature's splendour. Breathe in the mountain air, admire the fantastic scenery, relax and consider all the possibilities of the New Year. A new start perhaps. The Blue Mountains are just an hour or so away from Sydney. You could visit just for a day or stay for a while.
South of Sydney
There is much to do south of the "Big Smoke" including the Royal National Park, Cronulla and NSW's greatest ocean drive on the way to "The Gong".
Canberra
If you really fancy a drive Canberra is just 4 hours away.
The Top Things to do in Sydney
You could write a book about the top things to do, so we did:
The next big thing – the Sydney Festival
The first big event in 2020 is the Sydney Festival, said to be the biggest event of its kind in Australia. The festival kicks off with selected free events and ends with a bang on the Australia Day weekend, the last weekend in January (see below).
Open Air Cinema – 'Must do event'
An event that runs to a similar schedule to the Sydney Festival is the must do Open Air Cinema at the Royal Botanic Gardens. This is one of the few events we include on the top 100 list of things to do in Sydney – it is listed at No. 7.
More fireworks – Australia Day, 26th January
If you missed the fireworks, or would like to see more, than you can on Australia Day. Australia Day is another party day in Sydney, and as with most of our big parties, that means fireworks. Similarly but different, if you can't make it in January, how about May?
Can anything beat the fireworks on NYE? – The Vivid Festival
The Vivid Festival is the young, up and coming festival of special laser effects and that make Sydney look even more amazingly amazing. In some ways it is better than the fireworks as you can enjoy and experience it day after day without 1.5 million other people trying to do the same.
More Things to do
2020 will be another great year to be in Sydney. Follow the links below to get the most out of it.
Top Things to do in Sydney Where to Stay in Sydney January in Sydney