October Long Weekend Sydney
Monday, 7th October 2019 is Labour Day, a Public Holiday!
What to do in Sydney over the October Long Weekend
After a long winter the long weekend is back! If you really aren't that keen on joining the potentially slow migration of out of Sydney, there is an alternative. You don't have to go far to have a good time and doesn't have to cost much. It's a long weekend let's make the most of it.
Good Food Month – 1st to 31st October
Do you like a 'good feed'? The Good Food Month has a lot on its plate this year. With hundreds of individual event listings and with thousands craving to take part, the festival of serious 'nosh' should not be missed at any cost, well within limits and within your budget of course.

Night Noodle Markets
Sydney gets munching in October with "amazing dinner dates" and cocktails. The events that will draw the biggest crowds include the ever popular, crowd pulling, social get together, see you at the… Night Noodle Markets.
Manly Jazz Festival
The Manly Jazz Festival blend of great music and awesome scenery provides the non-essential impetus to make the voyage across the water to a faraway shore. Well half an hour once you have lined up for your ticket. It's a must to do if you are into Jazz, and pretty close even if you aren't.
IMAX Theatre, Sydney Aquarium and Darling Harbour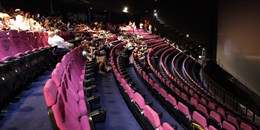 Take a trip to the IMAX Theatre to enjoy the biggest of big screens. The 'IMAX Experience' has proved itself to be the biggest success story of Darling Harbour along with the Sydney Aquarium. Both of these Darling Harbour attractions will be full of visitors during the long weekend. That's ok as there will be a buzz about the place which will only make the day more enjoyable, provided you don't mind the odd bit of waiting around.
Manly Arts and Craft Market
Visit the Manly Markets for a fun and interesting browse of the kind of jewellery, clothing, art, crafts and photography rarely found in the shops. More to the point you might even want to buy something! The Manly Markets are a golden source of ideas for those 'hard to buy a present for' people in your life. The Manly Markets are open every weekend and you will find them in Sydney Road near 'The Corso'.
Catch the Manly Ferry
A trip to the markets can be combined with a ferry ride, North Head and / or a stroll to Shelly Beach.
It's a Long Weekend for Kids as well
If you have children it might also be worth having a look at the school holiday pages for ideas of things to do with the kids during, before and after the long weekend.
Visit Brooklyn on the Hawkesbury River and hitch a ride on the Riverboat Postman
The grand Hawkesbury River, the watery divide between Sydney and the Central Coast, is much driven over, less visited. This is a shame as it has dramatic and elegant beauty to it and is steeped in history. You can get a sense of what a wonderful place this is with a visit to Brooklyn, just off of the F3 Freeway and a greater appreciation by getting yourself onboard a cruise, hiring a boat or by going kayaking.
NRL Grand Final – Pubs, Sport Bars and Clubs all over Sydney – Sunday, 2nd October
Australia's best Rugby League teams battle out the National Rugby League Grand Final here in Sydney over the long weekend. The only way to experience the excitement of Sydney's biggest sporting event is to be there right? Depends, the atmosphere in some of the pubs and clubs will not be too far off. Dress in your favourite team colours if you really want to get into it. Follow the links below and choose which venue suits you best.
The October Long Weekend North of Sydney – Go Wine Tasting!
How about a nice drive through the Hawkesbury and into the countryside followed by an enticing glass of wine?
Things to do west of Sydney (Blue Mountains) over the October Long Weekend
Go West! Head for the Blue Mountains. For families, a small tip if I may, visit the Toy Museum at Hazelbrook and the nearby Wentworth Lake for a great playground and kiddies 'Pirate Ship' with some pleasant water views for the big people.
What else is on over the Long Weekend?
There are more top things to do over the October long weekend. You should also flick through the list of top things to do in Sydney. If you already know many of them try starting at the end of the top things to do . You find something amongst that lot. You might also want to sign up to the Newsletter so you don't miss out on anything new that comes up.