Ski in Sydney?
What is the Skiing like in Australia?
When and how can you get to the snow from Sydney, Australia? Is it worth travelling to the snow from Sydney?
Skiing in Sydney?
Thankfully it is too warm to ski in Sydney. We don't enough (if any) snow. However the ski fields are not too far away.
Closest Resorts to Sydney
From Sydney, the closest places for skiing in New South Wales are Thredbo and the Perisher. Depending on the weather, it takes approximately 6 hours to drive there.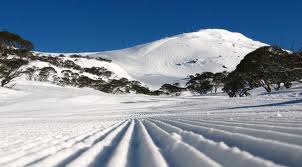 When?
The season runs from June to October. The official opening coincides with the Queen's Birthday Long Weekend on the second Monday in June. The chances of enjoying 'real' snow improve from July to the end of September. If we were to rely on nature the season would be a "marginal event". Technology comes to the rescue courtesy of snow making equipment. There shouldn't be too many issues once the season starts.
How good is the Skiing in Australia?
Small is Beautiful
Australia is the flattest continent on earth so it is easy to look down on skiing in Oz. We suspect quite a few people like it that way. It helps to avoid the crowded snow fields that can detract from a winter holiday in Europe.
But size does matter
Compared to New Zealand, Australia has twice the total skiable area and more than three times the number of lifts and twenty terrain parks.
Easy access, more actual time on the snow
It is also usually far easier to get to the snow from your accommodation than it is in New Zealand. There are fewer hairpin bends to navigate and less time getting up and down the mountain each day.
Child Friendly
Australian resorts have excellent facilities for children including on-snow childcare. For children, there are great schools offering flexible lessons tailored for your child's enjoyment.
Sunshine
Perhaps the biggest advert for Australia is clear for all to see. The sunshine. It doesn't get much better than skiing in the sunshine and Australia provides plenty of it. Overseas resorts can often be overcast with less than pleasant conditions. NSW resorts enjoy the same blue sky that Australia is famous for giving you much better odds of perfect conditions. Just don't tell anyone who scoffs at skiing in Oz. Just smile and keep it to yourself.
Do I need to bring my own equipment?
You don't need to bring your own gear as your resort will be pleased to hire out the equipment to you. As with most things, it's a quality and price decision. You might find it advisable to make your own arrangements in locally and bring your gear with you.
Accommodation at Thredbo and Perisher
So where are you going to stay for your holiday? Well unsurprisingly the Thredbo and Perisher Resorts do offer accommodation. You'll find links below to their websites.
More time
The majority of accommodation in Oz is 'on snow', meaning you can start your break with the minimum of fuss and effort. This will maximise your time on the snow and help to ensure you enjoy a more relaxed holiday.
Things to do in Sydney
For things to do during winter you should visit the top things to do in Sydney.