Stops between Sydney and Brisbane
Pacific Highway Sydney to Brisbane with Day Trips
Day trips and places to stop between Brisbane and Sydney
Many of the stops between Sydney and Brisbane are worth visiting in their own right. Below you'll find some of the best day trips from Sydney and stops between Sydney and Brisbane.
Day Trips from Sydney
Follow these links for information and ideas on day trips from Sydney to the Blue Mountains, Royal National Park (ranked 27 on the top 100) and other attractions close to Sydney.
Brisbane to or from Sydney in a single day?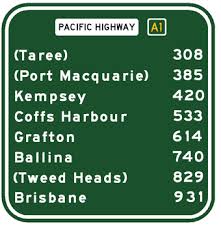 We would recommend that you stop for at least one night if you can. Coffs Harbour or Port Macquarie are roughly half way between Sydney and Brisbane and have plenty of accommodation, places to eat and things to do. In fact why not make the journey part of your holiday and take a few days to experience the surrounding countryside. 
Sydney to Brisbane Video
The video linked below commences with the Blue Mountains but much of it was shot around the Mid North Coast region up to Surfers Paradise on the Gold Coast.
North Shore
Wahroonga, which is on the North Shore close to the start of the F3 Freeway, has a nice park, and even better cafe opposite it [Cafe Patina (formerly the Coonanbarra Cafe)], but you are haven't even made it out of Sydney yet! 🙂
Hawkesbury River
You first potential stop past the leafy North Shore is Brooklyn near the Hawkesbury River for views and cruises. The drive down to the Mooney Mooney Bridge is spectacular but it is a bit hard on the driver to fully appreciate it in three lanes of fast traffic.
Central Coast
The Central Coast is another excellent place in NSW worthy of your time. Trouble is, in my opinion, it is a bit out-of-the-way. You can certainly do some of it with ease but not the best bits like Brisbane Waters and Pearl Beach.
Stopping Point
You could just use the Central Coast as a short stopping point for a rest. Try to avoid the temptation to stop at the service station about half way between Sydney and Newcastle. I know it's easy, has a Maccas and petrol and all that but it's a Service Station and I know you can do better.
Terrigal?
Ok, I'll suggest somewhere, Terrigal. The best stops are in the southern end of the Central Coast like Terrigal. The trouble is you may hit traffic. If you stop at Morriset, it won't be as nice but there is a small shopping mall and a park for the kids to play in.
Newcastle
Alternatively, just keep going and stop at Newcastle which is a bit of a detour. If you are going to the Hunter Valley stop at Brooklyn if you have to stop at all.
The Wonderful Central Coast
The Central Coast is a wonderful destination offering a classical beach holiday experience along with the chance to do some bushwalking. Of course if you don't fancy bushwalking there are other ways of enjoying the green stuff.
Central Coast
Quad Biking on the Central Coast – Day Trip from Sydney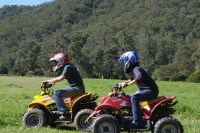 You will get to see lots of bush quickly in a powerful little Quad Bike. Your pulse will race as you bound across the terrain with a big smile on your face. You will be in complete control. It's up to you how fast you go. Just be careful, if you haven't ridden one of these things before they are heavy and you can get hurt. Please listen carefully to your guide's instructions.
Quad Bikes Central Coast
Hunter Valley – Day trip from Sydney
Now we are talking. The Hunter Valley is a top thing to do and it is close enough to Sydney to do it in a day. If you intend to sample the local produce, get someone else to drive or go on a tour.
Hunter Valley
Port Stephens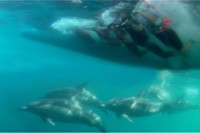 Port Stephens is a lovely area many people return to year after year. It is a picturesque spot famous for its friendly dolphins and white sandy beaches. Most of the boats operate out of Nelson Bay, Port Stephen's main town. Stockton Beach is famous for its shipwrecks and seemingly endless amounts of sand. Port Stephens also has its own winery.
Swim with Dolphins in Australia
Manning Valley
The Middle Brother National Park in the Manning Valley, ably assisted by his two brothers, makes for a very scenic slice of NSW. Manning Valley is not as developed most of the coastal fringe. So this particular stretch of paradise could seduce you into staying a while. We have included a link to the promotional video below to give you a better idea. If you like what you see then I'm afraid it's going to add to your journey time so perhaps best to keep moving if that's not an option:
If you do like what you see (maybe Brisbane can wait?) follow the link below for more information:
Manning Valley
For love of Sydney!
Are we 'driving' you away from Sydney? Are you beginning to have doubts about your attraction to Australia's greatest city? If so please quickly have a look at the top things to do in Sydney before you go any further. Look elsewhere if you have to – just come back. 🙂
Top Things to do in Sydney
Macleay Valley
If you're managed to get past the Manning Valley then I'm afraid there's another valley. The Macleay Valley covers the lower section of what is commonly referred to as the Mid-North Coast of NSW. This fairly unimaginative name belies the fact that this is an area of outstanding beauty crammed packed with fun things to do. The Mid-North Coast takes you up towards Grafton and includes:
Port Macquarie and Diamond Head
Port Macquarie or "Port" is nice. Diamond Head, nearby, is an awesome spot. You need to travel on a bit of dirt road. That's at the time of writing. I'm sure that will change one day and it is no big deal. It's a great spot with some awesome views, a nice camp side, wildlife and beaches.
South West Rocks
What do you have to look forward to? Great beaches, lovely rural views, attractive farming communities and beautiful landscapes (particularly around South West Rocks). It appears that the Mid North Coast's main purpose for being is just to make us happy.
South West Rocks
Hat Head National Park
Hat Head National Park is one of many great spots you should visit and provides a fabulous backdrop to the little coastal resort of Hat Head. Hat Head is also home to the Smoky Cape Lighthouse, the tallest in NSW.
Hat Head National Park
Coffs Harbour
In between Port Macquarie and Grafton is a beautiful place where the Great Dividing Range meets the sea, Coffs Harbour. It is a good place to base yourself for a few days. Coffs is a good six-hour drive from Sydney.
Bellingen and Dorrigo
Inland you should visit Bellingen, for its 'artiness' and craftiness and Dorrigo for its mountain scenery and waterfalls. North West of Bellingen is a special little place that's been making a really big splash.
Whitewater Rafting at Nymboida
Nymboida River is one of the world's classic whitewater rivers. It's splashing good fun when you raft through the white water of the rugged Nymboida River. The steep granite gorges generate rapids renowned among white water enthusiasts. The rainforest-lined banks enhance the feeling of being out there in the wild.
Nymboida – Pub and Museum of Interesting Things
There is more to Nymboida than whitewater rafting. The pub at in Nymboida Village has a great view of the river and the intriguing "Museum of Interesting Things". In case you wonder about the Police Station at Nymboida (what's that doing there? Etc.) It was built a long time ago and rarely sees a policeman.
Pacific Highway Alternative – Coffs Harbour to Grafton
Pacific Highway just north of Coffs has been upgraded making the trip to Grafton much quicker than it used to be. There is a back route from Coffs Harbour to Grafton through Coramba and Nana Glen. This is a country road and will add another 20 minutes or more to your journey time, but it is worth considering for the change of scenery.
Ulmarra
The pub at Ulmarra, 10 ten minutes north of Grafton, has an excellent cafe right on banks on the mighty Clarence River complete with a friendly family of lizards.
Ulmarra Hotel
New Italy near Woodburn
New Italy is not the easiest place to find given it is not a place according to the road signs. Instead it is a rest place implying a bench, toilet and a few trees. New Italy is far more than that. We are talking museum, café with good coffee and pizza, art, kangaroos and gift shop. They are raising money for a play park among other facilities and attractions. Well worth a brief stop. It will do you wonders.
New Italy
Ballina, Lennox Head and Byron Bay
Ballina, Lennox Head and Byron are all great places to stop just an hour and half north of Ulmarra. Byron is fantastic but finding a park can be a challenge particularly during the holidays. Only visit Byron if you have the time to really enjoy it. Lennox Head has grown into a wonderful little town and is more of a coffee stop than Byron. From Lennox Head you are just two hours shy of Brisbane.
Lennox Head
On to Brisbane or return to Sydney?
There is also the village of Bangalow to consider. Located just west of Byron Bay Bangalow is famous for its village style cafes and restaurants. Further north, the Gold Coast beckons:
The Gold Coast is packed full of things to do and figures highly on Queensland's list of top 100 things to do. Just visit:
Top Things to do in Queensland
What about the Snakes?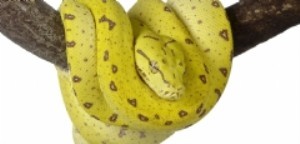 I knew you'd mention that! 🙂 The more time you spend in the bush the more likely it is that you will see one. So be ready to get a picture. 🙂 It is very unlikely that you will get bitten. Click for more information on snakes along with sharks and spiders. Before you go please note that the highest number of deaths are caused by motor vehicles. This is perhaps another good reason to take your time and make a few stops between Sydney and Brisbane.
Travelling from Brisbane?
If you are travelling from Brisbane you may be wondering where you should stay. If so just follow the link below!
Where to Stay in Sydney
Come back to Sydney!
So that's all fine and dandy but there are bound to be a few great things to do in Sydney that you haven't done yet. So maybe you should do some of the stops that you missed on the way up, on the way back.
For more places to go and top things to do please follow the links below:
Sydney Harbour Bondi Beach Manly Blue Mountains
Romance & Adventure Canberra Top Things to do in Sydney