Top 10 Summer Things to do in Sydney
What to do in the Summer Holidays
The top 10 summer things to do in Sydney are designed to make your summer in Sydney unforgettable.
No. 1 Open Air Cinema
The Open Air Cinema is the number one thing to do in Sydney this summer. You should buy tickets at the first opportunity. Tickets usually go on sale around mid-December. By New Year's Day most, if not all of the reserve tickets will have been sold. Don't miss out.
An Open Air Cinema Ticket Holder 🙂
The season starts early in January and ending most of the way through February. The Open Air Cinema will be closed for a handful of nights in January which is yet another reason to book early.
Other Open Air and Outdoor Cinemas in Sydney. Please confirm prices prior to booking.
Flickerfest is Sydney's premier Short Film Festival. Prices vary. Each session lasts approximately one hour and forty minutes.
"Starlight Cinema at North Sydney Oval is the only way to experience outdoor cinema in Sydney this summer". Obviously not. 🙂
No. 2 Picnic and Explore Sydney Harbour
Plan a Sunday outing to the Harbour to explore her islands (see below) and foreshore, picnic and watch the boats and ferries go by. Included in this could be a day trip to Manly, Shelly Beach, and North Head (ranked 5 in the top 100) or Darling Harbour (see No. 6 below).
Opal Cards
If you buy a Opal Card you will be able to travel without restriction on most modes of public transport, including Sydney Ferries and trains, for less than $3 per person but only on Sundays. If you so desire, you can even travel as far afield to the Blue Mountains, Newcastle and Wollongong for no extra charge.
Harbour Islands – listed at No. 43 on the top 100 (a great spot to enjoy Australia Day)
No. 3 Sydney's Northern Beaches
Visit God's Country. Stop at the Colloroy Beach Hotel for a light beer (if you are driving) and watch the kids play on the beach. Turn right off of Pittwater Road and follow Ocean Street down to Narrabeen Lagoon, or if you fancy a paddle in a canoe, turn left down Narrabeen Street (third left past the Ocean Street junction).
Narrabeen Lagoon
For a swim in a great ocean pool turn right and park immediately after the Ocean Street bridge over Narrabeen Lagoon. At low tide you can walk around Narrabeen Headland and on to Turimetta Beach, one of Sydney's best, most photographed and yet least known beaches. Be mindful of any rips, the beach is unpatrolled.
Narrabeen Headland
Alternatively, climb the steps near the car park for an awesome little circular walk around Narrabeen Headland. It is possible to keep going onto Turimetta Head but be careful of the cliffs, particularly if you have kids.
Palm Beach
Palm Beach, home of Summer Bay, for the Lighthouse Walk, Boathouse Cafe and just awesome views and a great beach.
If there is still time…
Follow Pittwater Road to (Church Point ranked 19 in the top 100); catch the ferry around Scotland Island. Head up through the Ku-ring-gai Chase National Park, West Head (ranked 17) for more awesome views, you could keep going up to Bobbin Head but that's probably for another day.
No. 4 Sydney Olympic Park – Kids in the Park
Just go for a cycle ride and / or enjoy one, or many, of the 50 activities including entertainment, arts, sports and recreation. Many are free; few cost more than $25.
Splashers Playground
An old favourite is the Splashers Water Playground with its large water slides and inflatables in the Aquatic Centre's heated pool.
No. 5 The Blue Mountains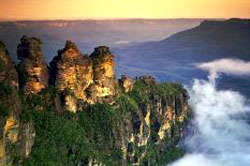 I know it is not officially part of Sydney, I know it can get pretty hot during the summer but it's so beautiful! Well worth a visit any time of year.
As for not being part of Sydney it is pretty close and it would seem silly to leave to leave it off the list – so it's on!
No. 6 Darling Harbour
Visit Darling Harbour for the IMAX 3D theatre, free playground, Powerhouse Museum (with its school holiday program and the Wiggles Exhibition), Sea Life Sydney Aquarium, Wildworld, Madame Tussauds, walk past Cockle Bay Wharf to look at Barangaroo in the making and last, but not least, the National Maritime Museum
No. 7 Visit a National Park
I suspect many people think bushwalking (Dad! I hate bushwalking!) when they think of going to a National Park. There's a lot more to do besides that; bike riding, mountain bike riding, swimming, snorkelling and canoeing. Alternatively, just go for an explore in the car, stop at a few lookouts, laze on an empty beach, maybe have a picnic or BBQ. Just chill out in the bush. There's no rule that you have to go on a long bushwalk in a National Park but there are entrance fees, rules and fines in regards to fires, parking and litter.
How many National Parks are there in Sydney?
Sydney is blessed with 8 National Parks all within close proximity. You can take your pick from rainforests, rugged bush, lakes, rivers and marine reserves. The parks are:
Each park has its own appeal; why not visit a National Park you are least familiar with. It could be one of those 'why don't we do this more often' experiences. Follow the National Parks and Wildlife Service website below for more general information:
No. 8 Sydney Festival
The Sydney Festival is the No. 1 festival to go to in Sydney and were it not for the young upstart Vivid Festival, it would No. 2 as well. In summer, Sydney shines, when the Sydney Festival is on, it dances as well.
No. 9 Go to the Zoo
Everybody loves the zoo. I'm not sure about the inmates but the visitors seem to enjoy it. Taronga Zoo, perched on a headland by the Harbour, seems to have it all. Not only does it have a world class collection of animals but it has amazing views, great facilities and a fun cable car. It also has a relatively hefty price tag unless you are under 4 years old, in which case you can get in for free! 🙂
The Australian Reptile Park
The cheaper and perhaps more family friendly zoo exists an hour north of Sydney up the F3 Freeway. The Australian Reptile Park is poorly named as they are home to plenty of non-reptilian Australian animals. If you have family living north of Sydney this a good meeting point for a BBQ or just a catch up.
Other Zoos
Other zoos include Symbio Wildlife Park in Helensburgh near the Royal National Park (see above) and Featherdale (suburban) Wildlife Park, Doonside near Blacktown.
No. 10 Climb the Sydney Harbour Bridge (Pylon)

It costs a little under $200 to climb the Harbour Bridge. It costs less than $20 to climb the 200 steps to the top of the Harbour Bridge Pylon. That's only a $1 for every ten steps! 🙂 On the way you can learn all the about the history and construction of the Harbour Bridge. The workers on the bridge would be (and some I hope still are) mighty proud of what they achieved and what the bridge has come to symbolise, not only to the people of Sydney, but also to the millions visitors from around the globe who have come here to see it.
Vincent Kelly
Vincent Kelly is only one of two men who survived a fall into the water whilst working on the Harbour Bridge. The story goes that, during his 60m fall, he had the presence of mind to undo his tool belt and dropped it into the water ahead of him. The tool belt broken the surface tension of the water thereby reducing the impact that otherwise would have almost certainly killed him.
Kelly's Boots
After Kelly was pulled out of the water, it was discovered that the soles of his boots were implanted onto the base of his feet. Not only that, the force of the impact with the water had pushed his boots up to his thighs. Despite numerous broken ribs Kelly was back at work within six weeks. In total, 16 men lost their lives building Sydney's beloved, iconic bridge.
For more information on the Sydney Harbour Bridge Pylon:
More things to do
We could go on, and on. We could have written about the Harbour Bridge Climb, Blue Mountains, walks around the Harbour or said more about top events in Sydney so we have..
Top Things to do in Sydney

 

Where to Stay in Sydney
---
 | Harbour Bridge | Blue Mountains | Parks and Wildlife | Bondi | Palm  Beach | Sydney Harbour |