Sydney Film Festival
What films to see at the Sydney Film Festival?
It all happens from Wednesday, 3rd June to Sunday, 14th June 2020
The Sydney Film Festival (SFF) is one of the longest running film festivals in the world. The SFF focuses on the best new films around including short films, Australian films, documentaries and archive titles. As well as top quality movies the festival hosts red carpet galas, talks and forums.
What films to see?
What films to see at the Sydney Film Festival? The festival selects from a large range of entries so they should all be worth seeing. The trick is to read through the program and pick out the ones that sound interesting. Be aware that the festival aims to push the boundaries, so hold on to your seat. 

Where can you see a festival movie?
The State Theatre
The SFF Hub
Event Cinemas, George Street
Art Gallery of NSW
Dendy, Opera Quays
Dendy. Newtown
Ritz Cinema Randwick
Hoyts Entertainment Quarter
Hayden Cremorne Orpheum
Casula PowerHouse
SFF Hub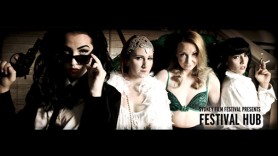 The Festival Hub at Lower Town Hall is providing free entry to a whole range of events as long as you are over 18. There will be something happening almost every day of the SFF. Expected events and happenings include talks "by experts" and "program gurus", parties, free live music, performances, DJs and screenings. The Hub will even have its own bar.
Top things to do during the Festival
It is probably not possible to spend all 12 days, and all 12 nights, watching movies. Probably…so you may want to do something else as well. We suggest you visit the list of the Top things to do and/or check out what else is happening in June.
Awards
The SFF hosts a number of awards to encourage the making of great movies including the Dendy Awards for Australian Short Films and the Audience Awards and that could make you a judge.
Who will be there?
The festival has an appeal for dedicated film buffs to busy film fans eager to catch the latest movie before its Australian release, but most people just go to watch some decent movies. The festival also attracts international movie stars and celebrities. If you are really keen you can look forward to a number of free talks and forums.
Warning – Unclassified films mean you have to be at least 18 years of age
The festival is for everyone over 18. Unfortunately, most films at the festival are unclassified and are restricted to adults aged 18 years and over. If you 17 or younger please check the classification of films before you purchase your ticket.
Opening Night, Wednesday 3rd June
The Opening Night is all red-carpet and glamour at the magnificent State Theatre. There is even an after party to celebrate the kick-off of SFF 2019 in style. Tickets are limited, see link below.
How do I purchase tickets?
Tickets can be purchased through the SFF's online ticketing system (see link at the end of this page) or at the venue's box office during the festival.
FlexiPass
A FlexiPass allows you to see a variety of films at any of the festival's venues (excluding gala events). A FlexiPass allows you to purchase a group of tickets in advance.
Any 10 Movies Flexipass costs $165
Any 20 Movies Flexipass costs $310
Any 30 Movies Flexipass costs $435
Any 6 Movies Youth Pass costs $75
Single Tickets
Single ticket prices for the 2019 festival depend upon what movie you intend to see and where you intend to see it. There are also special prices for movie combinations.
SFF website and top things to do:
For more information follow the links below: