Things to do in Sydney in December
Things to do in countdown to Christmas and New Year's Eve
December is a busy month in Sydney as we all run around Christmas shopping and preparing for the start of the festive season. As soon as Christmas is out of the way there's Boxing Day and New Year's Eve to enjoy. Prior to all this is the start of the Summer School Holidays with much for the whole family to enjoy.
Christmas and New Year's Eve
We wouldn't be able to sleep as night if we didn't have a list of Christmas things to in Sydney along with a 'what to do on New Year's Eve'.
The 25 days till the 25th
For visitors and locals alike there is still much to do prior to 25th December and we list some of these activities below. You should also, as ever, consult the list of the top 100 things to do in Sydney and the top things to do in summer in Sydney.
Santa Fest – Darling Harbour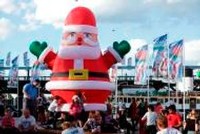 The line-up of entertainment at this year's Santa Fest includes giant Santas, Carols by the Tree, Harbourside fireworks and much more. It has even been suggested that the real Santa will be dropping in on Santa Fest just to see what all the fuss is about – Ho, Ho, Ho
For more on Santa Fest
Santa Fest Open Air Cinema  – Darling Quarter – to Christmas Eve (TBC)
There may not be much happening at Trop Fest but it is all happening around the new bit of Darling Harbour, or rather an old bit renamed. Now it's called the Village Green precinct in Darling Quarter. Free Santa Claus movies on a modest big screen that's what's happening. How many movies has Santa appeared in? If you follow the link below I think you'll find most of them.
Wet'n'Wild Sydney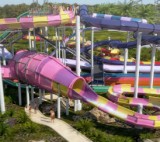 Come and experience the "best rides that have ever been done" at Sydney's newest attraction 'Wet'n'Wild Sydney'. You are sure to make a big splash at the "world's largest water park". It doesn't come cheap and it is in the heart of Sydney at Prospect, not near the Harbour. So it might not please everyone but it is going to be a thrill for a lot of visitors. We have listed Wet'n'Wild at number 65. Please follow the link below for more details.
Open Air Cinema – Pre-Sale (TBC)
If you are a St.George Bank customer or know one you are in luck. Usually early in December a limited number of Open Air Cinema tickets go on sale. Every year most of the tickets sell out. Is it worth opening an account with St George just to get tickets? Tough one but yes it is. No guarantee they will do it again this year but we have left the link in place in the hope they do.
David Jones Christmas Window Displays – TBC
The David Jones Window displays in Elizabeth Street are well worth a visit. It's a great excuse to get into town with the kids and if you do it early, hopefully you'll miss the Christmas crowds. If you can avoid going in for a Santa photo (yes, he's there already too), then it's a good freebie.
Matsuri in Sydney – Saturday, 9th December 2017
Matsuri in Sydney is bringing Japan to Australia. Experience Japan's cultural and artistic delights with music, dance, karate, sumo and taiko along with traditional arts and crafts.
Sydney Sixers Christmas Bash – TBC
What a fantastic early Christmas present or treat. Take the family to see the Sixers smash the Hobart Hurricanes at the Sydney Cricket Ground (SCG). As its Sixer's Christmas Bash there will be Carols on the SCG after the game.
Carols by the Sea – Bondi
Xmas is coming fast and the Carol Season has commenced. There will be entertainment for the kids and hearty Christmas tunes. BYO rug or cushion to sit on and any spare change you would like to donate.
The Coogee Family Fun Day
Why go to the Family Fun Day in Coogee? Well, there will be market stalls for some Christmas presenting activities such as buying, entertainment activities such as rides, a petting zoo, dance, music and, of course, Santa Claus, the list of things to do will grow and grow as we get nearer to the big day. Then there's Coogee it's self with its cafes, walks, great views etc.
It is always fun to spend some time in Coogee and on Saturday it should be even more fun than usual, so why not bring the whole family!
Paddington Markets Christmas Night Market
Christmas comes but once a year, well twice actually if you include Xmas in July, but who's counting. The Paddington Markets Christmas Night Market is a good excuse to celebrate Christmas-to-come with some good food and wine whilst picking up some quality presents. You can browse your way through an array of beautifully crafted hand made products from home wares to jewellery, children's clothing, vintage sunglasses, women's clothing and much more.
Bare Island – Eastern Suburbs
Down passed the airport is a little island of great significance. Once a site of the latest in military technology Bare Island tells of a past vastly removed from the present. Sydney feared for its very existence and sort to protect herself as best as she could.
Manly and North Head
If you'd quite fancy a trip away but don't fancy the journey how about Manly? Just 30 minutes by ferry, less so on the Manly fast ferry, will take you to a land as fine as any other. The beaches, the shops, the cafes, the views, the walks, the towering cliffs, history, art and the entrance to Sydney Harbour. As the old saying goes, Manly is just "seven miles from Sydney (but) a thousand miles from care".
God's Country
It gets even better if you keep heading north into God's Country, Sydney's outstanding Northern Beaches.
Out of Sydney
Visit New Year's page for ideas for trips further afield.