Things to do in Sydney in January
January events leading up to the Australia Day Long Weekend and beyond
January is a busy month in Sydney with the Sydney Festival and Australia Day celebrations. We are also well into the Summer School Holidays offering many different ways to enjoy the Summer in Sydney.
Kids in the Park – Sydney Olympic Park, Summer School Holidays
This is one for the kids, or to keep the kids busy while you check out the other great things happening in Sydney. Kids in the Park provides a huge range of school holiday activities, lots of which are free. There are activities for creative kids, sporty kids and adventurous kids, including cookies and craft, archery, AFL, gymnastics, a flying trapeze and gory science experiments. For more on this and other school holiday activities in Sydney, please click on the link below.
New Year's Eve
We wouldn't be able to sleep as night if we didn't have a list of ideas on how to celebrate New Year's Eve.
Sydney Latin Festival – Sydney Olympic Park – Thursday, 22nd January – 25th Sunday January
The world's best Latin dancers are coming to Sydney; the World Latin Champions no less, are moving gracefully towards Olympic Park to show us how to Salsa, Zouk, Bachata and Samba. There will be Latin DJs, teachers and dancers all proving that the art of dance is alive and thrusting. This is what hips were made for, among one or two other things perhaps, so get yours ready for action.
Flickerfest – Friday 9th January to Sunday 18th January
You are likely to find a visit to the 2015 Sydney Flickerfest a highly rewarding experience with awards being given for the best Australian and International Short Film, Best Animation Short Flick and most aptly dressed patron… Ok I made the last one up but why don't they reach out more to their audience? It is the audience that makes these festivals work so where is the love?
Apia International – Tennis Centre, Sydney Olympic Park – Sunday, 11th January to Saturday, 17th January
If soccer doesn't do it for you how about a spot of tennis? The Apia International includes superstars of today and tomorrow all battling it out for the championship. Tickets were still available at the time of writing.
Night Owls Kids Film Fest – Friday, 9th January to Thursday, 15th January
Just why we should be encouraging our kids to stay up with the owls aside (most kids don't seem to need much encouragement!) this has to be the greatest film festival for small, and not so small, people since last year. Although there are films for bigger people to.
Darling Quarter
It is all happening around the new bit of Darling Harbour, or old bit renamed, called the Village Green precinct in Darling Quarter. The films are free (now we have your attention) and the entertainment starts at 5:30pm, with screenings commencing at 6:30pm. BYO rug and food, although this is Darling Harbour so there are plenty places happy to ensure you won't starve. You will find Darling Quarter just south of the IMAX Theatre. The official address of this new, marketable part of Sydney is 1-25 Harbour Street.
Summerama – Pittwater to Sutherland – January
Summerama is a wonderful program sponsored by Sydney councils up and down the coast. The program consists of various activities from sea kayaking to adventure boat tours to sustainable arts and crafts workshops for kids.
AACTA Awards – Pyrmont – 26th – 29th January 2015
You can't beat a good awards ceremony, (was he really inspired by his cat? How could she wear that!). The humanity of it all. The AACTA Awards are for film and television actors and 'practitioners from a broad cross-section of crafts'. It's a big back slapping, 'I couldn't have dunnit without you all' occasion "for outstanding work within their fields, and in recognition for their contribution to" blah, blah ..for only lots of dollars you might well witness some unbelievable performances.
Parra Opening Party – Sydney Festival – Friday, 9th January
It is a little sad that the free opening party that used to kick start the Sydney Festival is no longer with us but Parramatta has its own version which will be overflowing with great entertainment and things to do.
Happy Australia Day! – Sunday, 26th January
There is a big juicy Australia Day long weekend to celebrate Australia's National Day and there's a lot to be done:
Lots to do on Australia Day
There's the barbie, the snag, the beer and the cricket. There's the drive, the beach, the surf and the who forgot the bottle opener? There's the kids, the parents, the oldies, the flags and the face painting. We could go on but I know you wish we wouldn't.
Australia's Big Day Out
The Big Day Out is a arguably Sydney's biggest music festival of the year and is all part of the Oz Day celebrations. Follow the link below for more info.
Australia Day Events
Suffice to say that there's lots to do but don't forget all clubs, organisers, media, government officials and politicians who need you to attend all the official events. How silly are they going to feel if no one shows up? So do your patriotic duty and go to an official Australia Day celebration and yell out 'Happy Australia Day Sydney100!' as loud as you can into the nearest microphone – we would love hear from you.
The Sydney Festival – the last days

Richard Hawley (from last year unfortunately)
The Sydney Festival ends at the end of the Australia Day Long Weekend. There will be tears, there will be sorrow but you can't party forever(?) Just a hunch but my guess is attendance is tracking down a little on last year, so do your bit for the City of Sydney and go see something.
Sand Sculpting – Bella Vista Farm Park – 26th December – 26th January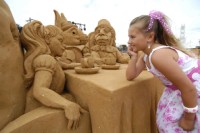 Sand Sculptures are becoming more and more popular. The gritty theme of this year's competition is 'Celebrating Pixar'. You'll find lots of famous movie stars including Nemo…

Things for the kids to do
There will be stuff for the kids to do including sand art and bottles, a huge sand pit complete with diggers (small ones I'd guess) and a Lego play zone.
Things to do over the School Holidays
Apologies to any school teachers reading this, but education is very important right? So let's have more of it. How about optional free schooling over the school holidays?

Open Air Cinema – Royal Botanic Gardens
When the tickets go on sale for the Open Air Cinema they go fast. This is one of the best things you can do in Sydney and consequently it is extremely popular. Pick out the movies you want to see and get those tickets before they are all sold. Good luck and savour the experience.
Open Air Cinema – Listed at No. 7
Chinese New Year
We get two new year's celebrations to enjoy this month with Chinese New Year celebrations commencing on the 13th February. This which makes me wish that every country had it's own calendar. That way we could celebrate new year all year long.