Things to do in Sydney in November
November Events
Sydney Open – Saturday, 2nd November – Sunday, 3rd November 2019
With its fabulous harbour and gorgeous beaches it is easy to miss or forget that Sydney as some special buildings worthy of closer attention. The Sydney Open is one of the top things to do in Sydney in November because the Open encourages you to step inside and admire the decor. Sydney's top architectural structures have had a dust down and the doors are open. Roll-up and come inside and discover the finery that resides.
Sculpture by the Sea – Bondi Beach – Thursday, 24th October – Sunday, 10th November 2019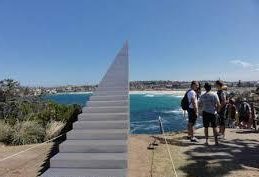 I always seem to write the same things about Sculpture by the Sea. Stuff like, go, you must go, don't miss this etc. It is just one of those events that just works so well year after year. If there is one criticism, it is that they could do more for families, maybe a kids sculpture section might go down well (note that one down, you heard it here first).
Double Bay Festival – Sunday, 3rd November 2019
They are saying it's going to big, it could double in size! Sunday the 4th November will be full of large rides for the big kids and small rids for the little ones, bouncy castles, ponies, puppets the whole bit.
If you want prestige cars, there will be prestige cars, If you want camels, there will be camels, If you want a million dollars in cash, there will be nothing like that but you'll feel a million dollars if you go to this "brilliant day out in Sydney's bay-side village".
Melbourne Cup – Tuesday, 5th November 2019
Melbourne has a horse race whilst Sydney has a party. Royal Randwick hosts one of the biggest.
Glebe Street Fair – Not this year 🙁
The Glebe Street Fair has been doing its thing for longer than most but not this year. Sadly we will have to wait till next year to partake in the village/community spirit that makes Glebe special little part of Sydney. In keeping with that spirit proceeds are spent on a variety of local community projects. Enjoy a kilometre long expanse of food, music, rides, entertainment and other activities.
The Ghosts of St Bartholomew's Church – Blacktown – Fortnightly
What do you believe happens when we shut down never to reboot? Maybe a trip to Bart's at Blacktown might just change your mind. The church was first built in 1841 and has seen many a departure since but did they all make it to the "otherside". Maybe you'll find out. Not suitable for the very young or very nervous.
Blacktown City Council's Events Team on 9839 6000.
Summer Holiday Fun
The big Summer School holidays are creeping up on us again and whilst we all love spending time with our little darlings, I'm sure there are just a few of us who breathe a sigh of relief when it's all over. We've tried to make it a little easier for you, with a list of all the great activities in Sydney especially for your kids over the school holidays. Check out our school holiday page, and also take a look at the Christmas in Sydney page for things that are not just for the kids and Top 10 Summer Things to do
What's on North of Sydney
It's been a long week, been working hard, time for a break. Lets get out of here and head north:
Newtown Festival – Sunday, 10th November 2019
For 40 years the community has been getting together to celebrate the suburb's passion for tolerance, diversity and acceptance. This year there will be a fantastic range of food and entertainment, with live music, artists and buskers, a kids' zone, craft stalls, and even a writers' tent, where you can hear from some of the best local and national writing talent.
Schools Spectacular – Friday, 22nd November and Saturday, 23rd November 2019
When I was at school I doubt the words School(s) and Spectacular ever got very close but times have changed and now Schools are very Spectacular with enough talent on show to fill the Qudos Bank Arena for three hours.
More things to do in November
Continue having fun in November and enjoy a few of the Top 100 Things to do in Sydney.