Things to do in Sydney in November
November Events
The Eighth Wonder – Sydney Opera House  – from Friday, 28th October
Roll up, roll up! For the first time in history the steps leading up to the Sydney Opera House will become its stage. The building always looked at its best from the outside so this makes a lot of sense. Just imagine how this will look with performers 'backed-up' by the world's most famous roof. Three thousand lucky people will be entertained by gliding stages, fast paced action, projections as the history of the house is recounted in song by some of Australia's most talented young singers. Click below if you want to witness history in the making of the Eighth Wonder.
Sydney Open – Saturday, 5th November – Sunday, 6th November
With its fabulous harbour and gorgeous beaches it is easy to miss or forget that Sydney as some special buildings worthy of closer attention. The Sydney Open is one of the top things to do in Sydney in November because the Open encourages you to step inside and admire the decor. Sydney's top architectural structures have had a dust down and the doors are open. Roll-up and come inside and discover the finery that resides.
Cirque Du Soleil – Entertainment Quarter, Darling Harbour – 25th August to 13th November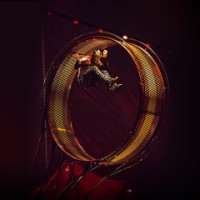 Cirque Du Soleil is taking us back to their 'wow, that's incredible!' origins that made Cirque Du Soleil internationally famous. Their latest creation "KOOZA" is a combination of acrobatic thrills and visual comedy. It consists of four main elements.
Hoops Manipulation
This is the part where we look on in amazement at the incredible shapes a human body can be forced to make [don't try this at home folks]. The title 'Hoops Manipulation' stems from spinning up to seven hoops at once. It's a sight that has to be seen to be believed.
Double Highwire
This is scary. Please be careful up there! A collective holding of breath is practically guaranteed.
Skeleton Dance
The Skeleton Dance is a crazy but brilliantly choreographed performance that will take your breath away assuming you're manged to get it back. 🙂
The Wheel of Death
Many Australians are unfortunately all too familiar with the wheel of death as they wait for their computers to spin into action. Is this the inspiration for these brave performers to show how the Wheel of Death can be defeated? I doubt it but at least it will give you something else to contemplate 'what a great show that was' etc. whilst the wheel goes around and around and around on your screen. 🙂
Sculpture by the Sea – Bondi Beach – Thursday, 20th October – Sunday, 6th November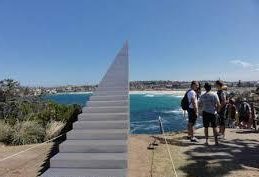 I always seem to write the same things about Sculpture by the Sea. Stuff like, go, you must go, don't miss this etc. It is just one of those events that just works so well year after year. If there is one criticism, it is that they could do more for families, maybe a kids sculpture section might go down well (note that one down, you heard it here first).
Double Bay Festival – Sunday, 6th November
They are saying it's going to big, it could double in size! Sunday the 2nd November will be full of large rides for the big kids and small rids for the little ones, bouncy castles, ponies, puppets the whole bit.
If you want prestige cars, there will be prestige cars, If you want camels, there will be camels, If you want a million dollars in cash, there will be nothing like that but you'll feel a million dollars if you go to this "brilliant day out in Sydney's bay-side village".
Melbourne Cup – Tuesday, 1st November
Melbourne has a horse race whilst Sydney has a party. Royal Randwick hosts one of the biggest.
JFK to OBAMA – Pop Up Gallery, Australian Centre for Photography, 118 Oxford Street, Darlinghurst – to 12th November
November 2016 gives us one of the most unusual elections in history. A case study of fact being stranger than fiction. Reflect back to a more comforting time. A time when presidents were presidential, when debates were about policies, everybody was honest, respectful, truthful and no one got hurt… or maybe not. 🙂
JFK, Richard Nixon and many more smile at the camera and remind us that the world has always been a little bit crazy, we just didn't get all "Twittery" about it.
Glebe Street Fair – Sunday, 20th November
The Glebe Street Fair has been doing its thing for longer than most. You can expect around 100,000 to make an appearance. It's popularity is party due to the village/community spirit that makes Glebe special little part of Sydney. In keeping with that spirit proceeds are spent on a variety of local community projects. Enjoy a kilometre long expanse of food, music, rides, entertainment and other activities.
Yoga – Sydney Tower Eye – City Centre – to Wednesday, 28th March 2018
Yoga in the sky! What a great idea this is. Get above it all with a yoga class on the Observation Deck of the Sydney Tower Eye. Not only do you get beautiful inside but you get early beautiful morning views of Sydney as she awakes from her slumbering. You also get a yummy and healthy mini breakfast to ensure no 'grumbly' tummies.
Martin Place Children's Concert and Tree Lighting – TBC
When the annual lighting of the tree in Martin Place takes place you might be the one who presses the button!
Christmas on the Green at Hyde Park
On the same day, Christmas on the Green is happening at Hyde Park. There will be a free concert, with Christmas entertainment for all the family, plus a sausage sizzle, craft activities and in true Sydney tradition, a fireworks display as the sun goes down.
Emotions: Don't take them too seriously – Redfern and Waterloo – Wednesday, 9th November
Emotions: Don't take them too seriously is a chat with revered Tibetan Lama his eminence the Seventh Dzogchen Rinpoche, Jigme Losel Wangpo. Not someone you meet everyday. The Dzogchen tells us that it is how we react to emotions that can cause us problems. Just because we frustrated or angry at someone doesn't mean we have to be enslaved to that feeling. The Dzogchen view is that emotions are just transient projections of the mind and we should be happy to wave them goodbye. Do not cling on to them. The chat will include some very practical methods to help us let go of it all making us all a little happier.
Summer Holiday Fun
The big Summer School holidays are creeping up on us again and whilst we all love spending time with our little darlings, I'm sure there are just a few of us who breathe a sigh of relief when it's all over. We've tried to make it a little easier for you, with a list of all the great activities in Sydney especially for your kids over the school holidays. Check out our school holiday page, and also take a look at the Christmas in Sydney page for things that are not just for the kids and Top 10 Summer Things to do
What's on North of Sydney
It's been a long week, been working hard, time for a break. Lets get out of here and head north:
Newtown Festival – Sunday, 13th November
For 36 years the community has been getting together to celebrate the suburb's passion for tolerance, diversity and acceptance. This year there will be a fantastic range of food and entertainment, with live music, artists and buskers, a kids' zone, craft stalls, and even a writers' tent, where you can hear from some of the best local and national writing talent.
AUS-X OPEN Saturday, 12th November – Sunday, 13th November
The AUS-X OPEN is a pulse racing mix of Supercross and just plain mad Freestyle Motorcross (FMX) 'Best Trick'. You'll be entertained and thrilled as the top performers in their field out dazzle the pyrotechnics in pursuit of over $100k in prize goodies and cash. Get tickets and more info by following the link below:
Fantastic Planet – Thursday, 24th November – Sunday 4th December
You might think that Fantastic Planet is Australia's statement of the obvious to any who has travelled. That this is indeed a fantastic planet and Sydney is a particularly fantastic part of it. Yet, no, Fantastic Planet is about other planets than this one, mostly imagined. Follow the link below to embark upon a journey like no other.
Schools Spectacular – Friday, 25th November and Saturday, 26th November
When I was at school I doubt the words School(s) and Spectacular ever got very close but times have changed and now Schools are very Spectacular with enough talent on show to fill the Sydney Entertainment Centre (renamed the 'catchy' Qantas Credit Union Arena) for three hours.
More things to do in November
Continue having fun in November and enjoy a few of the Top 100 Things to do in Sydney.