101 Things to do in Sydney
Top 101 plus things to do in Sydney!
101 Tour the Sydney Cricket Ground
The SCG
A visit to the Sydney Cricket Ground (SCG) is the first of 101 things to do in Sydney. See the dressing rooms where Australia, prepares to vanquish its opponents.
The Ashes
Here's your chance to see this historic venue and past killing ground of English Captains. The SCG can hold forty thousand fans. You can just picture the scene of hoards of Aussie fans baying for English blood (well …wickets anyway). 🙂
The SGC tour includes the SCG Museum
Included in the tour is a walk down the player's tunnel, a visit to the Members Pavilion and the interesting SCG Museum. You will be told all about the history of the SCG including a few ghost stories.
102 (29) Port Stephens Dolphins
Why not say 'G'day!' to a Port Stephens dolphin? The 101 things to do in Sydney (plus 1) is appropriately located out of Sydney, but not too far. Just a couple of hours will get you to this beautiful part of the world. Port Stephens has small but beautiful white sandy beaches and is very picturesque.
Dolphins
Numerous boats have nets you can climb into to get a little closer (and potentially a lot colder) to these wonderful creatures. Hanging off of the boat might just be what you need to kill off your hangover. You could also get seriously lucky and spot a whale. Most of the boats are run out of Nelson Bay.
103 Sydney Film Festival
The Sydney Film Festival has been going for over 60 years making it one of the longest running film festivals around. The festival looks to push boundaries and give Sydneysiders and visitors alike the opportunity to see films they wouldn't normally get to see. That is not to say there won't be award winning films, Australian and world premieres, film stars, red carpets, glitz, galas and a lot fun.
Vivid Festival
You can experience the film festival and the sensational Vivid Festival at the same time.
104 Orpheum Cremorne Cinema
Or you could go for a blockbuster in a traditional setting at Orpheum Cinema in Cremorne on the Lower North Shore just ten minutes past the Harbour Bridge (take the Falcon Street turnoff once you've crossed the Harbour Bridge and turn right at the traffic lights).
Organ Player
The Orpheum is an old fashioned cinema with multi-screens but small enough to avoid the huge crowds you get at most large cinemas. If you pick the right movie, on the right night, an organ player will arise before you, massage your ears with a synchronicity of sound and descend with a wave. You are allowed to applaud even though it may seem odd making noise in a cinema.
Best and Less
The Orpheum is a beautiful old place voted best cinema in Sydney in 2004 and was reunited with the Sydney Film Festival in 2013. There is less than ample parking around the back so allow yourself plenty of time or catch the bus.
105 Museum of Contemporary Art
The Museum of Contemporary Art exists to collect, display and treasure contemporary art from around the globe. It is in a very easy and convenient location very close to the ferry wharfs at Circular Quay on the Harbour Bridge side of Sydney Cove. So unless there is an exhibition on you would dearly love to see, our suggestion is you 'do' this top thing in between other top things you plan to do. You are bound to pass the MCA on more than one occasion, particularly if you are traveling by ferry.
106 Customs House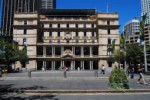 Located just across the road from the ferry wharfs at Circular Quay; Customs House is a useful resource and refuge for visitors and locals alike. It is also an attraction in itself for its exhibitions, model of Sydney and its wonderful facade shown off to great effect by the Vivid Festival.
Free Wireless Broadband
Customs House is now equipped with wireless broadband, so you do all your travel surfing at Customs House for zip.
Model of Sydney
On the ground floor of Customs House there is a TV wall, newspapers, magazines and an information desk as well as food and drink. This is also where you will find that model of Sydney, under your feet, the city sprawls underneath a glass floor.
Circular Quay
Customs House isn't far to walk from Circular Quay, so getting to and from is very easy, it is open till late most days and rarely closes.
107 Vaucluse House
History may not be the main reason you're here but Vaucluse House gives you an excuse to travel to one of the richest suburbs in Australia. Admire the high walls, security fences, and blue alarm lights along the way. Vaucluse House has 'tearooms' and you can take a stroll down to Nielsen Park when you're done.
108 Take a walk on the wild side (Oxford Street)
For a spot of people watching take a walk down Oxford Street close to the centre of Sydney. Start from the city end and head for Taylor's Square. Grab yourself a drink somewhere and watch the wild life sequined/leather/whatever pass. There are also drag acts and other forms of 'entertainment' to be found.
Sydney Mardi-Gras Parade
The famous Gay and Lesbian Mardi-Gras Parade is held here in March. The parade dances its way around Oxford Street and the surrounding area. For more information just follow the link below:
Newtown
For a slightly seedier atmosphere there's Kings Cross and for a more alternative ambience visit Newtown just outside the city proper.
109 (141) The Internationally Acclaimed Paddington Reservoir Gardens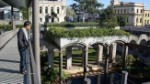 Paddington Reservoir Gardens has won a number of architectural awards and has even been recognised as one of the world's most significant new architecture projects. The Paddington Reservoir upon which it has been created was originally constructed in the 1800s. At the time, the reservoir was crucial to the health and well-being of the people of Sydney.
110 Madonna's Bra – AKA ANZAC Bridge
Madonna's Bra also known as the ANZAC Bridge does NOT span the Tasman to New Zealand. Madonna's Bra is just a nice looking bridge. The ANZAC Bridge is best seen from Blackwattle Bay (with the Sydney Harbour Bridge in the background). The ANZAC Bridge is the attraction rather than its surrounds so please don't bother walking over it.