High Tea in Sydney – Top 120
What to do in Sydney? – Take High Tea!
111 (141) High Tea in Sydney
The British (or was it really the Chinese?) gave us the enduring, and growing in popularity, "High Tea". You can posh it up in most major cities around the world and Sydney is no exception. In fact treating yourself, or better still being treated to a High Tea is a one of the top things to do in Sydney.
What is High Tea?
So what is High Tea? Well it comprises of a traditional selection of sandwiches, cakes and the finest tea and champagne. High life and tiffin, apparently, bring a friend(s).
112 Macquarie Street
If you enjoyed Hyde Park Barracks you might enjoy a walk along Macquarie Street. Macquarie Street has more 'old' buildings including Sydney Hospital and New South Wales Parliament House (that's State not Federal). There's also a nice coffee-house in the hospital grounds not far from the Domain.
113 (99) Steam Trains (Southern Highlands)
If you'd like a steamy trip out to the Southern Highlands and other 'places of interest' this could be for you. The steam trains periodically depart from Central Railway Station; follow the link below for when:
114 Sydney Observatory
We are stardust and we are golden. The Sydney Observatory is close to the Rocks, the Harbour Bridge and Sydney Theatre Company.
Sydney Observatory includes the 3D Space Theatre
A 3-D space theatre shows both short films and interactive content dealing with astronomy and space exploration themes. The Observatory has some interesting exhibits on the robotic exploration of Mars. Perhaps even more exciting are the discoveries being made by the Cassini Spacecraft currently orbiting Saturn and its largest moon Titan. Titan has rivers, lakes and an atmosphere. Take the opportunity to ask lots of questions.
115 Sydney Theatre Company
Love the theatre darling! This is one way to see it without actually having to sit through a performance. The Sydney Theatre Company (STC) resides on a converted wharf close to the Harbour Bridge and not far from Observatory Hill. Apart from the view across the Harbour there are arty things to look at and a bar at the end of the wharf.
Tours
The STC also run an occasional organised tour. Follow the link below for more details.
116 Chinaman's Beach
Chinaman's Beach is a nice family friendly spot with a large grassy area that leads down to a small sheltered beach. At low tide it is possible to walk to Balmoral Beach.
117 Circular Quay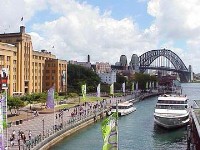 From Circular Quay you can see and photograph the Opera House at one end of Sydney Cove and the Harbour Bridge at the other. Circular Quay is the first place many visitors get to see these two great Australian icons close up. In case you are wondering, the building in the picture above is the Museum of Contemporary Art (MCA).
The First Fleet and Circular Quay
The First Fleet were the first Europeans to arrive at Circular Quay and they said, "What a great spot!" Which, of course it is. Circular Quay has now become the Central Station of Sydney Harbour. A mixture of tourists, commuters, street performers (some of them are more than worthy of your loose change but don't feel you have to) water side cafes, restaurants and the possibility of a moored luxury liner.
118 North Sydney Oval
North Sydney Oval possesses some nice but restricted views across the Harbour from the Oval's south eastern corner close to the footbridge. Cricket and Rugby are played at the Oval itself. There is also the Star Light Cinema which operates out of North Sydney Stadium from January to March.
The Oaks
If you can make the periodic market in Miller Street close to the North Sydney CBD grab some food and walk it off in the Oval and/or keep going to Neutral Bay and 'The Oaks' for its large beer garden and big oak tree.
119 Kirribilli House, Kirribilli
Kirribilli House is in a great location, has a fabulous history but open days are limited to once or twice a year. Ok, so the Prime Minister lives there, might get distracted etc. but the Queen allows visitors through Buck Palace so why can't our PM? Follow the link to the Kirribilli House web site and hope you can get in.
Lady Gowrie Lookout
Kirribilli has some nice views but it can be difficult to walk very far without hitting the back streets. There is Lady Gowrie Lookout for looking out towards the Heads.
120 Casino – The Star (aka Star City), Darling Harbour
Apart from lots of pokies there are lots of ways to gamble including cards, roulette and all the rest. The Star (Star City Casino) has some nice comfy chairs for watching sport, numerous bars, night clubs and shows. Gamble for fun and not to win and you can't lose.