Berowra Waters in Sydney
140 Top Things to do in Sydney
131 (74) Berowra
Berowra can be found at the end of a long train ride or car journey. Try to catch an express train service if you can. Go for a bush walk or enjoy a long lunch are the main things to do in Berowra.
Seaplane
For lunch cab it from the train station or drive or seaplane (one of the best things to do in Sydney) – visit, or revisit, the top 35 things to do in Sydney for more details.
Berowra Waters
Berowra Waters Inn offers a similar experience to Cottage and Church Points but different (now how helpful is that!). Follow the link below for more details and more things to do in Berowra.
132 (140) Gardens of Stone National Park – The New South Wales answer to the Bungle Bungle in Western Australia
The pagoda rock formations in The Gardens of Stone National park are regarded by many as NSW's answer to Western Australia's Bungle Bungle. The National Park contains numerous bee hive shaped domed structures amongst many interesting and awe inspiring rocky outcrops. The formations were created through erosion close to sandstone escarpments that characterise the area.
The Amazing and Inspirational Pagodas at Newnes
NSW artist Julie Harris won the world's richest award for landscape painting with her abstract diptych, Pagodas at Newnes, inspired by rock formations in the Gardens of Stone National Park.
"The rock structures are amazing," she said "I was taken for a bushwalk by some friends of mine into the Gardens of Stone; outside of Lithgow … they are just like pagodas."
Gardens of Stone National Park
The 12,000 hectare Gardens of Stone National Park has no real facilities to speak of. You need to bring everything with you. There are a few fire trails which provide short walking opportunities and picnic areas. The nearest car based camping areas are at Newnes and Glen Davis. The National Park is approximately 120 kilometres west of Sydney. Let someone know you are going and take all advised precautions (such a location finder) if you intend going for a hike.
133 (143) Barangaroo Walk
Barangaroo lies at the end of Kings Wharf in Darling Harbour and stretches around to Walsh Bay by the Harbour Bridge.
Barangaroo and the Sydney Foreshore Walk
Whilst it is still a work in progress, you can walk or jog around it during the day. Barangaroo completes the 14 kilometre Sydney Foreshore Walk from ANZAC Bridge to Woolloomooloo.
Woolloomooloo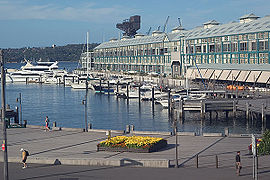 In Woolloomooloo you'll find some nice views, quality cafes and restaurants mostly along Finger Wharf. Nearby you'll find some older style pubs. Perhaps the highlight is the Andrew (Boy) Charlton Pool complex. It boasts heated pools of different sizes plus numerous facilities for the local community. It also has a great cafe.
Andrew (Boy) Charlton Pool complex – The Poolside Cafe
The Poolside Café has panoramic Sydney Harbour views and is highly thought of. The café gets three stars from the Sydney Morning Herald and was actually crowned as one of the city's best outdoor restaurants by Time Out. Not bad for a cafe by the pool.
134 (135) Nan Tien Temple
The Nan Tien Temple is big; it is bigger than anything this side of the equator. To see it, you just have to go on a short drive south of Sydney. If you drive down to Wollongong it is very hard to miss. The Temple is situated on a large site including a tea house, dining hall and auditorium.
135 (134) Welcome Wall (Darling Harbour)
The Welcome Wall lists the names of some of the millions of people that have come to Australia since the First Fleet arrived here. The Welcome Wall is a welcome addition to Darling Harbour's numerous attractions.
136 Parramatta
If you catch the Parramatta Ferry you will see mangroves, Olympic Park, houses and houses and warehouses along the way. It is certainly something for ferry buffs with an interest in history and 'old' buildings or maybe just a pleasant way of seeing some more of Sydney. Once you get to Parramatta however, there is much to discover.
137 Go 'Walk About' in Sydney
One of the many top things about Sydney is there is almost always somewhere close by that offers the prospect of a nice walk. There are numerous great walks around Sydney and many (if not all) are listed on Sydney100. There are a few walks that are not only excellent leg workers but also have a free guide dedicated to them:
138 Hang Gliding, Stanwell Park / Bald Hill and Bulli
Pay a visit to watch the unfortunate souls who are mad enough to go lemming off of a cliff. The wind has to be in the right direction which only occurs about once every four years…. I maybe slightly confused here but if you do want to see some very brave people defy the laws of nature take a drive out to Stanwell Park.
Bulli
You can keep going to Bulli. They have finally fixed the road and greatly enhanced the experience. The road is one of the best coastal drives in Australia and gives you plenty of time to explain to your six or sixty six year old that jumping off of a cliff isn't going to happen in your lifetime or theirs. If you find you have the urge please seek help.

Warriewood Beach – Northern Beaches
Warriewood Beach is a beautiful area as is much of the Northern Beaches. It is also another favoured spot for people dangling underneath what looks like a parachute a hundred metres or so off of the ground. Worth checking out if you are passing on your way to Palm Beach remembering that the weather conditions have to be right.
139 Water Taxi
The beauty of these little boats is that they can take you where the ferries can't go. Couple of suggestions, Drummoyne Rowers and Banjo Paterson's (yes the poet, yes it's a restaurant) in Gladesville. Alternatively you could catch the ferry to Doyles at Watsons Bay and water cab it back.
A water taxi ride 'home' might just keep that feeling of well-being going a little bit longer. Splitting the fare by travelling in a group is highly recommended.
140 Bowling / Bowling Clubs
Pick any club really and ask if someone could show you how it's done. Bowling is a Sydney institution and the clubs serve relatively cheap alcohol.