Sydney Things To Do
Over 141 Top things to do starring the Slightly Odd Q Station
141(-) The Slightly Odd Q Station, North Head
"Q Station is a contemporary take on the former North Head Quarantine Station" which I guess means the current operator has maintained the historical set up while making it cosy enough for us to still be willing to pay hotel prices for. Q Station has beautiful views of Sydney Harbour, it has an interesting history, and you can dine and stay overnight in relative comfort. So you can really walk away with a feel for North Head and its past ex-Quarantine Station but that's still not quite it. Spending a little time in the Q Station is, oddly enough, a really interesting experience that you are unlikely to forget.
Endangered Bandicoots
Q Station is run by a tourist operator and includes tours, fine dining and accommodation. Even before you enter, you may be struck by something odd, a sign with the image of a bandicoot and the word endangered underneath it. If they have dug up your garden recently or given you a Tick you'll know what I mean. Don't call Taronga Zoo  because they won't take them. They maybe endangered but they are thriving on the Northern Beaches of Sydney.
How Odd?
After that the oddities kept coming. You can't drive within the confines of Q Station. They can, you can't. The only exception is once you arrive you are allowed to drive up to reception if you are staying overnight. And if you are staying overnight, you might end up in a building that used to house third class passengers, as we did. The old third class passengers' building burnt down about ten years ago and has since been rebuilt (about 6 years ago, so it is still quite new) in exactly the same manner. Complete with outside toilets. The net effect is you stay in a room that manages to look and feel both modern and old at the same time.
Small is Beautiful
The oddities still kept coming from midget sized showers, odd sized rooms, thin walls and high sink, possibly to discourage you from peeing in it if you can't face the walk to the toilet.
Sydney's Heritage
The marketing name for where we stayed was the Harbour View Heritage Suite – heritage being the key word. As you may know, or have guessed, this is all (or mostly) about preserving the heritage of the ex-Quarantine Station. The tourist operator has signed a lease with 200 conditions in it designed to preserve blah, blah…
Should you Stay at the Q Station?
If you are into history, or have stayed in too many hotels, then this is a place to consider – you are unlikely to forget your stay in a hurry.
"Heritage rooms retain the original aspects of accommodation at Q Station when it was the Quarantine Station, where all accommodation had share bathrooms. However, the rooms today have been beautifully restored and although the bathrooms are still external, they are no longer shared and guests have their own private bathroom."
And you don't even have to:
"Our Deluxe Room category of rooms all feature ensuite bathrooms, most with shower over the bath, but some also just feature a shower" wow! 🙂
Having faced the 'hardship' of an outside dunny I say do the heritage thing, it gives you more of an opportunity to meet the current and past residents in interesting circumstances.
Q Station Views and History
Just walking around Q Station is a real pleasure as there are some beautiful views and whole story about the Quarantine Station is quite interesting. It would have been a shame had this piece of Sydney's history been given over to development and the Manly Bandicoots are ecstatically digging up the place so it's 'all good'.
Go on a Q Station Tour
There are a number of tours to consider including the ghostly ghost tour. None other than the Ghost Hunters International (US TV show) think that most people think that Sydney's Manly Quarantine Station is one of Australia's most haunted locations!
Is it worth Dinning at the Boiler House Restaurant at Q Station?
If you can get a deal on the meal at the Boiler House, or you don't care much about the cost, then it is well worth eating there. The Boiler House Restaurant is a popular buzzy kind of place. The restaurant has great views from the outside. It is very close to the water but you have to sit outside to enjoy it. The service we experienced was friendly and surprisingly efficient although the coffee beat the desert by a margin yet, oddly, the coffee would have been worth waiting for. We sat upstairs so you could see the directly into the kitchen and witness whole goings on, comings back, walking around in circles and looking stressed. It was quite entertaining and the food was excellent. The Chicken Momos was particularly recommendable.
And finally, is Q Station Haunted?
We couldn't say whether the Q Station should be renamed the G (Ghost) Station or something similar (but if it ever is I now expect a cheque) but there is definitely something odd about the place.
142 (-) Observatory Hill Park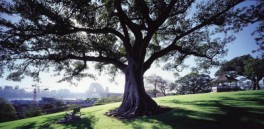 Observatory Hill Park is a magnet for locals, workers and visitors alike. It is a great place to take your camera as it offers panoramic views of Sydney Harbour and the Harbour Bridge from a natural setting.
Port Jackson Figs
The park contains numerous works of public art and a wooden rotunda flanked by magnificent mature Port Jackson Figs. So don't be surprised if you stumble across a wedding or some other celebration.
Harbour Bridge Pylons
You can access Observatory Hill Park from the Agar Steps in Kent Street or, alternatively, from Cumberland Street via a cutting through the Harbour Bridge Pylons.
143 (-) Tali Gallery
The award winning Tali Gallery consists of two storeys of indigenous contemporary and traditional paintings, limited edition prints, wooden and pandanus artifacts and craft. The range of indigenous art on display is truly impressive. You will find work from established artists as well as new and emerging talent. The art work comes in many forms and sizes from all over Australia.
144 (-) Resolute Beach – Ku-ring-gai Chase National Park
Resolute Beach is a lovely sandy beach with natural shade provided by the Ku-ring-gai Chase National Park. You can sit back and enjoy the excellent views across Pittwater to Station Beach. Resolute Beach is also a good spot for a swim and a picnic.
West Head
To get to the beach take the Resolute Track at the far end of West Head. The area contains a number of interesting aboriginal sites and lookouts.
Resolute Beach Picnic Area
There is also a largish car park at the Resolute Beach Picnic Area. From there you will need to walk for about two kilometres before you reach steep track that leads down to the beach. Take plenty of water and be careful descending the track. Broken ankles are not an unheard of event in these parts.
145 (-) Justice and Police Museum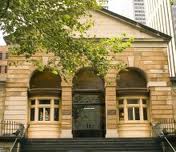 Come over to the dark side. Sydney did not have happy beginnings. The Justice and Police Museum is a historic police and court building dating back to the mid-1800s. The museum's heavy blocks of sandstone, spiked gates and the corridor of cells are both intriguing and imposing. You easily end up whispering to each other as if to avoid unwanted attention. It gets worse as you see all the mug-shots of the past crooks staring at you from the walls. Then there's the collection of weapons to send a shiver down your spine.
Justice and Police Museum Exhibitions
The museum has run some excellent exhibitions into the dark side of life in Sydney. Follow the link below to find out what's on now.
146 (100) Walk around Lane Cove
There is a 'shortish' three kilometre walk to enjoy around Tambourine Bay in Lane Cove. Walk along sandstone cliffs into mangrove swamps, see odd rock formations, wild flowers (when in season) and even a cheese tree (you can grow anything here).

147 Chinese Night Markets – Fridays Only
You will find the thriving Chinatown Night Markets in Little Hay Street and Dixon Street Mall in the Haymarket opposite the Sydney Entertainment Centre. The markets specialise in Asian clothing, tasty food and jewellery. They have a buzzy atmosphere and are a good place to explore on a Friday night before, or in between, a movie, drinks, dinner etc.
148 (-) The Great River Walk – Penrith
Do you like walking, rivers and wildlife? If so, you'll probably find the Great River Walk in Penrith really great, in a small way that is. The walk is a walk in progress, sorry, work in progress. There are great plans to river walk from Goulburn to Broken Bay just north of Sydney (good luck guys). For now, it's a relatively short amble alongside the Nepean at Penrith to Penrith Lakes – about 2ks – linking to a 7k walk around both sides of the Nepean River in Penrith and Emu Plains. You can start the walk from a variety of places including Tench Reserve, Weir Reserve on Bruce Neale Drive and Memorial Avenue in Penrith or Regatta Park, Emu Plains. The Great River Walk is close to both Emu Plains and Penrith railway stations. This should be a no stress; no worries walk with a number of places nearby to rest and replenish your energy stores.
149 (-) Sculpture Garden – Campbelltown
A Tether of Time
The Sculpture Garden's most well-known work is 'A Tether of Time,' by Joan Brassil. A Tether of Time is a sculptural installation and soundscape. The wind-harp sings in memory of windmills, the shallow pool reflects the history of water conservation and Campbelltown's geographic location between two rivers. The native Casuarina trees represent the Casuarinas growing throughout Campbelltown. To quote Brassil "I would like the sculpture garden to sing, sigh, reflect and inspire…to be a place of reflection and stimulation."
Big Wombat – Esmerelda (Diprotodon)
If 'a Tether of Time' sounds a little too heavy; maybe 'big' might have more appeal? Big things are big in Australia. There's the Big Prawn (Ballina), Guitar (Tamworth), the Big Merino (Goulbourn) and Big Banana (Coffs Harbour) to name but a few. So how does a Big Wombat sound? At least they actually existed. Meet Esmerelda: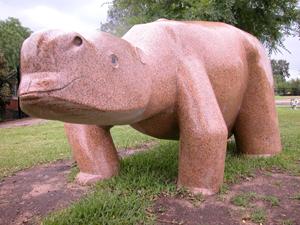 150 (-) Western Sydney Parklands
Bigger than your average Park
Set in the heart of Western Sydney, the Western Sydney Parklands contain world class sporting facilities, popular picnic areas, a full length cycle/walking track and native bushland. Covering 5,280 hectares, the parklands stretch 27 kilometres from Quakers Hill to Leppington and are twenty five times the size of Centennial Park.
Walk, Cycle, Picnic
The parklands contains a $4.5 million walking and cycling track which allows public access to the entire 27kms length of the site.
More to come
The Western Sydney Parklands Trust is working on new projects for the parklands so watch this new "thing to do in Sydney" as it attempts to fulfil its potential – it's a big park.
151 (-) Campbelltown — Freres Crossing Bushwalk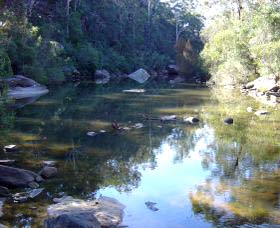 The Freres Crossing Bushwalk is a lovely 2km easy walk through beautiful bushland down to the Georges River. Along the way you should be able to see the remains of the old Freres Crossing Bridge, built at the start of the 20th century. The Freres' Crossing entrance is at the end of Freres Road, Kentlyn.
152 (-) Rocks Discovery Museum
The Rocks Discovery Museum is a free, family friendly museum which takes you way back to a time before the white man arrived right until everybody starting coming. Thankfully Australia is a big place. The museum resides in a 1850s sandstone warehouse and is home to a unique collection of images and archaeological artefacts found in The Rocks. The exhibits are very interactive and fun, using touch screens, audio and visual elements to bring the history of the area alive.
Free entry to the Rocks Museum
The Rocks Museum is free to get into via Argyle Street and is a useful wet weather, dodge the showers thing to do.
153 (-) TreeTop Adventure Park

We took our kids to the TreeTop Adventure Park only to be told that they were fully booked. The resulting flood of tears is an indication of just how devastating that news was – but I got over it eventually.

Book Online
The Adventure Park is a popular spot for just about any kid who likes to play at the playground or for those that have grown out of it. TreeTop Adventure Park is located about an hour's drive north of Sydney on the F3. You can book online (which is what we will do next time).
154 (-) Adults only at the Late Night Surry Hills Library – Selected Thursday Nights
Hysterical laughter, chilling screams and other salacious sounds will ring through the award-winning Surry Hills' Library every Thursday night. The Library will stay open on Thursday nights until 10:30pm with events and activities for adults only from 9pm to 10pm. The program has included ghost stories and hilarious erotic fan fiction, a live recording of a radio show, book readings, and an inside look at the making of horror movies.
The Library's extensive collection is also available for borrowing, with free Wi-Fi internet, and a regular program of talks, workshops, musical performances and film screenings.
Unsurprisingly, you will need to book. All Late Night Library events are free, Call (02) 8374 6230 or visit www.cityofsydney.nsw.gov.au/library for more information.
The International Award-Winning Surry Hills Library
The Surry Hills Library has been awarded the Best New Global Design Award at the 2011 International Architecture Awards in Chicago. Prior to this, the library was a won a number of prestigious Australian prizes since its opening in 2009. As well as a library, the building includes a childcare centre, community meeting rooms, commercial kitchen and an arts and crafts space.
155 (137) White-water Rafting in Penrith
Visit Penrith (on the way to the Blue Mountains) for man-made white-water for rafting and other fun water things to do.
156 (111) White Rabbit Gallery

The White Rabbit Gallery is a specially converted knitting factory near Sydney's Central Station. The White Rabbit Gallery has four floors of exhibition space as well as a theatrette, a library and a teahouse. Only a fraction of the collection is on show at any time. The entire contents of the gallery are rehung twice a year. It is a contemporary museum featuring Chinese art created in the last decade and costs nothing to enter.
The White Rabbit has 4 levels of display area and features the work of over 35 artists at any one time. The gallery also features a mini theatre, a library and a beautiful teahouse. It is located in Sydney's Chippendale and is only a 5 minute walk from Central station. Doors are open Thursday to Sunday every week.
Did you say the White Rabbit Gallery has a Tea House?
Whether you're visiting White Rabbit's collection, meeting a friend or just in need of a break, the gallery's tranquil street-level Tea House is a pleasant enough place to relax, catch up with friends or kill time if your train has been delayed.
157 (-) Garden Games – Kings Cross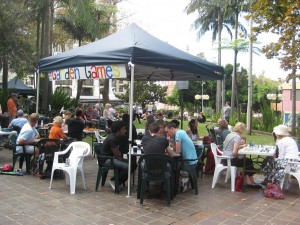 Garden Games revolves around games that are easy to learn and suit all levels from first timer to master. The idea is to have fun, challenge yourself and meet new people. Be a part of it and play the day away at Garden Games every Saturday from 9am to 3pm at Fitzroy Gardens Kings Cross.
Games available to play include, Chess, Backgammon, Snakes and Ladders, Connect Four, Dominoes, Blokus, Scrabble, Othello, Nine Mens Morris, Guess Who?, Scotland Yard, Checkers/Draughts, Battleship, a-MAZE-in, Labyrinth, Shut the Box and Uno.
158 (141) Brighton-Le-Sands – Botany Bay
Brighton-Le-Sands is famous for being close to the airport. Captain Cook also came by this way but it probably took him longer than you (unless you upset customs of course). If you're not bothered about the history you can grab a long black by the short Brighton-Le-Sands / Botany Bay Beach on the way home. Sit and watch the planes take off from a respectable distance and plan your return to Sydney.
159 (142) National Gallery and Parliament House Canberra
Sydney is NOT Australia's official capital. I know I can't believe it either. I'm no historian but apparently Canberra was chosen as compromise between Melbourne and Sydney.
Perhaps unsurprisingly the roads are pretty good but you could/should/perhaps/maybe/might [sense my uncertainty here] consider an overnight stay.
Alpine Way – Snowy Mountains
If you haven't already done so, you should also have a read about the Alpine Way as you could potentially do both.
160 (143) Commonwealth Bank, Martin Place
The Commonwealth Bank at Martin Place in the city is a large bank with high ceilings and great marble columns. The bank has occasionally appeared on television so it may seem familiar. You will probably have to visit a bank whilst you are in Sydney. So whilst you are waiting you may as well have a something to look at. Just a word of caution, might be worth mentioning to someone before you take any pictures (security, bank robbery, casing the joint, hyper sensitive security guard etc.) I'm sure people do take photos and you would probably be ok but personally, I'd ask permission first.
161 (144) Immigration – Department of
To stay here permanently you'll probably need a lot of cash or a skill the Immigration Department value. There is a reported skills shortage in Sydney so don't dismiss the possibility without checking first. Go to your nearest Immigration Office, take your number and cross your fingers. Unfortunately you'll probably need to leave the country first, but you ought to say a few goodbyes and tie up the odd loose end so maybe it's just as well.
Live in Sydney
Politicians sometimes complain everybody wants to live in Sydney and nowhere else (silly people), so get in quick before they force you to live in Melbourne.

What else is there to do?
The printer friendly Sydney100 Travel Guide lists even more top things to do including Sydney's Hidden Treasures, so you will gain even more ideas on what to do in Sydney from the book. It also has more travel info, tips, advice and money saving suggestions. It has useful travel itineraries which string the different top things to do together and all kinds of other good stuff. A bargain at $9-95 given you will probably save more than that, in fact, if you don't we will give you your money back.
Visit the Top 100 Club for 100s of things to do around the globe.