Sydney Information
Top 20 Things to do in Sydney
Sydney information about the top things to do. For the general overview please use the navigation bar on your left, for more detailed information use the links below. lf you have arrived here directly from a search engine or link, you might find it more helpful to start with the top 5.
Locals
Even if you live here you should still find this Sydney information useful. If you feel you already know about many of the top things to do why not try navigating the list backwards i.e. start with the top 150 and work your way to the top 5. The lessor known entries tend to start life at the back of the list. If you feel you can add to the list , or have any comments, please get in touch.
Further visitor and tourist Information
 Top 5 Things to do in Sydney
Manly
Manly ranks quite highly on the top 100 things to do. Partly as it is such a fantastic journey to get there, if you travel by ferry that is. When you arrive in Manly it feels like you have just gone on holiday. So if you are visiting, on holiday or on vacation, a trip to Manly can feel like a holiday within a holiday. Yet, hang on, you are still in the largest city in Australia. Now how amazing is that!
Gateway to the Northern Beaches
We promise to keep the use of the word "Gateway" to a minimum but it kind of describes Manly quite well, particularly if you arrive here by ferry. Maybe we should have said 'wharf-way". Either 'way', the Northern Beaches are arguably some of the finest in the world and Manly is the first stop up to Palm Beach, the jewel in the Northern Beaches crown (see 8 below).
2 Top 7 Sydney Harbour Cruises and a couple from Sydney100.
4 More information about Manly

5 North Head
Top 10 Things to do in Sydney
Sydney Harbour Bridge
There are a few different ways to cross the world's widest long-span bridge and tallest steel arch bridge. Train, bus, walk or cycle are all good options. Swimming under it is not so good and could prove fatal, but it has been done. If you are driving you can avoid paying the Harbour Bridge Toll by only driving north. This is a bit of a challenge and not really worth the hassle.

How to Pay the Harbour Bridge Toll (e-Pass)
So how do you pay? If you are hiring a car there is a good chance they have it covered for you. Ask if you are unsure. Failing that you will need an account as they no longer take cash. The good news is you have two days after you cross the bridge to set up this account. If you don't, they will fine you. We have provided a link to help set one up – click below.
6. Harbour Bridge Toll Information and Bridge Climb
7 Open Air Cinema  and Moonlight Outdoor Cinema
Palm Beach – Water, Water Everywhere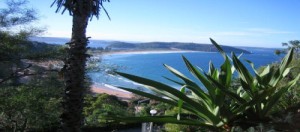 Arguable one of Australia's most attractive beaches with Pittwater in the background. Check out the view from the Bible Gardens below and click for more information on Palm Beach.
9 Royal Botanic Gardens and Royal Botanic Gardens – Free Guided Walks
The Top 20
The top 20 list includes the Manly Ferry, the Manly Fast Ferry, Darling Harbour, North and South Head, Sydney Harbour Bridge Climb, Open Air Cinema and Moonlight Outdoor Cinema, Royal Botanic Gardens, Palm Beach, Taronga Zoo, Whale Watching and the Blue Mountains. For more information please use the navigation bar on your left or follow the links above and below.
Vivid Festival
You don't have to do anything of course. It can be a lovely surprise to discover that there is a festival on or some other a major event. A good example of this can be seen in the smile of many visitors who come to Sydney during May and June. For the last few years the Vivid Festival has had Sydney aglow with coloured lights and special effects.
Blue Mountains (plus Wildlife)
In theory, the Blue Mountains are not in Sydney, in theory. Sydney is spreading out and getting closer. The real question is should you travel the 90 odd minutes to experience the stunning scenery stretching out before your eyes. Oh dear, I think I may have given away the answer.
Taronga Zoo
Taronga Zoo has a huge advantage over its international and domestic competitors – the Harbour. If you reach the lions enclosure only to be disappointed by sleeping kings of the jungle, you could just turn around and enjoy the amazing views behind you. That said, there is usually a lot to do at Sydney's top zoo.
11 Three Sisters – Blue Mountains and How do I get to the Three Sisters in the Blue Mountains?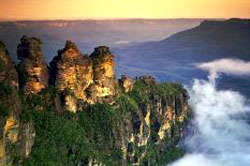 12 Scenic World, Blue Mountains  and Blue Mountains Things To Do
14 Taronga Zoo

15 Bondi Pavilion
16 Whale Watching – Cape Solander, Kamay Botany Bay National Park and Whale Watching in Sydney
18 South Head Map of Watsons Bay, Gap and South Head
19 Scotland Island's Own Web site
Top 100
Finally, we don't want to let you go without ensuring you can find your way back to the top things to do. If you are ready to keep going just click your back button (assuming you arrived here from another page on this site) or use the menu on the top left hand side of this page. If you are a local and feel you already know about many of the top things to do in Sydney, why not go straight to last page of the top 100 list and work your way backwards. You might be surprised.