Top 25 Things to do in Sydney
What to do in Sydney? The world renown walk from Bondi Beach to Coogee!
The Top 25 things to do in Sydney includes some wonderful things to do on the Eastern Suburbs including the now famous walk from Bondi Beach to Coogee Beach and what to do when you get to Coogee and Watsons Bay. For the wine lovers there is a suggested short trip to the Hunter Valley. For those with an adventurous spirit there are scenic flights to experience Sydney in all of her glory.
21 (22) Walk from Bondi Beach to Coogee Beach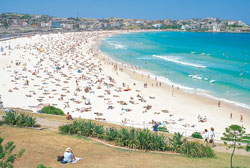 The walk from Bondi Beach to Coogee Beach is another classic. Walk from Bondi to Coogee Beach and be greeted by fantastic views, beautiful beaches, cliffs and even an old cemetery (Waverley) with unimpeded views out to sea. Tamarama ('Glamarama' so they say), one of the places you will come across, has a café very close to the beach and is a good spot to rest along the way. Allow three to four hours and take your time. Note the lack of fences between Bondi and Coogee Beaches so please keep a close rein on the kiddies.
22 (23) Sexy Coogee Beach
A visit to Coogee (pronounced "Could-gee") Beach can feel like you are in the backpacker capital of the world! Coogee is a popular destination for young, old and for backpackers. Apart from beach itself, Coogee has great views, its own nightlife and walks to either Bronte/Bondi or Maroubra.
Views
For a view whilst munching head for the southern end of Coogee Beach for breakfast and lunch. Be prepared to wait for a table if you arrive after 10am on a weekend.
Coogee Pavilion (ex Beach Palace Hotel)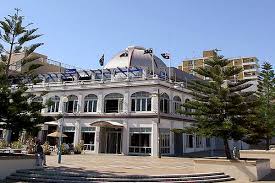 On the north side of Coogee Beach you'll find the Coogee Pavilion (used to be the Beach Palace Hotel). If you can still do it without paying, climb to the top bar of the Pavilion, get a cold drink and sit yourself down on the veranda and enjoy the view out to sea and across Coogee Beach. Relax and soak it all in but be warned – the longer you stay there the harder you will find it to leave – unless the sea breeze strengthens and blows you away.
Coogee Bay Hotel
For music fans the Coogee Bay Hotel caters for you with all kinds of music provided it's loud and usually involves jumping around a lot.
23 (18) Doyles at Watsons Bay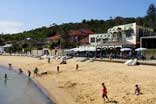 Doyles Restaurant
There is something about Doyles at Watsons Bay. It is a little over priced and often crowded but the staff are fun and friendly and the view says – 'stop worrying, relax and have another drink' (or maybe that was the waiter!), either way it's a magnificent spot.
Doyles Pub
If the restaurant is too pricey there is a cheaper option. You could just eat at the pub next door. Try to get yourself a table upstairs so you can enjoy the views across the harbour towards the city.
Catch the ferry from Circular Quay
With good friends, nice wine and sound of the waves lapping against the beach it's harder to think of a more pleasant way to spend a sunny afternoon than at Watsons Bay. Catch the ferry from Circular Quay and be prepared to loosen the belt, empty the wallet (or purse) and seriously chill.
24 Sydney Scenic Flights – Get over Sydney and see her in all her glory
Be blown away by a scenic flight over Sydney Harbour. It is up there with life's unforgettable experiences. Please don't forget to bring your camera.
Sydney Heads
As you briefly fly out over Sydney Heads you should be able to see Sydney's magnificent sandstone cliffs. If there is a swell of any size you should be able to see the Pacific Ocean waves marching towards Sydney and smashing into the cliffs which rise up in her defence. Only through the heads can the waves get through – roughing up the Manly Ferry along with any other passing craft.
Palm Beach
Once you leave the Heads you will track northwards over stunning natural scenery to Palm Beach. The pilot will manoeuvre the aircraft to ensure you get a fantastic view but then again it is hard not to, as the view is stunning in all directions.
Sydney Harbour
From Palm Beach you head back towards the Harbour. Even for a local the vista is breathtaking. You will fly over the Harbour Bridge and the Opera House before gently touching down on the water in Rose Bay. You will be so thrilled when you land that you will be tempted to do it again!
25 Hunter Valley – Drink in the scenery
As though Sydney isn't blessed enough we have the beautiful Hunter Valley Wineries just two and half hours north of Sydney. Advisable to overnight, get someone else to drive or join a Hunter Valley tour. Beautiful scenery, lovely hospitality and the wine's not bad either. Visit the smaller Hunter Valley wineries for more personal service and unique wines. Some, if not most, of the wines sold by the larger concerns in the Hunter Valley are retailed locally at below cellar door prices.

Sign up to the Sydney100 Newsletter for all the latest and best events, festivals, new listings and things to do during the holidays. Follow the link below to continue your journey.