Sydney Harbour Seaplanes
Top 35 Things to do in Sydney
How about the thrill of a flight in a Sydney Harbour Seaplane, a Quad Bike ride, a dash on a Speed Boat and even a Sky Walk! Maybe take a nice relaxed 'Manly' stroll besides the Harbour just to polish off a great day in Sydney.
31 Sydney Harbour Seaplanes
Flying in a small aircraft like a seaplane is as different as it looks from the jet you may have arrived in. Be sure it's for you. It's a tight fit once you're in but you'll forget that pretty quickly as you try not to spend the whole trip taking photographs. It is an amazing thing to do. This is one of those experiences that tend to leave you with a big fat smile on your face. The seaplanes depart from Rose Bay on the south side of Sydney Harbour.
Sydney Highlights Scenic Flight
Not something you are likely to forget…
The seaplane flight below gives you about half an hour above Sydney. As at the time of posting, the price tag is for two passengers.
Don't be afraid to ask
Lost? Don't know where to go for a decent lunch? I know, I know, few of us like asking strangers for help. The fact is however, if you need help there are many that are prepared to give it. Just ask someone. Most locals are proud of their city and will be happy to assist. Exploit this weakness and get their help as often as possible.

32 (30) Quad Bike Adventure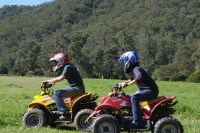 There's max fun to be had on a four wheel Quad Bike or ATV (all-terrain vehicle), just over an hour away from the centre of town. This is a great way to experience the countryside. It might also be a smart move if the idea of actually going on a bush walk has little appeal.
Yeehaw!
Riding through bushland and open paddocks in these powerful little machines will get your pulse going and an involuntary "Yeehaw!" is almost acceptable as most people won't be able to hear you anyway.

Quad Bike the Australian Bush
You don't need any experience as training will be given before you get going. Once you have been trained, and have had some practice, you will zoom and bump along on a one hour fully-guided quad bike tour of bushland around the base of an escarpment. Go as slow or as fast as you like but follow your guide's instructions as the Quad Bikes are heavy and can hurt you if you mess about too much (yes mum

).
33 Sydney's Fast Boats
Not even the mighty harbour can contain this craft. Hang on:
POWER Boating
We have lift off!
This is a serious power boat ride with an emphasis on power. This boat is quick. It is very quick. It has the potential to travel up to 100ks an hour though (and above) the water. This is racing speed. You will still get to see the Opera House and the Harbour Bridge among many others, just a little quicker than most…
Special Forces
Most of the fast boats on Sydney Harbour are designed for tourists and look the part. This one doesn't. These are the boats the Special Forces use.
Sydney Heads
Assuming your boat is not commandeered for a commando raid somewhere your pilot will not be able to contain your vessel within the Harbour. It is just too powerful. Your boat will just have to be taken out for a run through the Heads. You will be the fastest thing heading out of the Harbour. Hang on!
34 Sydney Tower Eye, 4D Cinema and Skywalk
Sydney Tower has grown an eye! The old tower is no more and now we have a new Sydney Tower complete with an eye. Well it worked for London. For the record, Sydney Tower Eye was previously known as Centrepoint, AMP Tower and Westfield Centrepoint.
4D Cinema
As well as the view from the top (which you pay for and shouldn't if it's very cloudy) the Tower Eye has a 4D movie theatre. This does not mean you will break the laws of physics and travel back to the future. Instead, you will be subject to, sorry, entertained by "in-theatre effects including wind, bubbles and fire".
Tower Eye Sky Walkers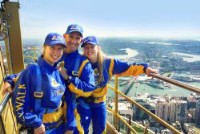 If this all sounds like 'why list the Sydney Tower Eye' it's because of the view. It's Sydney and you can't beat that no matter what you call it.
Get as high in the 'Eye' as the Eiffel Tower
The Tower Eye Sky Walk provides an opportunity to walk around the outside of Sydney Tower. You'll be walking 250m above Australia's largest city – as high up as the Eiffel Tower. If you dare, step onto the viewing platform. It is just a sheet of glass between you and the bustling city beneath your feet …gulp! You'll be higher up than those doing the Bridge Climb but, as you might expect, a little further away from the Harbour.
35 Spit Bridge to Manly Walk
Most people seem to start at the Spit Bridge and walk to Manly. You could be different and walk it backwards – just mind your step.

Either way it's one of the longer but more rewarding walks you can do. If you do finish at the Spit Bridge – there's a place for coffee / cold drink by the water near the yacht club close to Shores Restaurant. Alternatively stop and lunch at Clonny's on the Beach at Clontarf Reserve (Beach). Clonny's maybe a little pricey but it is in an excellent location.
Spit Bridge to North Bridge?
Give yourselves four hours, take water with you and wear walking shoes and of course, sunscreen. It is possible to keep going from the Spit Bridge to Beauty Point and beyond to Primrose Park, Folly Point, Tunks Park and North Bridge. If you're interested just let us know by completing the comment box below and we'll get back to you with more information.