Climb the Sydney Harbour Bridge Pylon, visit Cottage Point for a special lunch and feel like Royalty at Government House!
Top 40 Things to do in Sydney
36 Sydney Harbour Bridge Pylon Lookout

The Harbour Bridge Pylon is the 'tower' nearest to the camera
Climb the Sydney Harbour Bridge Pylon! For slightly more than a burger and chips at Circular Quay you can climb the 200 steps to the top of the southern pylon of the Harbour Bridge. You could treat the Pylon Lookout as an appetiser for the Bridge Climb (a top thing to do in Sydney) or as an alternative. Either way the Sydney Harbour Bridge Pylon Lookout is excellent value.
Harbour Bridge Lookout
The climbable pylon is the one nearest to the city on the southern end of the Harbour Bridge and is assessable by foot. You'll get a nice view from the top and as much information about the Sydney Harbour Bridge and its construction as you could possibly want.
No Support for the Harbour Bridge
For example, did you know the Harbour Bridge Pylons are cosmetic and do not support the Harbour Bridge! Then there's the builder who fell off the Bridge but had the presence of mind to throw his tool bag ahead of him thereby breaking the water tension and saving his own life. The poor guy was back on the job after a few weeks in hospital. Tough times. Many died erecting this magnificent structure most now drive across without much thought.
37 Cottage Point
Cottage Point is a lovely out of the way place within the Ku-ring-gai Chase National Park in Sydney's north. This can be included as part of a trip through the Northern Beaches, or as a separate little escape to get away from big city without actually leaving it. One of the best things to do at Cottage Point is to have lunch.
Lunch at Cottage Point Kiosk
You can seaplane, ferry cruise (from Palm Beach) or drive to Cottage Point. Cottage Point is a lovely spot by the water surrounded by bush. A chill out affair with the option of a bush walk or a visit to West Head if you so desire.
Lunch at Cottage Point
Cottage Point Pittwater by Seaplane!
The award winning Cottage Point Inn restaurant is in an awesome location seemingly a million miles away from Sydney, yet you are still in the harbour city. The beautiful and tranquil surrounds will welcome you as your seaplane touches down close to your restaurant and taxis up the seaplane dock. You'll feel like you are in a scene from old James Bond movie. This will be a romantic, fun, exciting, relaxed experience, whichever way you want it to be really and you haven't even eaten yet.
38 Government House – Royal Botanic Gardens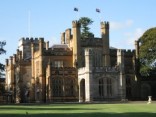 Government House is nicely situated in the beautiful Royal Botanic Gardens (ranked 9th) a short stroll from Circular Quay. This is where the Governor-General hangs-out and where the Royals go for a cup of tea when they come to visit. Worth your time for the views and garden let alone the stately home. The downside is you have to go on a tour; you can't just walk around on your own. Tours run every half an hour so no great inconvenience.
How much does it cost to get into Government House?
So how much do you think it costs to visit this beautiful place? This will surprise you – absolutely nothing. Government House is only open Friday to Sunday – 10am to 3pm but the grounds are open every day – 10am to 4pm.
39 Helicopter Flights
Sydney by chopper
Pricey, short lived, noisy and why don't these things screw themselves into the ground (?). When it's over you'll probably say something like 'that was fantastic' to which will come the reply 'buzz' unless you kept your earmuffs on.

Harbour Helicopters and the Northern Beaches
It is amazing just how much you can see of Sydney in half an hour. All you need is a helicopter. From Long Reef in the middle Sydney's wonderful Northern Beaches to Bondi Beach further south. Whilst you are still thinking about the incredible coastal scenery you'll be flying over Sydney's Middle Harbour National Park.
Sydney Opera House
Arguable the best comes towards the end of your flight as you head towards the fabulous Sydney Harbour. Do you take photos or just stare at the awesome 1500ft Harbour Bridge as it looms up before you? Perhaps seeing the roof of the Sydney Opera House from above will bring forth that niggling thought that has been residing at the back of your mind – 'I'm not sure I can leave this place'.
40 Bradleys Head
Bradleys Head Amphitheatre with views of the Harbour Bridge
The best way to get to Bradleys Head is to catch the ferry to Taronga Zoo Wharf from Circular Quay. When you arrive, climb up the hill taking the right fork into the Sydney Harbour National Park. From there you will be presented with a choice of three walks. Roughly 30 minutes of effort will be rewarded by spectacular views extending from the city to Sydney Heads at the entrance to the Harbour.
Bradleys Head Amphitheatre
Bradleys Head can be a place of sadness and frustration when cameras fail to operate. Make sure this does not happen to you and that your photographic device is fully operational and ready for action. There are classic Sydney views to be had from the amphitheatre and it is also a great spot for a picnic or to go fishing.
HMAS Sydney
The white mast you'll see belongs to HMAS Sydney, a WW1 battleship. If you are there late or early in the day you might catch a glimpse of some ring-tailed possums and water dragons. Rainbow Lorikeets may also drop by to say 'G'day'.
Clifton Gardens
You can continue through the peaceful Taylor's Bay Reserve and on to Clifton Gardens, at Chowder Head, where there is a picnic area and ocean pool. It'll take you around four hours to walk from Taronga Zoo to Chowder Head and back. Like all these walks, the more time you take over it the more you'll get out of it.