Lane Cove National Park
Top 60 Things to do in Sydney
What to do in Sydney? Visit Lane Cove National Park
51 Rose Bay to Nielsen Park (and Watsons Bay)
This walk will give you beautiful Sydney Harbour views and the opportunity to explore the hidden Hermitage Foreshore Reserve. This five kilometre hike can get muddy and is steep in places but don't let that put you off. The 325 bus should take you to the city if you finish the walk at Nielsen Park or catch a ferry if you finish at Rose Bay. If you are really feeling like a serious walk, you can walk all the way from Rose Bay to Watsons Bay. Follow the link below for a map and more information.
52 Lane Cove National Park
The attractive Lane Cove National Park follows the Lane Cove River running through Sydney's North West. It is amazing a National Park like this one exists so close to the centre of town.
Lane Cove River
With numerous picnic areas and walks by the Lane Cove River, the Lane Cove National Park is well worth the parking fee. My preference is Half-Way point (point No. 19) if you want to go for a 'shortish' walk. Turn left and follow the river until the path slopes upwards towards the road. Give yourself at least an hour.
53 Horse Riding at Centennial Park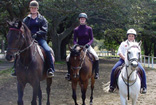 Centennial Park is both pretty and pretty big. You could try walking around it but it might take a while. Alternatively, you could run which is ok but you may not get to appreciate the park as much.
Horse Power
So perhaps the answer is to engage a little horse power. This way you get a nice elevated view and you get to ride a horse (of course).
Glenworth Valley
For a more rural horsey experience 'discover' Glenworth Valley just outside of Sydney. You will get to canter across lush green valleys surrounded by National Parks. You could also choose to ride besides a pretty creek that flows through the valley and even go for a swim in it if you wish. This should be a very pleasant Australian bush experience with the minimum of actual bush walking.
54 Milsons and McMahons Points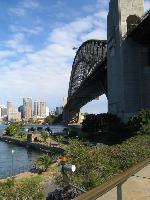 Alight at Milsons Point train station or much better still, catch a ferry from Circular Quay. A stroll under the Sydney Harbour Bridge makes for some interesting camera angles as the Bridge rears up before you. You can also go for a swim in the excellent Olympic sized pool close by. There's a shallow pool for kids and coffee for the grown-ups.
55 Luna Park – amusement park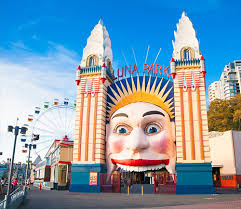 Luna Park is close to McMahon's Point. Luna Park is free to get in but the rides and amusements are not. Loved by many but the locals of McMahon's Point are far from amused so please scream quietly.

56 Ballooning in Sydney
Ballooning over the Hunter Valley
Ballooning can be gentle and relaxed as long as heights don't faze you. A landing in a balloon can be a 'drag' (as the basket sometimes drags along the ground) but adds an element of excitement.
Love, Romance, Adventure and Escape
If you follow the link below to our links page you will find a link to Cloud 9 Balloon Flights who offer "Love, Romance, Adventure (and) Escape" and they fly balloons as well.  🙂
57 Cremorne Point Walk
Cremorne Point, on North Shore, is an excellent vantage point for views across Sydney Harbour looking back towards the Harbour Bridge and out towards Sydney Heads. You can also take a very civilised and pleasant stroll from Neutral Bay past Cremorne Point and on to Mosman Bay.
Mosman Bay
Your feet will be treated to a mostly paved pathway but there is grass a plenty if you prefer. You get to see a little bit of bush along the way, nice houses, gardens and there are plenty of places for a picnic (best near Cremorne Point itself). There is also a pool (towards Neutral Bay) and Mosman Rowers (Mosman Bay) for refreshment.
Sydney Harbour
Serviced by Sydney Ferries, Cremorne Point Walk can easily be combined with a trip across the harbour. This is a great way to spend a leisurely few hours.
58 Parasailing Sydney Harbour
Being thrown around behind the back of a boat and flying high up in the air is as exhilarating as it is fun. Manly Wharf is the place to start. In some parts of Sydney Harbour water and jet skiing are banned. Parasailing from Manly however, is not.
Parasailing Sydney Harbour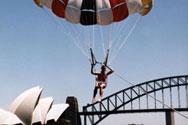 If you choose to parasail over Sydney Harbour you will experience the going ups, the highs and the coming down of parasailing but you don't need to get wet if you don't want to – or maybe just a little. If you have never tried it before you should as it really is great fun.
Sydney Harbour from 450 feet
Now there are many ways to see and experience Sydney Harbour. Hopefully, we have listed all the good stuff. The two best ways are from the water and from the air. Now you can probably guess where I'm going with this, that's right, parasailing! You get to experience the Harbour in the two best possible ways! All you need to do…is…to do it! To quote:
"All that is required of you is to relax and enjoy the view."
Not the thing to do on a Winters Day
Regrettably, you can only experience this experience from October to April. So if you are here between May and September there is only one solution – come back!! Now you have your excuse, 'but I never got to go parasailing on Sydney Harbour, we have to come back!'  🙂
59 Coogee Beach to Maroubra Beach
'No one' walks from Coogee Beach to Maroubra Beach so it's all the more enjoyable for it. Annoyingly there is a house right where it shouldn't be – forcing you to take to the streets. You also have to walk across a stony beach which is not for everyone. But I like it!
Maroubra Beach
Maroubra Beach is relatively under developed/unspoilt depending upon your view point. Maroubra has a decent cafe right on the beach and an excellent ocean pool to the north – a cool place to cool off if required. Unlike Coogee, with no Wedding Cake offshore (island) the surf tends to be bigger and better at Maroubra Beach, just watch out for the rips and rocks.
60 Powerhouse Museum
The Powerhouse Museum is a science and design museum with interactive exhibits. The Powerhouse Museum is family friendly, educational, interesting and potentially fun! Usually runs a number of different exhibitions. Technology and space exploration often feature.
A Powerhouse of things to do during the School Holidays
The Powerhouse does cater well for kids, particularly during the school holidays and it is an excellent wet weather 'thing to do'.
Darling Harbour
You'll find the Powerhouse at the edge of Darling Harbour in Harris Street, Ultimo. Check the Powerhouse Museum website for details: