Hawkesbury River Sydney
Top 70 Things to do in Sydney
What to do in Sydney?
61 Brooklyn on the Hawkesbury River Sydney
The Hawkesbury River is both an impressive and attractive stretch of water. Boats run from both sides of the Mooney Mooney Bridge and there are cafes at Brooklyn and a Brooklyn train station. With a couple of exceptions most things to do in Brooklyn are water based including river tours and island exploring, boat hire, swimming and fishing.
Playground
If you drive as far into the wharf area as you can you will discover a little playground for the kids. You could also just park by one of the cafes (if you can find a space) and walk down with your coffee as there is a path by the water, you don't have to walk all the way through the car park.
Walks and Pool
Beyond the playground you can walk, or jog down to a bay, it's not far but the scenery is really nice and/or you can read up on the history of the area from the information boards or just take a short stroll around the swimming pool.
The missing Wondabyne Sculptures and Mount Penang Garden (Kariong, Central Coast)
One of the locally listed attractions is to see the "Wondabyne's Sandstone Sculptural Park", by boat of course. Once described as a mini Stonehenge, the eight tonne stones would have been a sight to see guarding the water's edge. The only problem with this is they aren't there anymore.
Mt Penang Gardens
Wondabyne's Sandstone Sculptures have been removed from Wondabyne and, after a clean and some time in storage, relocated to Mt Penang Gardens in Kariong. Kariong is about a half an hour's drive further north. Just follow the link below for a map of the park and directions from Brooklyn.
62 Riverboat Postman – Hawkesbury River
Only an hour north of Sydney you can hitch a ride on a boat that delivers mail and supplies to isolated residents along the Hawkesbury River. The cruise lasts for approximately three hours. There are other Hawkesbury river cruises if this one is fully booked but try the Riverboat Postman first.
Hawkesbury Cruises
The Riverboat Postman is now operating on a new boat with a new company called Hawkesbury Cruises.
Riverboat Postman 1910
The Riverboat Postman commenced its deliveries over a hundred years ago and it will finish them eventually.

The boats are skippered by knowledgeable locals with stories to tell. You will visit various communities along the river giving you a feel for what it must be like to live there. 'Wonderful' is a word that comes to mind.
63 Sydney Sightseeing Tours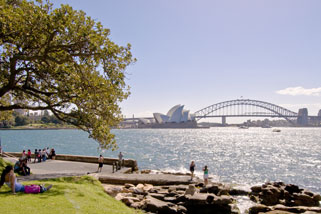 A standard bus tour will often cover off all the 'essentials' but never leave you enough time to really appreciate what you are seeing. Just as well then that not all bus tours are 'standard'.
64 Sydney Diving
Diving At Shelly Beach (North Side of the Harbour)
Diving at Shelly Beach is very popular.
Diving at Gordon's Bay and Bare Island (South Side of the Harbour)
Gordon's ay (near Coogee) has a course of things to look at. Bare Island may (near La Perouse) have some seahorses left. Sadly their numbers are on the decline – 6 females to every male.
Sydney Diving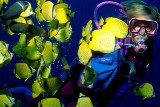 Scuba Diving is a wonderful experience and Sydney is a great place in which to learn how. The visibility through the water is generally very good and diving expertise in this country is second to none.
65 Raging Waters Sydney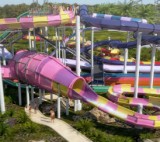 Boasting to have the "best rides that have ever been done" Sydney's newest attraction 'Wet'n'Wild' is the "world's largest water park".
Is it worth it?
The big question is whether it is worth the money (see below). For visitors it may also be a question of the distance from the centre of town with over a hundred other Sydney attractions to do.
What do you get for $120 million these days?
$120 million was paid for the manager of the Wet'n'Wild to visit dozens of similar theme parks around the globe as 'research'. Tough gig…

. Thankfully there was enough left over after all the expenses to build forty attractions.
The World's Tallest and Fastest Water Slides
The attractions include the world's tallest water slide and the world's fastest – so presumable the boss took a tape measure and stop watch with him.

Too expensive? Alternatives
The bigger the family the more it might make sense to visit the Gold Coast theme parks in Queensland or Jamberoo Action Park (covered in the Travel Guide) just south of Sydney boasts the "Funnel Web – the best attraction of its kind in the world".
Alternatively just keep working your way through the top 100 list. Most of the other top things to do in Sydney are cheaper than Wet'n'Wild.
66 Walk the Sydney Harbour Bridge
It takes about half an hour to cross the Harbour Bridge on foot. A wire suicide fence impedes the view a little. Don't forget to smile sympathetically at the bored looking security guards as you go by. If you commence your journey on the city side of the Harbour Bridge you can catch a train back into the city when you finish your walk. Milsons Point, McMahons Point, Kirribilli and North Sydney are all relatively close by if you want to keep going.
67 Sydney Swans (Aussie Rules Football)
The Swans roost in the Sydney Football Stadium east of the city (but only a short cab ride) and next door to the Entertainment Quarter and Fox Studios. They occasionally fly around at Homebush. Ideally you'd be taken by a local who regards 'Aussie Rules' as 'aerial ping pong' to get the maximum enjoyment.
Rugby League (NRL)
Try counting the rules. If you need more than one hand you've probably been duped into see the Roosters play Ruby League. Assuming it is the Swans / Aussie Rules you're watching keep an eye out for any off the ball action, boo the officials and 'barrack' for the Swans 'Sid-nee, Sid-nee, Sid-nee' etc. Australian Rules is, as the name suggests, uniquely Australian, just ask any Irishman. 🙂
68 Captain Cook's Landing Place
Captain to be, James Cook, first set foot on Australian soil at Kurnell Peninsula Headland in Botany Bay on 29th April 1770. This was the moon landing of the 1700s. History was in the making, a new nation was born.
Walking in Cook's foot steps
You would think there would be a huge deal made of this place. But no, not really, but don't let that put you off, it is still worth going to, perhaps more so for its understated nature. Stand where Cook stood and think of England, I mean Australia.
Victoria
Captain Cook first sighted the Victorian coastline but thought they could do better so they headed further north. Wollongong was considered but the surf was up, and you don't get decent surf in England, so they decided to keep going. In the end Cook headed into Sydney, and can you blame him.

Local Greeting
Well the Aborigines were not impressed, they threw stones and then got into a bit of a huff. Might have had something to do with a musket being fired, maybe a bowl a sugar would have been a better idea.
Bush Telegraph
Whilst Cook wrote out a few postcards, wonderful beaches, nice weather, wish you were here that kind of thing, the Aborigines spread the word that the Poms had arrived. Accounts of "The Foot" where Captain Cook took his first step exist in parts of Aboriginal Australia that Cook never actually explored. Such was the bush telegraph in those days.
The Foot
Eventfully, somebody will rename Kurnell Peninsula the "The Foot". We start today, in fact; maybe we should rename a few more places. Surely we can do better than 'The Spit Bridge'. Captain Cook's Landing Place is a good place to take your feet and have a walk about, just no huffs, stone throwing or musket firing – perhaps that's why Sydney doesn't make a big deal of this place.
69 Sydney Opera House
Some buildings look more impressive from the outside. Still, worth a visit if only for the tortured story of its birth and after all, the Opera House is the building in Australia to visit.
70 Green Point Reserve
Green Point Reserve, also known as Laings Point, is a great picnic spot not far from Doyles at Watsons Bay and the secluded Camp Cove. This grassy cliff-top reserve has sweeping 180-degree views across the Harbour taking in the city skyline. Whilst it is a popular picnic spot it has limited shade, so bring your own, or at least a decent hat.
Romantic Reserve
Green Point has great family appeal during the day. As the set sets, it can get a little less reserved and little more romantic. The attraction for most though is its fantastic views of Sydney. You can sit there for hours and watch the harbour's comings and goings.
How to get to Green Point Reserve
Most options are available excluding the train. There are even parking spaces. The ferry, as ever, is the recommended mode of transport, particularly if you are new to Sydney.
Sydney Harbour (again)
Why not have another look at the harbour as what will catch your eye will vary depending on the weather, the time of day and (obviously) from your vantage point. Don't make the mistake of thinking been there – done that, because that's when you're missing a huge orange moon rise above Sydney Heads, a couple of whales gallivanting off of Darling Harbour or maybe just the realisation that you really need to stop working so hard. I remember a ferry master claiming to have the best job in the world because Sydney Harbour was different every day.