IMAX Theatre Sydney – Top 80 Things to do in Sydney
What to do in Sydney? Watch a movie at the IMAX Theatre
One of the best things to do in Australia is to sit in front of the world's largest screen at the IMAX Theatre in Darling Harbour or to head for the Snowy Mountains and maybe, even, see some snow!
71 (76) IMAX Movie Theatre including 3D Movies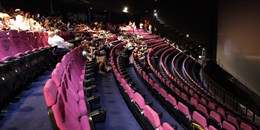 Located at Darling Harbour, the IMAX Movie Theatre claims to be the world's largest screen 'with crystal clear images' many times the size of more traditional screens. "Visually, there is no frame. The picture's bigger, higher and wider than your field of view." The result is, with far greater resolution than 35mm film, the movie watching becomes very real and lifelike, so choose your film wisely. I can't recall IMAX showing any horror movies, but I for one would not be brave enough to watch one.
I've seen 3D Movies before, what is so good about IMAX?
IMAX is aiming, if not claiming, to lower your disbelief monitor to zero. The idea is you feel like you are there and part of the action, far more than just sitting at the movies and watching a film. They want to take you out of the movie theatre and into movie. So as I said before, choose your movie carefully just in case they succeed.
Doesn't it depend on the movie?
Yes, whether IMAX works or not very much depends on the movie, hence they are very careful as to what movies they show.
Best place to sit at the IMAX Theatre
I don't think it makes much difference where you sit, but I wouldn't advise sitting too close to the front. It is a very big screen.
3D Movies and 2D Movies
The IMAX Theatre shows some good 3D movies and some even better films in 2D. It depends on the movie. Ask if you are unsure what kind of movie it is. If you haven't seen a 3D movie before, or not for a long time, IMAX is well worth considering, in fact, just go regardless, particularly if the weather is not that great.
Great thing to do on a rainy day
A visit to the IMAX Theatre is a good wet, dull or stinking hot outside, keep the kids happy activity. Click for:
72 Vivid Festival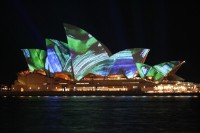 The Vivid Festival is the second best festival in Australia after the Sydney Festival and is fast catching up. As well as the amazing light effects (see above) it is also a music and ideas festival using big international names from the music industry to draw attention to itself. Look out for Vivid Live announcements of upcoming tours in February and March. Package deals for those travelling out of town will be available if you need of one.
Vivid Winter and Film Festival
When Vivid first started it was given a late May – early June timeslot as there was little else on other than the start of the Sydney Film Festival. The two festivals complement each other well but you have to ask why Vivid isn't moved to a warmer month given it predominately takes place outside. That said it is a huge bonus for people visiting in winter and for those who like the cooler conditions. So maybe the scheduling was a master stroke after all.
What's on at Vivid?
Follow the link below for details on what to expect, but in case you are already thinking, 'Umm, maybe we should visit in late May or early June' then you probably should, if Vivid was on every month, it would be the number 1 thing to see in Sydney.
73 Kayak Middle Harbour
How about the freedom to explore Sydney's Middle Harbour at your own pace? No license required, you can experience parts of Sydney most locals haven't seen.
Middle Harbour Adventure
Don't forget the sunscreen, hat and drinking water. Your Middle Harbour adventure will fly by so you will need to make the most of every minute of it. Don't be put off if you're not a brilliant swimmer – life jackets are provided.
Sydney's 'less travelled by' Harbour
There are only a few opportunities to really enjoy this surprisingly green area so close to the city. Middle Harbour contrasts well with Port Jackson (the main bit). In some parts you can almost picture how Sydney Harbour would have looked 200 years ago.
74 (131) Alpine Way, Snowy Mountains, Overnight trip from Sydney
The Alpine Way is part of a 250k stretch of road that loops its way towards the NSW / Victorian border from Snowy Mountains Highway. This trip will require you to overnight somewhere. Cooma in the south or the more rural Tumut in north are the most logical candidates. If you like pizza, give it a miss if you end up in Tumut.
Snowy Mountains
Australia is old and geography professors around the world have condemned it into having small mountains. Tallest is Mount Kosciuszko at approximately 2,227.826m.  🙂
Skiing
As you will know if you have ever seen an Aussie transfixed by white stuff, snow is quite rare in Australia. Most people come to the Snowies to ski and party. I'd argue that's not the main attraction.
Swimming Kangaroos
So what might you see? How does swimming kangaroos, strolling emus, bounding wombats, crystal clear waters against a back drop of snow-capped peaks sound? As you head north the scenery becomes more rural, hilly and green with a dash of colourful wildflowers in spring.
The Mountains in Spring
Now I can't guarantee you will see anything but you will improve your chances if you travel in spring / autumn and avoid school holidays and weekends. The less people around the more likely you are to see something amazing.
Jindabyne
Talk to the Park Rangers, check conditions at Jindabyne as they will close the road if the weather is bad and bring your camera.
Thredbo
Thredbo is worth a coffee stop if you can find somewhere to park.
National Park
Be prepared to pay a few dollars to get into the National Park.
Thredbo Diggings Picnic Area
Stop at the Thredbo Diggings picnic area for a while as this is a gorgeous, peaceful area.
Tom Groggin Picnic Area
Go to Tom Groggin picnic area and drive down to the 4WD road only sign. You may be greeted by a friendly mob of kangaroos. Although remember, these are still wild animals.
Swampy Plains River
Geehi picnic area has a pleasant wheelchair / pram friendly path alongside the Swampy Plains River.
Kosciuszko
From here you are less than half way to Tumut with much more to see and little in the way of services along the way. Make sure you have plenty of petrol and a decent map (not that there are many other sealed roads you can drive down). The Kosciuszko Recreation Guide is freely available from visitor centres and you may even get one on your way into the park.
Mountain Weather
Everyone's experience will be different on a trip like this, and as I've said, you can't guarantee anything, particularly the weather. But if you take your time, go with the idea of enjoying whatever comes your way you are bound to be rewarded. Plan ahead, avoid the crowds or you could – just go for it. Good luck.
More information
For more on the Alpine Way in the Snowy Mountains just follow the link below:
75 Day at Royal Randwick Racecourse and Rosehill Races
If you happen to be in Sydney on the first Tuesday in November, then you are in luck as its Melbourne Cup Day. Melbourne has a holiday (yes to celebrate a horse race) whilst Sydney has a party.
76 (71) Big Top – Circus in Sydney
Sydney attracts the world's best circus including one or two home grown such as Circus Oz (aptly named – a little different from the norm).
77 Art Gallery of New South Wales
The Art Gallery of New South Wales is nicely surrounded by parks (Botanical Gardens and Domain) yet close to the heart of Sydney. Nice café over the road and not too far to walk to Woolloomooloo Wharf's restaurants and cafes.
78 The Rocks
Visit 'The Rocks' for history, markets, old buildings (that's no more than 200 years old) and shops. Try the Lord Nelson at the 'wrong end' (toward Darlings Harbour – walk down Argyle Street) of the Rocks for a pint of the pubs own beer. The Rocks 'rocks' towards the end of George Street with the home of the Mercantile Hotel ('The Merc'), renown for Guinness, sweat and live music.
The Suez Canal!
The Suez Canal runs between George and Harrington Street between the MCA (opposite side of George Street) and Argyle Street. The laneway shrinks in size as it goes downhill until it's less than a metre wide. Water was supposed to have surged through the narrow end before adequate drainage was established.
Notorious Rocks
The Suez Canal was also reputedly 'home' to a notorious Rocks gang called The Rocks Push.
79 Puppet Theatre
Jeral Puppets and their Puppet Theatre have entertained countless children and adults with an army of puppets appearing in a vast number of different shows. They have performed at the Opera House and their shows have also appeared on TV.
The Highly Recommended Puppet Theatre
The Puppet Theatre comes highly recommended by the Powerhouse Museum, Australian National Maritime Museum and the Sydney Morning Herald.
Jeral Puppets
Check out Jeral Puppets website below for location and details of their performances
80 Blues Point Reserve
Visit Blues Point Reserve for nice spot for a photograph of the Harbour Bridge with the city as a backdrop. Try to ignore the huge tower unless you're fortunate enough to know someone who lives there. Some buildings look better from the inside. You can walk from McMahon's Point to Blues Point Reserve via Lavender Bay but, unfortunately, you will have to take to the streets to complete the trip. For more Blues Point Reserve just follow the follow below: