Sydney Archive
What was on in Sydney Archive. For current events, Sydney festivals, entertainment and activities or What's on in Sydney now:
What were the top events in Sydney from June 2011 to December 2011? For current stuff see "What's on"
For What was on 2012 – Try the Sydney Archive 2012.
Mary Poppins – Capitol Theatre – ends 17th December
You could say Mary Poppins is "SUPERCALIFRAGILISTICEXPIALIDOCIOUS" Even adults will enjoy this highly acclaimed musical.
Foo Fighters – Sydney Football Stadium – Thursday, 8th December
It's seating room only for the Foo Fighters at the SFS on Thursday, and that's at the time of writing. "Special guests" include Tenacious D!
Sydney's Hidden Spaces exhibition – Thursday, 1st December – Saturday, 3rd December, 11am-6pm
Some of Sydney's best-kept secrets, from "brown bag" picnic lunch spots to rooftops, basements, lane way bars and pedestrian short cuts, are being unearthed in a new research project.
"It's an insider's guide to Sydney – from finding a perfect place for a picnic to getting across town in a storm without getting wet," the Lord Mayor said.
The official opening is Friday 2 December at 6pm at The Paper Mill, Ash Street off Angel Place, Sydney
Bass Control – Midday to Midnight – Saturday, 10th December
Frontliner, The Pitcher, Psyko Punkz, Darren Styles, Amnesys the list extends longer than a top 100 website – this is music for the hardcore – hardcore dance people that is – your legs are guaranteed to be slightly smaller after this. Tickets are, of course, in short supply, high demand and sadly, appropriately priced. Sorry that's Sydney – the action comes and everybody goes
Midsummer Night's Dream in the (Centennial) Park – every Friday, Saturday and Sunday throughout November
Watch Shakespearean mischief unfold in the open air production of Shakespeare's A Midsummer Night's Dream. "A Midsummer Night's Dream transforms the Belvedere Amphitheatre into the whimsical Athenian forest every Friday, Saturday and Sunday throughout November for four consecutive weekends."
ARIA Awards – Sunday, 27th November – 4:30pm
Put on your best frock and sneakers for the 25th Anniversary ARIA Awards. You'll be amused and entertained by performances from Guy Sebastian, Gotye with Kimbra, Boy & Bear, Drapht, Art vs. Science, Gurrumul and even Kylie Minogue. Presenters include Hamish and Andy, Benji and Joel Madden and Noah Taylor. There are 25 Awards to be awarded including three you can vote on.
Schools Spectacular – Friday, 25th November at 1pm and 8pm and Saturday, 26th November at 2pm and 8pm
The Schools Spectacular is one of the world's biggest youth variety events with over 3,000 young, talented singers, dancers and musicians. The entertainment includes a 1200-voice choir, an 80 piece orchestra, rock, jazz and brass bands and soloists from as young as 5.
"The Schools Spectacular has two acts that run to about two and a half hours in total, there is also a twenty minute interval and it is not unusual for the show to run slightly over time."
Newport Beach Festival & Market Day – Sunday, 27th November
This is an good day out to the beaches with the chance to buy some interesting Christmas gifts. The will also be entertainment with music, food and stuff for the kids.
Santa Fest – Darling Harbour – 26th November
Does your kid want to see Santa Claus? Don't waste your time in the shopping Mall – go to Darling Harbour instead for MORE Santas than you can poke an elf at.
Sculpture by the Sea – Bondi to Tamarama coastal walk – 3rd November to 20th November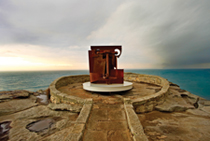 It's amazing when you think about it, there you have one of the most glorious and famous beaches on the planet with practically a life of it's own. It's late spring, things are warming up, there's an awesome coastal walk to Tamarama to consider after maybe an icecream or lunch on the beach and hey, look at all those great sculptures – just brilliant really. All the ingredients would appear to be in place for a great day – you just need to add you.
Avalon Market Day – 19th November, 9am – 3pm
Visit the beautiful Northern Beaches and come to Avalon Market for the day. Stop at Turrimetta Beach, or take a look at the nearby Bible Gardens. Avalon Market has over 300 stalls selling food, Xmas gifts, jewellery and homewares. Then there's the dog show, stilt walkers & local bands. There's a nice community vibe to the markets, it's a good opportunity to pick some unusual Christmas presents and beach is close by along with loads of cafes and shops.
The Glebe Street Fair – Sunday November 20th, 10am – 5pm
The Glebe Street Fair is one of Sydney's longest running annual events, attracting more than 100,000 people every November. This year's theme is "the beat" with performances from all over the world. There will be over a kilometre's worth of market stalls, fabulous international food, kids' rides, entertainment, activities and lots of laughs and smiles.
Outpost Project – The art of the streets goes off shore – Cockatoo Island – ends 11th December
Cockatoo Island's abandoned factories and forgotten alleyways provide a great stage, canvass even, for a diversity of Street Art. You will be able to see a huge range of Street Art in one very intriguing location. And because of its dynamic and live nature, the art will change and evolve, giving visitors something different to see throughout the course of the festival.
Parramasala – Sunday, 30th October – Sunday, 6th November
Parramatta boasts a festival which incorporates the work of artists from all over the globe with a common bond. Each is inspired by rich artistic traditions and cultures that originate in South Asia. The performances, screenings, concerts and showings will offer experiences that embrace, entertain and inspire. Many are free. Watch a lunchtime documentary, an exhibition at the Artists' Studios, concerts on the outdoor stage and then one of the major festival attractions in the evening. All within easy walking distance.
Masala Market
Don't overlook the amazing variety of food available at the Masala Market and Festival Lounge or one of the city's outstanding restaurant precincts near Church Street or Harris Park. The festival kicks off with the Deepavali Fair at Parramatta Stadium on Sunday 30 October.
Janet Jackson – Sydney Opera House – 5th – 6th November
'What have you done for me lately?', 'Rhythm Nation', 'All for You' and many more. It's been 13 years since Ms Jackson came to these shores. She may not be the world star she once was but I'd still expect tickets to disappear at light speed.
Balmain Art and Craft Show – Saturday, 5th November – Sunday, 6th November
One the great things about the Balmain Art and Craft Show is it gives you an excuse to get down to Balmain. It's a great spot with the London Hotel, all the street cafes, restaurants and with Sydney Harbour just ten minutes down the hill. As for the show, you can look forward to an "eclectic array of the domestic, chic, exotic, kitsch and the simply beautiful. Other activities include a Gala Opening Night, Live Auctions, fabulous Kids Activities and Gourmet Food."
Seven Bridges Walk – Sunday, 30th October
Do you have a favourite Sydney Bridge? We do have a few good ones. Here is your chance to walk over seven of the them whilst raising money for charity. The Seven Bridges Walk is also a great way to see Sydney, get a bit of exercise and feel part of the Sydney community.
Everybody Wins
Walk, don't run! The Seven Bridges Walk is not a race. You can start at any of the seven event Villages and walk clockwise around as much or little of the 27km closed loop circuit as you want. There will be food, music and activities and heaps of fun for all.
The Museum of Fire – Doll, Bear & Craft Fair, Penrith – Saturday 29th & Sunday 30th October, 9.30am-4.00pm
We are talking serious dolls here and lots of them. Well actually, the dolls won't be doing much talking unless there's string involved but it's the perfect opportunity to say "Hello Dollface" to a lot Dolls.
Twilight Concert in the Park – Classic Hits – Saturday, 29th October
This is the sort of event you might expect to see at the Domain or Moore Park, but no, this Twilight Concert in the Park is be staged in Wahroonga in the leafy suburban stratosphere of Sydney's North Shore. Somebody is making money up there but not at your expense – this is a free concert.
You can bring a picnic or buy your food and wine when you get there, just don't bring any glasses as they are not permitted at the event. I'm picking up some good vibrations about this one.
Crunulla Spring Beach Classic – Wanda Beach – Sunday, 23rd October
Would you like to win yourself $300 whilst getting some exercise? Easy, just run the 8km from Wanda Beach to the Boat Harbour and back faster than everybody else. There are prizes for 2nd & 3rd place if you don't quite make it. There are also special age related prizes and special events. Don't delay, register today and get in training!
Artists To Be Hung On The Supreme Court Fence! … come witness the public hanging in Taylor Square!
On Saturday October 22nd an outdoor art fair will be staged in Taylor Square North in conjunction with the Oxford Arts Festival 2011. Over 200 artworks will be on view to the public; with live entertainment, street theatre, celebrities, special guest speakers and many prizes to be won.
MG Car Club of NSW Display Day – Gladesville Reserve, Crown Street, Henley – 16th October
The MG Car Club in Sydney is celebrating the 50th Anniversary of the MGA 1600 MkII, MG Midget and MG 1100. This is the biggest MG event in Sydney. There will be MGs all over the place. The objective of this anniversary celebration is, not only to show off the cars, but also to give MG owners and enthusiasts a chance to meet and have a yarn. There will be food and drinks, coffee of course, a picnic area and entertainment.
The Teddy Bears' Picnic – Rosehill Gardens – James Ruse Drive, Rosehill – 16th October
If you go down to Rosehill Gardens on the 16th October, you're sure of a fun-packed family day. Things for the kids to do includes bouncy castles, sports clinics, animal farms, face painting, Bear Clinic (of course) and celebrity appearances. Who can resist a Teddy Bears' Picnic? Bring Teddy along and join the throng.
Often I Find That I am Naked – The Concourse, Chatswood – Tuesday, 11th October – Saturday, 15th October
Finding Mr Right is tough, but for every Mr Right there must be a Ms Right.
"After sell-out seasons and rave reviews in Brisbane, Sydney and The Gold Coast, Critical Stages are proud to present the story of Jezebel, a professional Australian woman who spends her time shopping, drinking cocktails and looking for love any way she can – speed-dating, Facebook, text sex, and on the search for Mr. Right she too often ends up with Mr. Right Now"
Will this Ms Right get it right? – you'll just have to see the show to find out.
Oatley Lions Village Festival – 15th October
Oatley Lions Village Festival is a community bash with two stages of entertainment, amusement rides and 170 food, craft and novelty stalls, Harley Davidson Bike rides, Trash and Treasure. In case you aren't sure, Oatley is down south just past Hurstville but before you cross the Georges River into The Shire (well worth crossing the bridge if you have the time). The Oatley Lions Village Festival will be spread over Frederick Street, Oatley Avenue and Oatley Memorial Park.
This is Sydney Life… Love in the fast lane . Sydney Life Tour – Saturday 15th October, Meet at Archibald Fountain, Hyde Park North at 2pm
"A stolen moment of a couple embracing, frozen in time against a blur of late night partygoers, has been announced as the winner of the 10th annual Sydney Life photographic competition." This a disturbing development; will the couple get their moment back?? You can ask this, and far more intelligent questions, of the Sandy Edwards, a Sydney Life Judge, during a guided tour of this year's entries.
Antenna International Documentary Film Festival, Chauvel Cinema – 5th – 9th October
This is new. The Antenna International Documentary Film Festival is the first doco film festival in Australia, let alone Sydney. The first festival will feature 28 documentaries from around the globe, film competitions with prizes totaling $10,000, special events and international guests.
Highlights include Michael Madsen's Into Eternity, which tackles the issue of nuclear waste and the task of communicating to generations 100,000 years in the future and Danfung Dennis' Hell and Back Again, a glimpse of the reality of war in Afghanistan.
The Chaos Fairy – Zenith Threatre – 4th – 7th October
The Chaos Fairy is for 4 to 12 year olds and for everybody who loves happy endings. This delightful musical tells the story of young boy suffering from a bad case of stage fright. The Chaos Fairy and an eccentric wizard come to his rescue, sort of. Aloysius, the boy in need of help, soon find himself in a whole heap of chaotic trouble.
Aloysius's squabbling parents finally get their act together allowing Aloysius to find his own way, his own resolve, and in doing so, his own voice. The Chaos Fairy gives us great songs, much hilarity and a wonderful ending.
For more things to do during the School Holidays you should visit the imaginatively named:
Newtown Theatre Sydney Fringe Festival – September 9th – October 2nd
The Sydney Fringe Festival is one of those hit and miss events that requires a little open mindedness and patience. Listen out for the silent movies, take your old chum to the cabaret, go the distance with a serious play or ponder over a short production. Get the brain cells going and / or the heart pumping. The Sydney Fringe Festival consists of a smorgasbord of events and there is bound to be something to tickle your fancy. You can never quite tell what to expect until you're there, and that's half the pleasure.
Tickets range from a cheap $32.50 to a cheaper $15.00. You pays your money and cross your fingers! Be brave.
The Vintage Markets – Vintage Drive (off McDonalds Road) – Hunter Valley – Sunday 2nd October 2011 9am – 2pm
The Vintage Markets offer up a great excuse, if you need one, to visit the Hunter Valley on the Sunday of the Labour Day long weekend. With Monday being a public holiday you can enjoy yourself on the Sunday and chill out on the Monday. The Vintage markets are located in the heart of the Hunter Valley wine region, allowing you try a few wines before and after your trip to the stalls.
The Vintage Markets ususally take place every long weekend on a Sunday from 9am – 2pm.
Let the LEGO® Games Begin! At a selected Westfield probably near somebody else – Wednesday 28th September – Sunday 2nd October
When you think of the great sporting events of our time, the 100m metre sprint, Word Cup Rugby, International Swimming, Cricket, Tennis etc only one competition consistently builds upon it's success, we are talking Lego, the Sport of Bricks..
Westfield is hosting a series of LEGO Games Challenges at Westfield Parramatta. Most of the action will take place at the games tables but if you are good enough, really hungry for it, you might scale the heights to the challenge table on the main stage.
A new game will commence every 15 minutes and there will be prizes and giveaways. Participation in the LEGO Games Challenge is FREE and does not require purchase. All participants will receive a free gift from LEGO Games.
Families are encouraged to arrive early, as sessions are available on a first come, first served basis and are expected to reach capacity. It will be the best games ever.
Parklife – "The Ridiculously Expensive Ticket" Moore Park, Sydney – Sunday 2nd October
It's just that kind of a "festival" – not cheap, but at least that means you can probably still get tickets.
For less expensive things to do over the Long Weekend try:
Things to do over the October Long Weekend
Red Bull X-Fighters – Cockatoo Island – Saturday 17th September, 3pm – 7pm
So what are Red Bull X-Fighters?
X-Fighters is a hyped (or hyper) freestyle motocross tour "featuring the world's best riders throwing down mad tricks in stunning locations across the globe. The best FMX riders in the world" are to boldly go where no X-Fighters FMX riders have gone before – Sydney.
(And Red Bull is a drink full of caffeine)
10,000 BEERS, Darlinghurst Theatre – By Alex Broun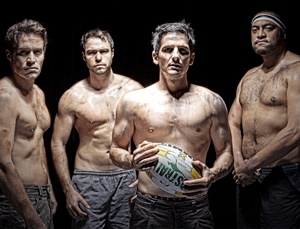 10,000 Beers is the story of the Panorama Pirates, a footie team on their end of season jaunt to Sydney. As you might have guessed by the title, the aim is to drink a ridiculous, if not potentially fatal, number of beers in one weekend. It starts with a Friday night pub crawl to the casino on Saturday and serious drinking on Stupid Sunday.
The play explores a real enough scenario rarely 'tackled' on stage. 10,000 Beers is something we all might relate to in different ways. As the beers flow so does the humour but it doesn't take too long before things start to get just a little nasty.
10,000 Beers was written by Alex Broun, a rugby journalist with clearly some insight into his field. Lee Lewis directs the satire where mateship, larrikinism and competition are taken to extremes. What happens on tour, stays on tour.
Previews: 16 – 20 September
Season: 22 September – 9 October
Times: Tuesday – Saturday at 8pm, Sundays at 5pm
Matinees: Saturday 1 & 8 October at 3pm
Drive in Cinema at Randwick
The Racecourse drive-in is the latest family attraction to come to the Eastern Suburbs of Sydney. Bringing back the days of the 50s and 60s when taking the family to the drive-in was all the rage. Now you can relive those days and enjoy the magic of the drive-in cinema and watch movies from the comfort of your own car.
The Sydney Racecourse drive-in is the perfect entertainment for families as well as couples and groups of friends. So why not pack your car with blankets, pillows and the kids in their pyjamas and come down to the Sydney Racecourse drive-in cinema for a memorable night out.
Tennis Australia vs Switzerland – Royal Sydney Golf Club, Rose Bay – Friday 16th – Sunday 18th September
Anyone for..Aussie..Aussie..Aussie Tennis? Australia take on Switzerland in the Davis Cup world group play-off. Lets show Melbourne they don't own the sport and support the national tennis side. See Bernard Tomic, Lleyton Hewitt and Roger Federer on court in Rose Bay. How can you miss it?
The Annual AAADA Sydney Antiques & Fine Arts Fair- Randwick Racecourse – Wednesday 7th – Sunday 11th September
You are bound to be on a winner if you visit the Antiques & Fine Arts Fair Show at Randwick. The Australian Art and Antique professionals have Australia's finest collection of antiques and fine arts in their care. The nation's best old stuff is being gently dusted off for your visiting pleasure.
The Mysterious Muogamarra Nature Reserve – Weekends from 20th August to 11th September
Just quietly, I think we getting ready to say adios to winter. Nothing personal, but good riddance. If you are planning on heading north out of Sydney over the next few weeks, don't go far. If you turn off near Cowan on the F3 before the Mooney Mooney Bridge you'll find the Muogamarra Nature Reserve. Anyday now, the wildflowers of Muogamarra will be going wild with fragrance and colour. Say hello to the sweet smell and sight of spring.
The huge (have a look on map!) Muogamarra Nature Reserve boasts almost 1,000 different species of plants and is only open to the public on certain weekends during the year. This year, it's the four weekends from Saturday 20th August to Sunday 11th September. From the 11th September the gates are closed to the world till 2012. Much that stirs within this mysterious place will stir unseen by human eyes.
Why go? Well, if you sign up to a free guided walk, you'll discover all the secrets of this forbidden land. Buried alien spacecraft? lost dinosaurs? and a previously unknown tribe of honest politicians??..well probably not, particularly not the last one, but a tour will make the trip more interesting. As you can imagine, with all rumours we have just started, the tours will book out pretty quickly so ring, ring, ring..02 9472 9300.
Entry fees are light weight but the gates aren't, so don't get locked in just in case there really are aliens and dinosaurs in there 🙂
Vogue Fashion's Night Out – Exhibitions and Shows – Thursday, 8th September
Why not pay a visit Australia's Fashion Capital, Sydney! Sydney's CBD will light up for the after-hours global shopping extravaganza that is Vogue Fashion's Night Out. The Sydney streets will be a glow with flashing cameras as designers, fashionable celebs and even shoppers celebrate the biggest event on the retail calendar! You might even find some "must-haves" to buy later in the sales.
John Cleese at the Sydney Opera House – 1st – 4th September
The event is actually called "Just for Laughs" and it's supposed to be internationally funny. Ironically, this probably means lots of Aussie jokes as the overseas comics attempt to reach their audience. All most of us will care about is will John Cleese (host for the night) do the funny walk and tell us not to mention the war, or will it be don't mention the cricket? Should be a laugh.
Things to do on Father's Day in Sydney – 4th September
What are you going to do on Father's Day? You could just ignore it. It is, after all, just a commercial invention to make us spend money. But what about Mother's Day? Shall we ignore that to? So socks then. Socks are ok. It's the thought that counts. Still, if you feel you should do more then why not get the old man doing something. In fact, why don't you all go out and make a day of it.
Nielsen Park Centenary Celebrations – Saturday 3rd September – Sunday 4th September
Happy Birthday Nielsen Park! 100 years old and she doesn't look a day over 90. You are cordially invited to the Nielsen Park Centenary celebrations. As you might expect from a park, celebrations include walking tours of the Greycliffe Estate, bush tucker tasting tours and breakfast with the birds. So come along and join the "party".
Mimosa Public School Fireworks Spectacular and Carnival – Frenchs Forest – Saturday 3rd September 2pm to 9pm (Fireworks at 7.00pm to 7.30pm)
I guess when you have had 40 years of practice you generally get things right. So it is with the Mimosa Carnival. Carnival rides, foodstalls, free activities for the kids and a warm, inviting atmosphere. Proceeds go to House With No Steps as well as the school. So come on down to the forest, bring a picnic and a blanket, have a fun afternoon and finish it all off with a bang as the fireworks fill the evening sky.
Bondi Winter Magic
"Bondi sizzles in Summer, Sparkles in winter!"
So get some sparkle into your winter chill. The biggy is the Ice Skating that slips into gear from the 30th June and ends way too soon on the 17th July. So you'd best get your skates on. And there's the music, the art and, of course, the magic. The Bondi Whale Festival will be huge and "the very best of the Orange" including "wine, local produce, chefs, art, music, restaurants and accommodation" will be sweet. There is so much to do in fact that we are a little concerned that there maybe nothing left for anywhere else. Enjoy in moderation
Rituals of seduction – Birds of Paradise, Australian Museum – extended to 30th August 2011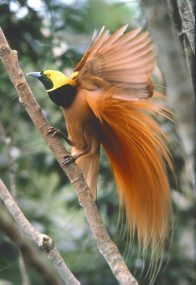 PNG is a fascinating place and could one day become a top international tourist destination. This exhibition gives us a bit of an insight into this amazing country and is not solely restricted to the birds of paradise.
Bondi goes Orange – Monday 22nd August – Sunday 28th August from 11am to 5pm – Free to get in, $20 to get out (just joking)
We have all heard of painting the town red. Well, Bondi is being different and going orange. This does not mean you have to speak a foreign tongue or share the cost of everything bit it wouldn't hurt. This is all about an old Oils song that nobody goes outback anymore, so the bush has come to us.
Orange Wine, Food & Produce Markets
The North & South courtyards of the Bondi Pavilion will come alive to the sounds, aromas and artistic flair of the Orange Region on Sunday 28th August from 11am to 5pm.
The wine tasting is not free which is a shame but it would probably be illegal if it were. Can you taste the orange in Orange Wine? Try some and find out. If you do, don't go there with the winemaker (he has heard it before). Seriously, this is a chance to try some wines you might not otherwise of heard of so don't miss out
Orange Fruit, Food and Wine
And you have guessed it, there are no Oranges in Orange. Orange was named after the King of Holland.
Pub2Pub Fun Run – Sydney's Fun Run, Sunday 28th August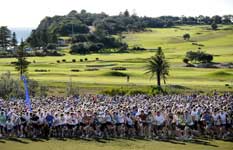 The grass killers of Long Reef on Sydney's Northern Beaches
There are no more spaces available but you can come along and watch just under 5,000 runners huff and puff their way through Sydney's Northern Beaches. Should be fun and it's all for a good cause or several.
All British Day – 28th August
Don't worry, it's all about British Cars and it's just not cricket.
Alex and Eve's – The Baby – 18th – 21st, 27th August
Given we are supposed to be an intelligent species and billions of babies have been born before, it really shouldn't be that big a deal, having a baby that is(?) Well it is, as Alex and Eve portray, a really big deal! Add religion and family to the physical stress of pregnancy and life becomes ..interesting. The couple have survived their religious differences, they have survived their friends advice and their parents "help" but can they survive the arrival of another human being? If you have kids, or want kids, you should enjoy Alex and Eve's little journey towards parenthood.
The Blonde, the Brunette and the Vengeful Redhead – 20 August 2011 – By Robert Hewett. Directed by Kaye Lopez
This is a chance to see an excellent play for very little. An adulterous husband and a meddlesome neighbour combine their destructive forces with circumstance to shatter the life of surburban housewife Rhonda Russell. She cracks and goes berserk in the shopping mall. What follows next, as the intrigue unfolds, is an examination of a number of different perspectives all with a twist. How did you see it all? Who are villians and who are the victims of the story? Just don't argue all the way home 🙂
As The World Turns – Anna Schwartz Gallery – 25th June – 20th August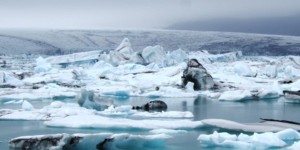 "..the artists in As The World Turns can be viewed as exponents of 'altermodernism', a term coined by Nicholas Bourriaud to characterise a modernity for the new millennium, one based on the translation of different cultural values for the purposes of a worldwide network of ideas and communities. Taken from a work by Katie Paterson, the title of this exhibition serves to suggest this global circulation of ideas, and the complex cultural trajectory these works have taken in their journey from London to Sydney." Which is nice to know because we just thought it looked interesting.
Bangarra Dance Company, Sydney Opera House 21st July – 20th August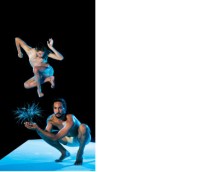 After the completion of their largely well received European Tour (apart from a few ignorant comments from some English critics) Bangarra Dance Theatre is home to present their new work 'Belong'.
So get out to the Sydney Opera House and enjoy the latest offering from this international group that does so much for Australia's image. Adult tickets are $65.
City to Surf – 14th August
The City to Surf is back yet again and good luck if you are competing against your "PB" or raising money for charity and it's a great advertisement for Sydney. No doubt there will be favourable headlines around the globe and who knows, maybe record numbers even if there isn't (you try counting everybody).
Surf to City?
At the risk of being attacked by traditionalists, isn't time for a change? We have been running this race for hundreds of years, can't we do it differently, at least for one year? How about running it backwards – Surf to City perhaps. What about everybody has to hold hands up Heartbreak Hill? Lets shake things up guys. Better to freshen things up before we start switching off.
Mudgee Wine & Food Fair – Balmoral Beach – The Reserve, The Esplanade – 10.00am – 5.00pm, Sunday, August 14th 2011
The Mudgee wine thing is 20 years old on Sunday..and I remember when it was young and innocent and hardly able to walk, or maybe that was me. Anyways, there's the wine and food and…yeah, well actually, it should be called the wine and food and live music and goats, sheep, lambs, chicks, ducklings and rabbits (for the kiddies). Remember kiddies, pet those animals in moderation. Should be a fun Sunday and, hopefully, everybody can move on from the recent events up the hill.
Kaiser Chiefs – Saturday, 6th August
If you know who the Kaiser Chiefs are then there's probably not much I tell you other than, at the time of writing, there still appears to be reserved seating available. If you have never heard of them have a listen to this:
You also get Papa Vs Pretty and all girl rock band Stonefield. Should be a riot 🙂
Cirque du Soleil's Saltimbanco – 27th July – 5th August – Acer Arena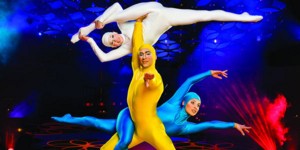 As far as I can recall, the first and last time I saw Cirque du Soleil they performed in a tent at about a third of the price you'll pay now. Mind you it was a little while ago. The indulgent reminiscing is because they are performing Saltimbanco "the awe-inspiring show that first introduced Australia to the genius of Cirque du Soleil." So if this is the original Cirque du Soleil performance that I was fortunate enough to witness – it's awesome, well worth three times what I paid for the privilege.
A Different Time: The Expedition Photographs of Herbert Basedow, Cockatoo Island – 4th June to 31st July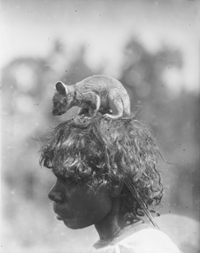 This new exhibition showcases the historic photographs from one of Australia's lessor known explorers. Entry is free.
Herbert Basedow's revealing images, many of which are on display for the first time in Sydney, provide a fascinating historical record of the people and places Basedow encountered. Basedow captured life in remote Australia in the 1900s, giving visitors the rare opportunity to experience this important Australian story.
A Day Out with Thomas – Thirlmere – Saturday 30th July, Sunday 31st July
You get to meet Thomas (Hi Thomas, how are you doing?..), take a "genuine steam train ride" in Donald the black engine, see Toby and Henry and even some 'Troublesome Trucks' If you are, or know a small engine who is, in to Thomas then you'll probably find this event really useful. You'll even meet the Fat Controller. But before we get too steamed up, you'll have book your train ride beforehand and it costs. Kids $25, Adults $35. Seems a bit pricey to me for a whole family, so maybe Dad or Mum have to stay in the sheds and take photos. Trains depart from Sodor Station in Thirlmere near Picton at 9.30am, 10.45am, 12pm, 1.15pm and 2.30pm. Beep, Beep, all aboard!
Kung-Fu Panda at the New Virgin Active Health Club – Norwest Business Park, Baulkham Hills – Saturday 30th July – Sunday 31st July
Yeah ok, it's probably just going to be some guy in a suit but this one, unlike Thomas above, is a freebee, and anyway, it's not the REAL Thomas either. Richard Branson who, with any luck, will be wearing the Kung-Fu Panda suit, is opening the doors of his latest fitness club and is not only using clever marketing to get you in but also free entertainment with circus acts (not the clowns please), live music, jumping kangaroos (as oppose to?) and the Australian national champion team of synchronised swimmers. Not convinced? think of it this way, Mr Branson has a reputation to uphold. It should be interesting at the very least. (Odds are they will want your details when you arrive but you can always hang up on them when they ring)
Update:
It worried me slightly that there doesn't appear to be any mention of a Panda on Virgin's website – so I asked and they assure me it's all on. (My guess is, if Mr Branson does intend to make an appearance, there will be an awfully large number of cameras around to give the game away).
Motorex, Sydney Olympic Park, Saturday 23rd – Sunday 24th July – that's right, it's on this weekend!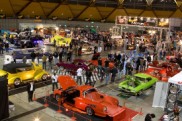 You'll find the very best Aussie cars on display at Sydney Olympic Park this weekend. $50 million worth of Hot Rods, Street Machines, Custom Motorcycles, Muscle Cars, Heritage and Racing Cars.
Meguiar's MotorEx is the largest show of its kind in Australia attracting a wide audience from motoring clubs and organisations, individual enthusiasts to motoring businesses and general commercial traders. The action gets into gear at 10am on Saturday.
Sydney Morning Herald Photos 1440 – State Library – ends 24th July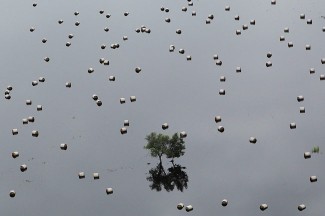 A picture is worth a thousand words so they say. Maybe the Newspapers should print more (and us to for that matter). This photograph captures the devastating effect of the recent floods as some 730 hay bails are left floating in flood waters on Ernie Campbell's farm, 16km south of Carinda. near Walgett, Far North NSW. (Ernie Campbell was evacuated from his farm Monday 6th December.)
"A day, a minute, a moment" 1440 minutes in a day but I'd have run with the 1,000 words quote. With Australia's amazing landscape, and weather to go with it, there have been some truly amazing images captured by Sydney Morning Herald's photographers. Stand and take a bow ladies and gentlemen. We applaud you. The exhibition features prints and multimedia of the best published and unpublished work by Sydney Morning Herald photographers from 2010 to the present and it's free. The exhibition ends on Sunday, don't miss it.
Winterfest Medieval Fair – Parramatta Park – 2nd July to 3rd July
Bring out the King Arthur in your kids, watch the knights in combat and cheer for your champion, have a go at archery, enjoy other traditional medieval activities and competitions.
There will also be music and merriment, Jesters, food & drink, Arts and Crafts, Full Flights' Falconry display and the Winterfest Joust- the original " Sport of Kings", Traditional Archery (open for all), Sword & sport displays, Craft Markets & Stalls, Kids Games & activities, the Full Flight Birds of Prey Display and featuring the Knights of NOVA HOLLANDIA, where you can experience the breath-taking Tournament Joust, and meet history head to head.
Looking for a Soulful Saturday Night? Sadly Brian McKnight sold out:
Brian McKnight sings at the Metro
But you can have a Soulful Wednesday on 29th June instead.
With tickets to his first Sydney show selling out within 24 hours, there is no doubt that tickets to this second concert will move fast.
The R&B and gospel legend returns for his first Australian tour in over 10 years. The 16-time Grammy-nominated veteran will be joined by a very special guest Dwele, in his first appearances in Australia.
The Archibald Prize – Art Gallery of NSW – to 26th June
Now in its 90th year, the Archibald Prize is one of Australia's oldest and most prestigious art awards. JF Archibald's primary aims were to foster portraiture, support artists and perpetuate the memory of great Australians.
Archibald Prize Winning Entry
This years Archibald Prize winning entry is Ben Quilty's portrait of Margaret Olley. The portrait pays tribute to one of the biggest names in Australian art and beat 800 other entries in the process.
Australian Museum Adventure Walk – Double Bay to Nielsen Park – Sunday, 26th June
Explore popular waterside suburbs, enjoy attractive harbour views and discover many fine restaurants, pubs, parks and nautical churches on this beautiful walk. You'll walk via Red Leaf pool, Seven Shillings Beach and find your way to the foreshore walk.
Cost: $15 Members, $20 non-Members
ABBAWORLD extended to 26th June! Powerhouse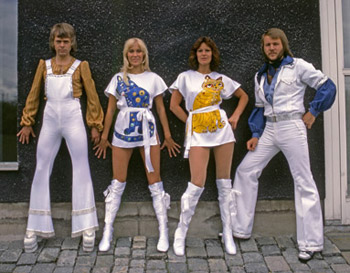 Sing and dance your way through the ABBAWORLD exhibition using a series of fun interactives including performing on a stage with ABBA, dancing in an ABBA video, recording a sing-a-long with ABBA and photographing yourself on an ABBA album cover. Just think of all those songs that you won't be able to get out of your head..
And if that's not enough there are also 20 original costumes, live concert footage, behind-the-scenes photographs, album artworks as well as exclusive interviews with members of the band.
Volcanoes, Australian Museum – 25th and 26th June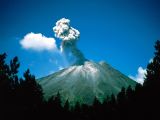 Learn about volcanoes and what makes this planet burp. Suitable for kids aged 5–8 years – Time: 3–4.30 pm
Cost: Members $18, non-Members $20 (per child after general Museum entry)
Bookings are required 02 9320 6163
Art After Hours – The Art Gallery of New South Wales – Every Wednesday – 5pm – 9pm
The late Wednesday night opening features a free events program with films, talks, performances, food and wine, alongside the exhibitions.
•All exhibitions – permanent and temporary – are open.
•The ArtBar is open late and serves wine and an evening-themed menu from 5pm.
•The Gallery Shop and Research Library are open until 8.45pm.
•The Members' Lounge is open and also serves evening refreshments.
•Parking: The Domain Carpark is open until 9pm. Parking is also available along Art Gallery Road.
•Complimentary Bus – From the Gallery to Martin Place every 15 minutes, from 7.15pm until after the last film.
Drive in Cinema at Randwick – Revs up again in June 2011
The Racecourse drive-in is the latest family attraction to come to the Eastern Suburbs of Sydney. Bringing back the days of the 50s and 60s when taking the family to the drive-in was all the rage. Now you can relive those days and enjoy the magic of the drive-in cinema and watch movies from the comfort of your own car.
The Sydney Racecourse drive-in is the perfect entertainment for families as well as couples and groups of friends. So why not pack your car with blankets, pillows and the kids in their pyjamas and come down to the Sydney Racecourse drive-in cinema for a memorable night out.
Meet the Dinosaurs – 25th September to 10th October
The Australian Museum boasts more than a bucket full of dinosaurs during its daily showings of prehistoric Australia. Australia was once greener than a minority government with many dinosaurs and other exotic creatures stomping their way through the forests and grasslands of prehistoric Oz. The Australian Museum will be running twice daily a show which allows the whole family to "interact" with the big boys. Bookings are not required. Cost is $10 per person.
Gruffalo's Child – Friday 29th April, 11am & 1pm – Saturday 30th April 10am & 12pm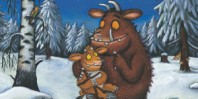 Meet the new star of the stage, the Gruffalo's child, offspring of the much-loved Gruffalo. Songs, laughs and fun for children aged 4 and up, and their adults.
Tickets $18 each or $64 for group of 4 (at least 2 children)
ANZAC Long weekend in Sydney
The ANZAC and Easter Long, Long Weekend extends to Tuesday 26th April. This all good news of course but appears to have created a problem for some. You can actually have two Easter Mondays if you are prepared to travel.
Easter Monday will be on Tuesday this year!
In Victoria, Anzac day that will be on Tuesday, April 26. In South Australia, Queensland and NSW, Easter Monday will be observed on Tuesday, April 26. Yes, that's right, the last week in April will have two Mondays in it – must be some kind of record. Monday will be ANZAC day whilst Tuesday will be Easter Monday.
And the winners are..
In Western Australia and the ACT, neither Easter Monday or Anzac Day have been substituted, because it was not considered appropriate to lessen the significance of either day by moving the observance to some other time, so Tuesday, April 26 was simply declared to be a holiday. Sounds like WA and ACT have won the common sense competition.