Sydney Rains
Things to do in Sydney in the Rain
Things to do when Sydney rains? If you intend staying here visit:
North of Sydney
Can I tempt you with a glass of wine?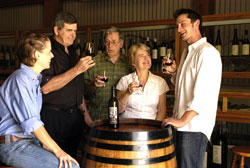 Hunter Valley
If the rain is light, occasional showers kind of thing, a trip to the Hunter Valley can be very rewarding. You should find less people doing the rounds and therefore more time at the wineries themselves. Sure you might miss out a little on the scenery but if your main interest is the wine then a wet day is a good day 'to do' the Hunter.
Hunter Valley Wineries are just two and half hours north of Sydney. Advisable to overnight, get someone else to drive or join a Hunter Valley tour.
Tour the Hunter Valley
The Hunter Valley Wine Tour linked below not only gives you some memorable wine to try; it also takes you on a guided tour of the Hunter Valley whilst providing the opportunity to see some of the native animals.
I'm not all that keen on tours either but visiting the Hunter Valley might be the time you make an exception unless you do have a nominated/tea total driver.
West of Sydney
Go Whitewater Rafting!
Well if you going to get wet from the rain you might as well get completely soaked. You don't even need to leave Sydney to do this but you will come close. Out by the foot of the Blue Mountains is the wonderful city of Penrith. Here it is possible to go whitewater rafting and forget completely about the wild weather during your wilder ride.
Jenolan Caves
About four hours west of Sydney the Jenolan Caves offers a potential escape from the bad weather (although study your weather forecasts and maps with care and then hope for the best) as the rain is often confined east of the dividing range. Even if it's still a little damp when you get there don't despair as it's unlikely to be raining in the caves themselves. If the weather is bad or extreme think again as the road leading up to the caves can be treacherous.
Jenolan Caves are day trip-able from Sydney but realistically only if you're staying in the Blue Mountains.
Jenolan's Caves House is in itself something of an attraction so, if you can, stop and have a look. The Great Arch is also worth strolling under.
The RTA, bless their little road tolls, are now closing the route between Katoomba and Jenolan for a couple of hours during the middle of the day for safety reasons. Note the signs besides the road – if you seeing falling rocks don't stop.
South of Sydney
National Gallery and Parliament House in Canberra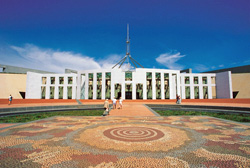 Even further away is Canberra, Australia's capital city. The road south is pretty good once you are on it and you may well have this on your own bucket list. So why not do Canberra whilst Sydney has a shower.
Romance & Adventure  Canberra  Hunter Valley  Australian Reptile Park