What to do at Taronga Zoo (and what not to do)
Taronga Zoo things to do and Taronga Zoo things not to do
Below you'll find a list of what to do at Taronga Zoo and shorter list of what not to do. Firstly though just a bit of background to give you an idea of what the zoo is like. Taronga Zoo will be 100 years old on 7th October 1916. The old lady does show her age occasionally but always gracefully. The newer sections like the elephant enclosure and aquarium are modern and engaging. When we last went the aquarium appeared to lack residents which is surprising given the accommodation crisis. 🙂 Maybe they were still looking for a park – see below.

The Cage Less Zoo
You'll struggle to find the word 'cage' anywhere at Taronga Zoo (including the guide and map). Perspex for bars makes no difference to the inhabitants except perhaps to make it hotter in summer. An oddity is the amount of seemingly dead space and unused enclosures. Harbourside real estate is very expensive.
Elephants, Gorillas and Chimps
Some of the enclosures and habitats are excellent. Examples being the Elephants (new in 2007), Gorillas and Chimps. Given the high level of in intelligence of the latter two perhaps no great surprise. The Gorillas even get counselling sessions!
Top Attractions in Sydney
Taronga Zoo's location, smack on Sydney Harbour with Sydney City, Sydney Harbour Bridge and Sydney Opera House as a back drop, makes it one of the top attractions in Sydney.
What To Do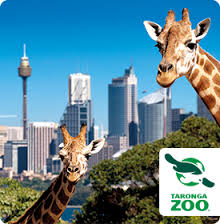 1. What to do and what not to do at the Sydney Taronga Zoo? Firstly arrive early. It's much more enjoyable to be able to take your time and watch the animals for a while. The animals also tend to be more active in the mornings and late afternoon. There are some good spots where you can just sit, watch and relax such as the Gorilla and Chimp enclosures.
2. Start from the top. Taronga Zoo is on the side of a hill that slopes down to Sydney Harbour.
3. Catch the Free Sky Safari (Cable Car) up to the top of the hill.
4. If you walk all the way down keep going and catch the Free Sky Safari back up. Just make sure its running first.
5. Did I mention catch the Sky Safari? 🙂
6. If you don't want to catch the Sky Safari you'll find escalators and a lift by the food court.
7. Take the bare minimum. You will find plenty of food and drink at the zoo. Give yourself plenty of time if you are having a picnic.
8. Try not to back track too much because you are on the side of a hill. Use the free map available near the main entrance.
9. There are plenty of places to grab a coffee. You don't have to queue up at the first available opportunity although I perfectly understand the urge.
10. See the Bird Show and / or Seals.
11. Buy your gifts on the way out, not on your way in.
12. Don't overdo it. Tempting to try to see everything but you're better off focusing on what you want to see first and then gauge your energy levels.
13. Take lots of pictures.
What Not To Do
14. Try to avoid school holidays, sunny days and weekends. See 1 above.
Sky Safari
It is slightly surprising that you don't see more from the Sky Safari. If you like roofs and tree tops you'll be happy. You'll probably see the elephants (hard to miss really) but be ready for the large Orangutan or two at the top of a pole near the top of the run. You can pretty much stay on for as long as you want. Just be sensitive to the number of people queuing up for a ride.
Feeding Time
The facilities at Taronga Zoo are surprisingly good with a number of food options from traditional fast food to the pleasant Tree Tops Cafe with excellent, if partially obscured, views of Sydney Harbour.
Feeding Time – The Animals this Time
It is also slightly strange that feeding times are not more widely advertised. Some of the enclosures will tell you when it's happening. There are talks, encounters and even shows. Event times are listed on the free map available near the entrance and more information is on the Taronga Zoo Website.
Membership
Membership is well worth the initial [gulp] 'that's expensive' feeling assuming you plan to visit regularly. You need to go at least three times a year to make it worthwhile.
Ticket Options
My biggest gripe is the lack of flexibility in ticketing. They really don't cater for much in between annual membership and a one-off visit. No imagination so everybody misses out.
Comments
Any comments or anything to add. What do you think?