Things to do before you are leave Sydney
What to do in Sydney before you leave?
Checklist of things to do before you go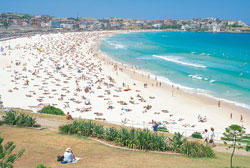 You are leaving this(?) Sydney is not Australia, but she would be missed if she left, and so will you, so why are you going? We cannot say with certainty that this is the best city on the planet but we will anyway, Sydney is the best city on the planet. Here are a few things to do before you leave Sydney:
1. Change your mind.
2. Watch the sunset over the Harbour.
3. Offer to hug anyone who says G'day (gently, particular anyone like a Policeman who has a gun).
4. Be nice to anyone who has @@#!!!!! – as you might not see them again.
5. Collect phone numbers and email addresses – lots.
6. Say goodbye to the Royal Botanic Gardens.
7. One last look at the Opera House and Harbour Bridge.
8. Do the Harbour Bridge Pylon Climb – how did you almost forget!
9. One last ferry ride anywhere.
10. Take a present home for you, not just your family.
11. Set a date when you will return.
12. Cry as much as you like – it,s ok, we will miss you to.
You might even have a good reason to be doing things somewhere else. Maybe you live there. Maybe you have to work there. Maybe your better half says you should live there – the kids should have grandparents perhaps. Maybe you need to go away so you can come back and stay forever.
The reality is most people don't live in Sydney. I don't really understand that other than there's probably not enough room. You should find more room in other parts of Australia:
Another Top 100 Australian Place To Go
Queensland100.com!
But if you must leave Australia there are a few other places you could go until you come back.
Un-Australian places to go:
Londontop100.co.uk
Paristop100.com
For New York – Just visit nyny100.com
Los Angeles – LATop100.com
If you live in any of these places and know of a worthy inclusion please let us know: