Things to do close to Sydney
There are some wonderful ways to enjoy Sydney. There are also many things to do close to Sydney which are just as good. What follows is a short pick of some of the best.
Hunter Valley Wineries
The vineyards of the Hunter Valley are one of most popular destinations for many Sydneysiders. Follow the link below and you'll see why:
Port Stephens Dolphins
Rather than go straight back to Sydney from the Hunter Valley why not drop by to see some of Port Stephen's dolphins? Numerous boats have nets you can climb into to get a little closer. You could also get seriously lucky and spot a whale. Most of the boats are run out of Nelson Bay. Port Stephens also has beautiful white sandy beaches and is quite picturesque.
Swim with Wild Dolphins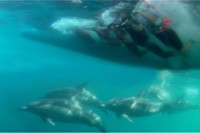 Nothing compares to being close to a dolphin in its own environment. During this amazing experience you will "interact" with the Short Beaked Common Dolphins that live in the pristine waters of Port Stephens. This is the only dolphin swim that is allowed within the Port Stephens Marine Park and only experience of its kind in Australia.
Things to do South of Sydney
Perhaps south is the go. Kangaroo Valley has an almost English countryside look to it mixed in with gum trees and Aussie bush. The civilised Fitzroy Falls is also well worth a visit. The beautiful coastal scenery of Jervis Bay invites exploration and just north of Sydney you will find the Royal National Park. The Grand Pacific Drive, one of Australia's great coastal drives starts, in the Royal National Park and ends just south of Wollongong.
Alpine Way, Snowy Mountains, Overnight trip from Sydney
The Alpine Way is part of a 250k stretch of road that loops its way towards the NSW / Victorian border from Snowy Mountains Highway. This trip will require you to overnight somewhere. Cooma in the south or the more rural Tumut in north are the most logical candidates.
Swimming kangaroos, strolling emus, bounding wombats besides crystal clear waters against a back drop of snow-capped peaks. As you head north the scenery becomes more rural, hilly and green with a dash of colourful wildflowers in spring.
I can't guarantee you will see anything but you will improve your chances if you travel in spring or autumn and avoid school holidays and weekends. The less people around the more wildlife you are likely to see.
Talk to the Park Rangers, check conditions at Jindabyne as they will close the road if the weather is bad and bring your camera.
Picnic Stops
Stop at the Thredbo Diggings picnic area for a while as this is a gorgeous, peaceful area. Go to Tom Groggin picnic area and drive down to the 4WD road only sign. You may be greeted by a friendly mob of kangaroos. Although remember, these are still wild animals. Geehi picnic area has a pleasant wheelchair and pram friendly path alongside the Swampy Plains River.
From here you are less than half way to Tumut with much more to see and little in the way of services along the way. Make sure you have plenty of petrol and a decent map (not that there are many other sealed roads you can drive down). The Kosciuszko Recreation Guide is freely available from visitor centres and may even get one on your way into the park.
Everyone's experience will be different on a trip like this. You can't guarantee anything, particularly the weather. But if you take your time, go with the idea of enjoying whatever comes your way you are bound to be rewarded. Plan ahead, avoid the crowds or just go for it! Good luck.
Things to do West of Sydney (Blue Mountains) – The Three Sisters
Once you're been on and around Sydney Harbour and have visited at least one beach there's really only one direction to go. West. Travel west for just over an hour and you'll at the foot of the beautiful Blue Mountains. This is really the only must do in Sydney that's not actually in Sydney but is so close that it has to be done.
Where to Stay in Sydney Stops Sydney to Brisbane Top Things to do in Sydney