Things to do in the Summer School Holidays in Sydney
Summer School Holiday fun in Sydney
What to do in Sydney over the Summer School Holidays? The Summer School Holiday Survival Plan
Once all the presents have been unwrapped, batteries purchased, toys played with, broken, returned and finally ignored it won't even be New Year's Eve. You'll soon be wondering how you are going to survive till February. I know it's scary but we can do it… we have to.

 Below are some useful ideas on things to do in the Summer School Holidays in Sydney.
Wet'n'Wild Sydney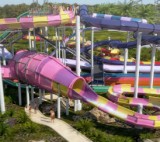 Splashing its way through to Spring you can enjoy the thrill of the "best rides that have ever been done" at one of Sydney's newest attractions 'Wet'n'Wild'.
World's Largest Water Park
The "world's largest water park" will not appeal to everyone partly because of its location, and partly because it is on the pricey side but by the sounds of it, 'Wet'n'Wild' is going to be mighty popular. Initial listing is at No. 65 – just follow the link below:
Water Parks in Sydney
There are quite a few Water Parks in Sydney. Follow the link below but check the details before departing to avoid disappointment.
EQ
EQ has lots to do aimed at keeping the kids happy including its newish indoor playcentre, Monkey Mania for 1-12 year olds with the ever popular go-karts and jumping castle. You can take to the air with Flymotion, with the flying Bungy Trampoline and Bubbles of Fun. We are promised even more jumping castles by Planet Entertainment. You can get plastered at the Plaster Paintings Studios, be bowled over at Strike Bowling Bar and/or get zapped at the Laser Skirmish.
Gotta Roll
EQ has the big screen covered by Hoyts IMAX. For those who like to roll, check out Skater HQ who teach the kids how to use a variety of wheel based vehicles from skateboards to unicycles.
Not Cheap
As ever with EQ, the cost will soon add up so be selective on what you want to do. You might want to plan to do other things first, and mark this trip down as something for later on in the holidays.
Sydney Aquarium and IMAX Theatre at Darling Harbour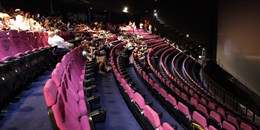 IMAX Theatre is a popular destination for most kids and potentially less painful than a trip to the cinema for mum and / or dad. Many of the showings are short. The 'IMAX Experience' is enthralling and a lot more intense than an average trip to the cinema – so you will probably get your monies worth.
The Sydney Aquarium is probably Darling Harbour's most popular attraction for families. This is particularly so during the holidays. Unless you are dodging the weather best to 'do it' first thing and then enjoy and explore the rest of Darling Harbour's attractions.
The National Maritime Museum and the Summer School Holidays in Sydney
The National Maritime Museum will entice your kids on deck during the Summer School Holidays with a host of great experiences and fun things to do. In the past these have included the 'Cabinet of Curiosities', which consists of "curious sea creatures" and the discovery of a curious "interactive discovery device". We have also had "Sailing With Swashbucklers!" which includes stories, craft and the opportunity to perform on stage. You could have also taken them on an "after dark tour" of the museum as well as enjoying some digital storytelling and film-making. Follow the link below to see what they have in store for us this year.
Powerhouse Museum
The Wiggles are back at the Powerhouse, but not sure as yet if they are sticking around for the holidays. You'd expect so. As well as the Wiggles the Powerhouse gives us loads of other fun things to do and interesting exhibits to explore.
Olympic Park – Kids in the Park
Kids in the Park has over 50 activities to choose from. Much will be free, less costs $20 or so but not much more. There are various clinics, camps and workshops for kids who want to develop skills in sports, writing, filmmaking, dancing and more during the school holidays in Sydney.
Give your kids nightmares… go on a Ghost Tour!
Think hard about this one:
Ghost Stories at the Rocks
Realistically, these tours are meant to be fun and not all that scary really… ("what was that noise!?"). The guides are there to entertain and are not looking cause anyone any alarm… ("did you feel that!? It just got really cold!"). That's not to say that some pretty scary, dreadful things have happened in the past, and… what's that behind you!

The Harbour Bridge – A good looker whatever the weather

Climb the Harbour Bridge Pylon
If you climb the 200 steps to the top of the Harbour Bridge Pylon, you will be rewarded with some wonderful views of the Harbour. The Pylon is also packed full of interesting stories and information. You can learn all about the construction of the Harbour Bridge, and its eventful history.
Get Crafty
Take the kids down to your local $2 shop or equivalent. Let them spend a few bucks on cards, stickers and the like and hey presto! Homemade Thank You, Birthday or any kind of Greeting Card you can think of. Give a prize to whoever writes the most / best / most colourful creation. I'm sure Grandma or Pa or Aunt or Uncle would be thrilled to receive one, and the kids could be entertained for, well, maybe a while actually (if you are really crafty

).
Spiders – Alive and Deadly – Australian Museum City Centre
Experience and "interact" with four hundred of the world's most interesting and famous spiders. Awaiting your presence are tarantulas alive and creepy and Sydney's own Redback Spider, deadly and crawly.
If you are concerned about Spiders, Snakes or Sharks you may find the link below helpful:
More activities
You will find another page of events, activities and things to do over the school break linked below. Alternatively, you can just search through the list of the Top 100 plus things to do and until you find something of interest.