Top 5 Things to do in Sydney
Must Things to Do
1 Catch the Manly Ferry
The Top 5 Things to do in Sydney includes some of the best things you can do when you first get here.  A ferry is the perfect way to appreciate just how beautiful this harbour city really is. The Manly Ferry will give you an excellent vantage point to enjoy the full splendour of the Harbour Bridge and the Opera House. They are all yours for the photo taking.
Sydney Cove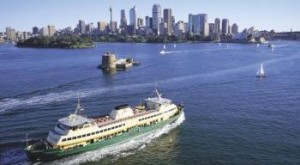 Arrive a little early at Circular Quay to ensure a good position in the queue. Aim for either the front or the back of the Manly Ferry for the best view of the Harbour Bridge and Sydney Opera House as you depart Sydney Cove.
Sydney Heads
Your voyage will last approximately thirty minutes allowing you time to enjoy some of the best scenery the harbour has to offer. It can get a little choppy as you approach Sydney Heads so be prepared to retreat inside.
Manly Ice Cream
Upon your arrival in Manly check out the large new Manly Wharf Pub and Restaurant on your right. If you can, resist the delicious looking ice cream, chocolate and other yummy temptations in the Manly Ferry Wharf.
Manly Fast Ferry
Consider catching the new Manly Fast Ferry service on the way back across the harbour to Circular Quay as it will do the same trip in around half the time.
2 Harbour Cruise
If you'd prefer an organised cruise of the harbour then there are quite a few to choose from. You will find most of the major tour operators like Captain Cook Cruises; operate from Wharf No.6 on the west side of Circular Quay.

Harbourside Mansions
Most of these vessels are quite comfortable and it can be a very civilised way to see and hear about the harbour. Be warned that Sydney is obsessed with property prices and so don't be surprised if the guide starts telling you who lives in each waterfront mansion and how much they paid for it.
Ferry or Cruise?
Everybody goes on a harbour cruise. Just bear in the mind the harbour looks equally fabulously the same whether you are on a cruise or a ferry.
The advantages of a cruise
The advantages of going on a cruise are that it lasts longer than a ride on a ferry and provides commentary.
Disadvantages of a cruise
The main disadvantages are that a cruise lasts longer than a ride on a ferry, provides commentary and costs more.
Do Both
My advice is to catch the Manly Ferry first and then decide. It is certainly easy to argue that the best way to see Sydney is from the harbour (but she also looks pretty awesome from the air). However you look at it and however you experience it, the harbour is one of the best things to do in Sydney.

Do you have somewhere to stay? If not follow the link below for some ideas on where to stay in Sydney. This includes advice on how to save a few dollars and avoid any disappointments e.g. geographically speaking; the centre of Sydney is a long way from Sydney Harbour.
3. Circular Quay to Darling Harbour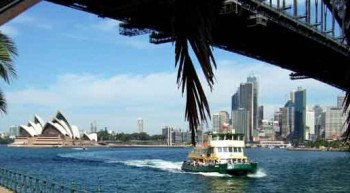 Once again the harbour is part of the top 5 things to do in Sydney with a ferry ride to Darling Harbour from Circular Quay. The trip lasts approximately ten minutes taking you under the Harbour Bridge as you head out of Sydney Cove. The brief trip brings with it more opportunities to add to your collection of Harbour Bridge and Opera House pictures. You'll probably stop at Balmain along the way.
Locals & Visitors
The Darling Harbour has grown to become a popular and extensive playground for the locals and a key attraction for visitors. It is also very popular with families.
Darling Harbour Attractions
Darling Harbour is full of attractions including the IMAX Theatre, Sea Life Sydney Aquarium, (said to be one of the largest aquariums in the world), Wildlife World with over 5,000 Aussie critters, the family friendly Powerhouse Museum and the popular Australian National Maritime Museum. In addition there are many Harbourside shops to browse through and cafes, bars and restaurants to enjoy.
Star or Star City
Sydney Casino, 'Star City' now renamed 'The Star', is also worth a mention if only for the Lyric Theatre.
Don't stay too long
It's very easy, with so many attractions in one spot, to stay too long. If you have limitless time and a robust budget then that's not a problem. If you don't then don't forget the ferry back to Circular Quay. You still have another 100 things to do in Sydney.
4 Manly to Shelly Beach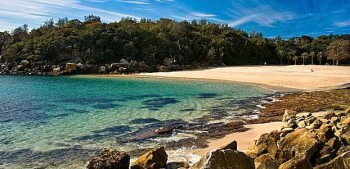 Manly features once more in the top 5 things to do in Sydney, it feels more like a seaside town rather than part of the largest city in Australia. The ocean side is east of the Manly Ferry Terminal (Manly Wharf). Just cross the road and walk the length of the Manly Corso.
Nautilus Sculpture
Stop and wonder at just what Manly Council was thinking off when they commissioned the steaming Nautilus sculpture at Manly Wharf, locally referred to as the "steaming dog poo", just outside the ferry terminal. Don't forget to wipe your feet. 

Fairy Bower

You'll need to walk through Fairy Bower to get to Shelly Beach. It's a nice spot and would be my choice for lunch. Alternatively the kiosk on Shelly Beach is also worth considering. Manly boasts a million and one places to eat so you won't starve. Indeed you'll pass numerous pubs, cafes and shops all craving your patron along the way.
Shelly Beach
As you approach Shelly Beach keep an eye out for the rock art to your right. Shelly Beach is an excellent spot for diving and has free barbeques and shaded areas behind the beach perfect for picnics. Once you've reached Shelly Beach you can walk up to and across the car park for cliff top views out to sea.
Manly Little Penguin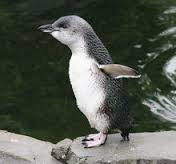 Manly boasts many other walks including a chance of seeing a Manly Little Penguin. Unfortunately, the Little Penguins are endangered so it is far from certain that you will actually see one but you never know your luck.

Going to need transport? It is still possible to drive to most places in Sydney however we recommend you that you get yourself a travel card.  It will save you money, time and hassle. The card is called an Opal. Follow the link below for more on public transport and car hire.
5 North Head
North Head (not far from Manly) will provide you with a stupendous view of the harbour. Depending on the time of year, and if you're lucky, you may catch a glimpse of a migrating humpback whale. If it's wet, or very windy, you might want to postpone this for another day. North Head is just a little too far away to walk from Manly, so either drive, cab or bus it from the Manly Ferry Wharf.
North Fort
Visit North Fort for fortifications, tunnels and guns, all part of the National Artillery Museum. North Fort boasts a cafe with a view to go with the refreshments. Alternatively just make use of the picnic and barbecue facilities.
North Head View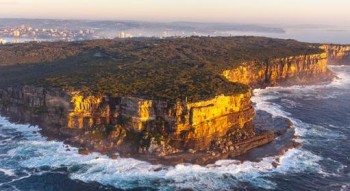 Look out of, and for, the North Head lookouts with sweeping views over the ocean and around the harbour. This section of the Sydney Harbour National Park has wonderful views and intriguing history making a visit to North Head a must do.