Vivid Sydney Festival of Light, Music and Ideas
What's on at Vivid 26th May to 17th June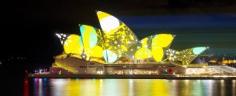 If you are thinking of visiting Sydney for the Vivid Festival you won't be disappointed. Many regard this as the best festival in Australia. Sydney will light up for 22 nights from 6pm with free and ticketed events.
Light Art
Vivid creates a special brand of magic called 'Light Art'. They use geeky sounding 'installations and projections' to dynamic and surreal effect. The focus will be around the Rocks, the Opera House and Harbour Bridge but there will be 'light art' seemingly everywhere.
Better and Brighter
Every year is different. The technology advances, the expertise advances and the learned experience of transforming Sydney advances. Vivid and Sydney love each other, enjoy the show.
Vivid Highlights – Barangaroo
Vivid highlights include a beautiful light trail rich with music and light installations projecting all the colours of the rainbow along Barangaroo's restaurant-lined laneways.
Audio Creatures – Sydney Opera House
The first thing most think of when comes to Vivid is the Sydney Opera House Sails. Last year there appeared to be a strong aboriginal theme including what I think were creatures from the Dreamtime crawling over the sails. It was really impressive. This year the projections will make the sails come alive with "Audio Creatures". I like the sound of that. If you see only one thing go look at the Sydney Opera House. Beautiful by day, beautifully alive by night.
Mushroom Magic – Martin Place, CBD
The mushroom building in Martin Place makes a welcome return this year. Well it hasn't actually been anywhere it just gets a magical makeover. With the setting of the sun the sad drab mushroom is transformed into a beautiful forest complete with monster tree frog.
Light Walk – Where to go to see all those Vivid Lights
The Light Walk is the No.1 walk in Sydney. For 22 nights Sydney will look completely different until Vivid 2018, when she will look completely different again. From Sydney Opera House to Palm Cove Sydney never looked so… Vivid! Look out for the highly decorative, lightly coloured birds and insects. No repellent required. 🙂
Vivid Music
Get ready for some unforgettable sounds from some oldies like Severed Heads and Beth Alton along with relative newbies like British group Goldfrapp. Other highlights include American folk-rock revivalists Fleet Foxes, Laura Marling, French duo Air, Sampha, the ACO and CampCope. The Vivid's Musical talent is showcased over 250 events ranging from dance music to exciting Indie rock concerts. So even if none of names mentioned mean much you should follow the link below because there maybe one that does.
Vivid Everywhere
Vivid's glowing heart might be in the CBD but its light touch reaches out to King's Cross, Barangaroo, Chatswood, Newtown and Darlinghurst. 2.3 million visited last year which is roughly half of the population of Sydney. So what happened to the other half? Come on folks, don't miss out again, Sydney never looked this good!
Vivid History
Did you know the first festival was only 8 'light' years ago? Vivid started out as a modest festival of smart lighting! In some ways it hasn't changed. Some of Australia's brightest minds are behind some our smartest lights – or maybe that should be the other way around… Anyway, it's unbelievable what's been achieved. Come see for yourself.
Sydney Film Festival
Seen the lights, now see a movie – How about a Movie-Vivid Combo? The Sydney Film Festival starts on the 7th June whilst Vivid doesn't end till the 17th. So it is possible to see the lights and catch a decent movie on the same night.
Romantic Vivid
As Vivid takes place in winter it is perfect for snuggling up to your partner. You'll find many couples wondering around looking at the lights helping to make it a romantic time to be in Sydney.
More things to do
Whilst the Festival is a must see, it will probably leave you with some time on your hands. Thankfully, there are many more things to do in Sydney apart from Vivid. You can make the most of this beautifully vivid city with the list of Sydney's top 100 (plus) things to do. As well as Sydney's top attractions, sights and activities there are other things well worth doing in May and June in Sydney. Don't miss out!
For more places to go and top things to do please follow the links below:
Sydney Harbour Bondi Beach Manly Blue Mountains
Romance & Adventure Canberra Top Things to do in Sydney