Vivid Sydney Festival of Light, Music and Ideas
What's on at Vivid
Friday, 22nd May to Saturday, 13th June 2020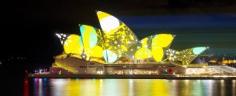 If you are thinking of visiting Sydney for the Vivid Festival you won't be disappointed. Many regard this as the best festival in Australia. Sydney will light up for 23 nights from 6pm with free and ticketed events.
Light Art
Vivid creates a special brand of magic called 'Light Art'. They use geeky sounding 'installations and projections' to dynamic and surreal effect. The focus will be around the Rocks, the Opera House and Harbour Bridge but there will be 'light art' seemingly everywhere.
Better and Brighter
Every year is different. The technology advances, the expertise advances and the learned experience of transforming Sydney advances. Vivid and Sydney love each other, enjoy the show.
Vivid Highlights
With over two million visitors… just back up there, that's two million! That's a few eh!. Vivid's success has created challenges with the large crowds. So I suggest you arrive before the lights light up (6pm) or late, particulary during the weekend. If you plan on seeing a performance or have an idea (sorry) to see something else just be mindful of where it is. Opera House can get a get jammed up at times. Of note the Cure (iconic indie rock) will be doing their stuff at the Opera House so unless you fortunate enough to have tickets you might be wise to avoid the House when they are playing.
Don't let any of this put you off. Just be a little smart about it and you'll be fine. You'll even be able to "…lie down on the road and watch the show". Not something that appeals to me personally but I'll go with the flow. Just don't get trampled. 🙂
The official web page gives you a summary of major events including the Sydney Harbour Bridge, worth admiring regardless but Vivid adds spice.
Light Walk
The Light walk has grown once more to stretch on and on from Luna Park to Chatswood and Taraonga Zoo to Barangaroo. Wear good shoes. J. But you can't beat the original from the Royal Botanic Garden to The Rocks. Just 3ks or there about. Well worth the effort (unless it's snowing 🙂 ) with over 50 installations to enjoy. One to particularly look forward to is the "Firefly Field" which produces a gentle, not stingy, won't get in your hair swarm of fireflies. It'll be a buzz.
Vivid highlights also include a beautiful light trail rich with music and light installations projecting all the colours of the rainbow along Barangaroo's restaurant-lined laneways.
Sydney Opera House
The first thing most think of when it comes to Vivid is the Sydney Opera House Sails. In prior years there has been a strong aboriginal theme including creatures from the Dreamtime crawling over the sails. This year the projections will once again make the sails come alive with a mesmerizing display of technology and art on an iconic stage. If you see only one thing go and look at the Sydney Opera House. Beautiful by day, beautifully alive by night.
Amazing Vivid Music
Get ready for some unforgettable sounds from an international line-up containing some of the most talented and innovative musicians around. The Vivid's Musical talent is showcased over hundreds of events ranging from dance music to exciting Indie rock concerts. Follow the link below you and you may well find something that sounds amazing:
Vivid Everywhere
Vivid's glowing heart might be in the CBD but its light touch reaches out to King's Cross, Barangaroo, Chatswood, Newtown and Darlinghurst. 2.3 million visited last year which is roughly half of the population of Sydney. So what happened to the other half? Come on folks, don't miss out again, Sydney never looked this good!
Vivid History
Did you know the first festival was only 12 'light' years ago? Vivid started out as a modest festival of smart lighting! In some ways it hasn't changed. Some of Australia's brightest minds are behind some our smartest lights – or maybe that should be the other way around… Anyway, it's unbelievable what's been achieved. Come see for yourself.
Sydney Film Festival
Seen the lights, now see a movie – How about a Movie-Vivid Combo? The Sydney Film Festival starts on the 5th June whilst Vivid doesn't end till the 13th. So it is possible to see the lights and catch a decent movie on the same night.
Romantic Vivid
As Vivid takes place in winter it is perfect for snuggling up to your partner. You'll find many couples wandering around looking at the lights helping to make it a romantic time to be in Sydney.
More things to do
Whilst the Festival is a must see, it will probably leave you with some time on your hands. Thankfully, there are many more things to do in Sydney apart from Vivid. You can make the most of this beautifully vivid city with the list of Sydney's top 100 (plus) things to do. As well as Sydney's top attractions, sights and activities there are other things well worth doing in May and June in Sydney. Don't miss out!
For more places to go and top things to do please follow the links below:
Sydney Harbour Bondi Beach Manly Blue Mountains
Romance & Adventure Canberra Top Things to do in Sydney