Vivid Sydney Festival of Light, Music and Ideas
What's on at the Sydney Vivid Festival of Light?
The still young 8-year-old Sydney Vivid Festival of Light, Music and Ideas continues to grow in popularity. The organisers claim that Vivid Sydney is now "the world's largest annual festival of light, music and ideas". To us it's just the best. Sydney will light up for a record 23 nights from 6pm with free and ticketed events.
Romantic Vivid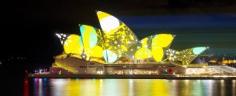 If you are thinking of visiting Sydney for the Vivid Festival you won't be disappointed. Many regard this as the best festival in Australia and a little surprisingly perhaps given it won't be particularly warm, the most romantic time to be in Sydney.
Light Art
Vivid Sydney Festival of Light creates a special brand of magic called 'Light Art'. They use geeky sounding 'installations and projections' to dynamic and surreal effect. The focus will be around the Rocks, the Opera House and Harbour Bridge but there will be 'light art' seemingly everywhere. The city scape will be transformed into a "light scape", the entire Harbour Foreshore the dynamic canvas for "light art on a grand scale".
No Different?
Been there seen that? Unlikely, every year has been different so I expect 2016 to be no different in being different. Every year it just gets better. The technology advances, the expertise advances and learned experience of transforming Sydney advances. Vivid and Sydney love each other, enjoy the party.
The Vivid looking Opera House – the Lighting of the Sails of the Sydney Opera House – 6pm to Midnight, 27th May – 13th June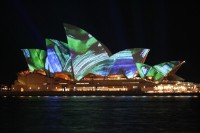 The Sydney Opera House Sails, incredibly looking at any time, dance, flicker then lower the jaws of all those who see them, just try not to dribble 🙂 .
Songlines
A first for this year is the Lighting of the Sails with 'Songlines' a fabulous creation by Australian indigenous artists.
Due to its popularity the lighting of the Opera House sail has been a bit of jam for some people in previous festivals. In fact the whole concourse has at times become a mass of humanity going nowhere. This year the organisers will have learnt to keep the crowd numbers under the control.
Party with the House
After 6pm the Sydney Opera House gets ready to party. She puts away her day clothes and out comes her party dress. And it's some dress, it excites, it displays, it sends a message, in magical ways, the House wants to dance, and wants to spin, it's a time for laughter so please join in. You will certainly see the Opera House in a new light, many news lights in fact, stunning patterns and entertaining lights.
Top 10 Things to see at the Vivid Festival of Lights
Whilst the Opera House is still centre stage it is but one of over 65 light events over a dozen precincts from Martin Place in the City to Chatswood in Sydney's north. There is much more to the Vivid Sydney Festival of Light than the Lighting of the Sails of the Sydney Opera House. Follow the link below for a listing of the top 10 things to see at the Vivid Festival:
Light Walk – Where to go to see all those Vivid Lights
The Light Walk becomes the No.1 walk in Sydney. For 23 nights Sydney will look completely different until Vivid 2017, when she will look completely different again. From 6pm to midnight from Sydney Opera House, Circular Quay through the Rocks and on to Walsh Bay Sydney never looked so… Vivid!
Just take a Light Walk
If you don't want to miss some of the best Vivid Light Installations you will need to go for a light walk. The link below will give an idea of what to expect, more open mouths, big smiles and even more people wondering "how did they do that?"  Just follow the link below:
Vivid Music
Headlining this year are New Order and Bon Iver performing at the Opera House. The talented jazz musician Esperenza Spalding also adds to Vivid Sydney's abundance of talent again playing at the Opera House.
Björk Digital
Something special and unique is widely anticipated from 'Björk Digital' at Carriageworks in Redfern. The world premiere of Björk latest work is likely to receive a lot of international attention as well as keen local interest.
You just have to be there. We have just scratched the surface of Vivid Sydney. There will be so much to see and so many places to see it. Even if you have seen Vivid before you just have to go. Start planning! 800,000 people visited last year. Most were very happy that they did and many will return for another helping. Enjoy!
Sydney Film Festival
Seen the lights, now see a movie – How about a Movie-Vivid Combo? The Sydney Film Festival starts on the 8th June whilst Vivid doesn't end till the 13th. So it is possible to see the lights and catch a decent movie on the same night.
More things to do
Whilst the Festival is a must see, it will probably leave you with some time on your hands. Thankfully, there are many more things to do in Sydney apart from Vivid. You can make the most of this beautifully vivid city with the list of Sydney's top 100 (plus) things to do. As well as Sydney's top attractions, sights and activities there are other things well worth doing in May and June in Sydney. Don't miss out!
For more places to go and top things to do please follow the links below:
Sydney Harbour Bondi Beach Manly Blue Mountains