What to do if it Rains in Sydney
What to do in Sydney in the Rain?
It is sad but true that Sydney's skies aren't always blue. There's got to be a little rain sometimes. So what to do if it rains in Sydney?
Do you leave to Escape the Weather?
If you want to make a run for it there are options north, west and south of Sydney:
Or Stay in Sydney when it's wet
But if you're a fighter and intend to stick it out with the rest of us you should grab your umbrella, waterproofs or wetsuit (whatever your preference) and get out there and have some fun.
The Harbour Bridge – Good Looking Whatever the Weather

Climb the Harbour Bridge Pylon
The Harbour Bridge Pylon is great value and packed full of great information and 200 steps. You will be rewarded at the top with a great view of the Opera House so unless it is really chucking it down it's well worth taking steps to see it.
Sea Life Aquarium in Darling Harbour and the Sea Life Sanctuary at Manly
A visit to an aquarium is almost always a good lousy weather thing to do. Sydney is fortunate enough to have two excellent aquariums that manage to keep thousands upon thousands of visitors happy every year, the Sea Life Sanctuary in Manly and the Sea Life Aquarium in Darling Harbour. If you go along to either you will experience sharks, manta rays and other large beasties swimming up close enough to say G'day.. sort of.
Wild, Wild, Wildlife World at Darling Harbour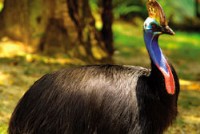 What are you looking at? A Cassowary of course. 🙂
Wildlife World, now renamed Wild Life Sydney, is conveniently convenient. Conveniently located next to Sea Life Aquarium at Darling Harbour Wild Life Sydney also has lots of wildlife conveniently grouped together. It is a townhouse Zoo, well designed to maximise the use of limited space. Great for a wet day.
Powerhouse Museum – Darling Harbour
The Powerhouse Museum is a science and design museum with interactive exhibits. The museum is family friendly, educational friendly, interestingly friendly and basically, a really friendly place to visit. The Powerhouse Museum usually runs a number of different exhibitions. Technology and Space Exploration often feature.
School Holidays at the Powerhouse
The Powerhouse does well for kids, particularly during the school holidays. This is an excellent wet weather thing to do. You'll find the Powerhouse at the edge of Darling Harbour in Harris Street, Ultimo.
Imax 3D Movies – Darling Harbour
Located at Darling Harbour the Imax Theatre has the world's largest screen (apparently) so I wouldn't advise sitting too close to the front. The Imax shows some good 3D movies. If you haven't seen a 3D movie before, or not for a long time, Imax is well worth considering. It also shows feature length movies like Star Trek, which is something on the really, really big screen. Imax is a good wet weather thing to do and is conveniently located in Darling Harbour.
The Opera House
The interior of the Opera House is not as amazing as its exterior but it is still worth seeing, particularly if it's wet.
Go Shopping
It is possible to shop your way from Town Hall to Pitt Street Mall without getting wet.
Queen Victoria Building (QVB)
The QVB is a lovely old building converted into a multi-level shopping mail. The QVB also functions as part of a well-travelled pedestrian thoroughfare between Town Hall Train Station on the south side of George Street to the heart of Pitt Street Mall. On your way have a look at the clock on the top floor of the QVB particularly on the hour. Rumoured that the prices go up in the QVB as you do.
There's more
There are more things to do in the rain so keep going for more ideas. You could also work your way through the general list of top things as there maybe one or two wet weather options we have missed. There are also monthly event pages and festival pages worth having a look at linked to the menu at the top of this page.
 Stops Sydney to Brisbane Canberra Blue Mountains
Where to Stay in Sydney Top Things to do in Sydney