What to do with the children when it rains in Sydney
Family things to do in Sydney when it rains
It is sad but true that Sydney's skies aren't always blue. There's got to be a little rain sometimes, but you try explaining that to your little person.
So what do you do if it rains when you are in Sydney and the kids need things to do
If you want to make a run for it there are options north, west and south of Sydney:
Stay in Sydney
If you're a fighter and can't stand the idea of screaming kids in a confined space (e.g. your car) grab your umbrella, waterproofs or wetsuit (what ever your preference) and get out there and have some fun.
Wild, Wild, Wildlife World at Darling Harbour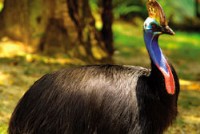 No rain in here!
Wild Life Sydney, Sea Life Aquarium and Madame Tussands are all sandwiched together in the Aquarium Wharf at Darling Harbour. Just as well they all get along. You get buy passes to cut down the cost. It does have possibilities. There is also the Imax, Powerhouse Museum, Maritime Museum and any damp festivals that might be on in Darling Harbour:
Climb the Harbour Bridge Pylon
The Harbour Bridge – A good looker whatever the weather
The Harbour Bridge Pylon is great value and packed full of great information and 200 steps. You will be rewarded at the top with a great view of the Opera House so unless it is really chucking it down its well worth taking steps to see it. The kids will enjoy the climb and the view but you might miss out on much of the info.
Blue Mountains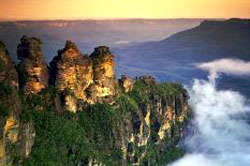 Sometimes the rain in Sydney restricts itself to the coast. So a trip up the mountains can be a case of good timing. First of all check the weather, use the radar and the forecast to be sure. Next, plan your trip
Blue Mountains (No 11 and 12)
Customs House in Circular Quay
You could take the kids to see the model of Sydney embedded beneath Custom House's glass floor. This is particularly appropriate it is too wet to see the real thing. There's loads of other stuff of interest in Customs House so maybe bring your electronic devices with you just in case your interest outlasts your kids. Free WiFi is available for your gaming and surfing pleasure.
Customs House – (Listed at No. 106)
Indoor Play Centres
There has been a significant growth in indoor play centres. Many have cafes and provide an area for parents to relax whilst their kids let of steam (particularly if they are already wet 🙂
Darling Harbour
Darling Harbour is a good destination as you have the Powerhouse, Imax, Wild Life World and Sea Life Aquarium and more
Swimming
If you looking for a cheaper option there's always your local swimming pool. My favourite would be Willoughby Leisure Centre as they have a nice hot spa, coffee and cake.
Local Library
Not for kids straining at the car restraints but can work for some. Besides, worst that will happen is you will be shhhhhhhh'd, asked to leave, be shamed and never spoken to again 🙂
Toy Shop
Potentially expensive and real head ache but if you were planning on going for little Johnny's birthday then maybe now is the time.
Big Top Circus in Australia
Sydney attracts the worlds best circus including one or two Australian acts such as Circus Oz.
There's more
We haven't really gone on about museums and galleries outside of the Darling Harbour variety. The Australian Museum [listed at 84] maybe of interest for some kids. Then there's the general 'wet' pages of things to do when it rains so you could have a quick look through those. You could also work your way through the general list of top things to do.  It is also worth having a look at what's on. Just refer to the events and festivals links contained in the menu at the top of this page.