Winter School Holidays Sydney
What to do in during the Winter School Holidays Sydney?
Kids in the Park returns for the winter school holidays with Sydney's favourite holiday fun program – in Sydney's biggest playground!
'Kids in the Park' has loads and loads of stuff for the kids to do including a great range of sports clinics, creative workshops and fun events. Much of the activity is suitable for the whole family and as the saying goes; there should be something for everyone.
Sydney Aquarium and the sadly now closed Manly Sea Life Sanctuary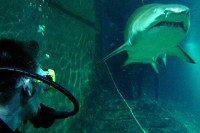 It used to be great fun to visit either of the two aquariums in Sydney. Now there's just one. It is a favourite place to visit for many parents and the kids seem to enjoy it as well. 🙂
Powerhouse Discovery Centre (Castle Hill) – Winter School Holiday Activity for Kids
The link below will take you to the school holiday activities at the Powerhouse Museum. There is a fair amount to choose from but nothing particularly grabs me, but I'm probably getting a little old for colouring competitions and the like.

Royal National Park Visitors Centre in Audley
Royal National Park Visitor Centre in Audley is a pleasant little stop for a hot drink at the Audley Dance Hall Cafe and a browse of the arts and crafts on sale. It also not unheard of for the visitor centre to have a few activities organised for the kids during the school holidays or you just might find an interesting looking trail to explore.
Eden Gardens
Eden Gardens at North Ryde has a playground, ornate waterfalls and fountains, an amphitheatre and is an interesting place to explore. They have also been known to run a school holiday program. The downside to Eden Gardens is there is a bit of road noise but you will forget about that once you have been in the gardens for a while. See the Eden Gardens website for more details:
The Local Library
A visit to the library might not be ideal for kids straining at the car restraints but can work for some. Besides, the worst that will happen is you will be told 'shhh!' Asked to leave, be shamed and never spoken to again.

Art, Craft and Story Telling
Libraries local, and otherwise, often do provide some low key holiday activities for kids such craft and storytelling.If anything is happening for them it will almost certainly be tucked away in a room or area away from the general library populous.
Top 100 Libraries?
I admit failure and surprise that I could not find a decent listing of libraries to give to you. I suggest you Google, Bing or otherwise search "[your suburb] library". There's a holiday project for someone – "Top 100 Libraries".

 Whilst we wait here are some nice looking Australian libraries to look at.
Indoor Play Centres
There has been a significant growth in indoor play centres. Many have cafes and provide an area for parents to relax whilst their kids let of steam (particularly if they are already wet 🙂
Swimming
If you looking for a cheaper option there's always your local swimming pool. My favourite would be Willoughby Leisure Centre as they have a nice hot spa, coffee and cake.
And the rest…
We have more ideas for things to do during the school holidays, it's actually the first page of school holiday ideas if you come from there, if you didn't it should be all news to you. Then there is the ever growing list of top things to do, backed up by the top events and festivals in July. What else have we got?
Escape?
You could also 'consult' your local council's website for any holiday activities check your local library notice board, RSL and other club websites. If you have exhausted all that lot you probably need a holiday so escape to somewhere nearby or pull out all the stops, well maybe just a few, north of Sydney.